'What a player' – Danielle Wyatt posts a message for Rohit Sharma on Instagram
Sharma's last seven innings in India read: 82, 51*, 102*, 65, 50*, 176 and 127.
Updated - Oct 8, 2019 11:21 am
20.8K Views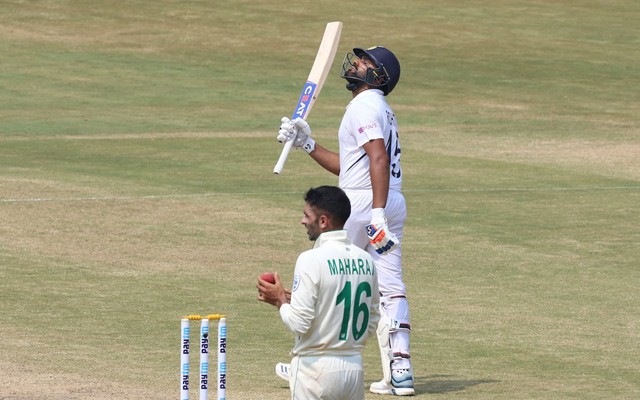 Rohit Sharma is the talk of the town! And, why won't he be? And, when has he not been in the news? All the talk leading into the first Test was around Rohit moving at the top of the batting-unit. Will he? Won't he? These were questions that galore as the right-hander strode out to bat alongside Mayank Agarwal.
Sharma's last seven innings in India read: 82, 51*, 102*, 65, 50*, 176 and 127. So, it was only natural for fans, pundits, former cricketers, contemporary cricketers, and even detractors congratulated the Indian white-ball cricket vice-captain for his exploits. Tweets are being drafted, editorials being churned out, the stat guys having a field day digging the stats and updating the record-books.
Another cricketer to join the bandwagon is England Women tearaway opener, Danielle Wyatt. Wyatt, who had in the past taken to social media to express his admiration for Virat Kohli after the Indian captain's unbeaten half-century to oust South Africa in 2014, took to Instagram this time where she shared Rohit's press-conference picture and captioned it as: "ROHITTT……..what a player!!"
Here's what Wyatt posted on Instagram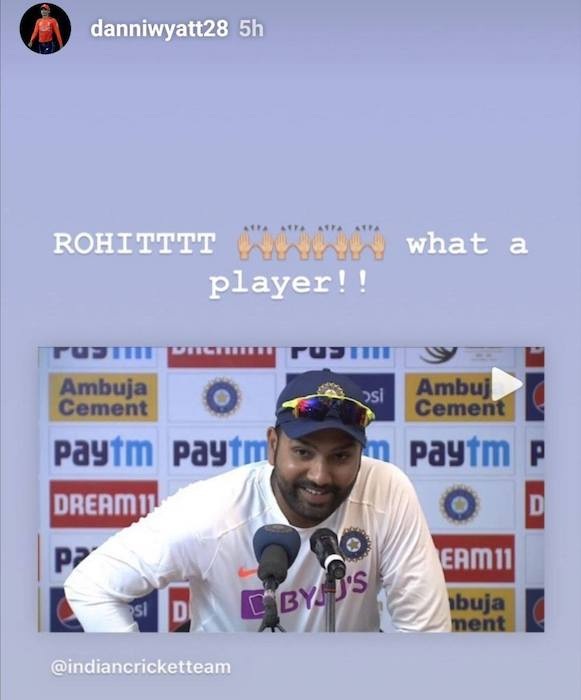 In what was a swashbuckling display of skill, tenacity, and temperament and of course his love for hitting sixes, Sharma squashed all those questions to bed, scoring back-to-back hundreds and registering himself in multiple record books. Besides becoming only the sixth Indian batsman to score a hundred in each innings of a Test match, Sharma became only the first opener in the history of the game to score more than 300 runs (303) in his maiden stint at the said position.
And, what about those Brobdingnagian sixes? Sharma stroked 13 of them (six in the first innings followed by seven in the second), making him the first player in the history of the game to score that many in a Test match. Rohit also became the first batsman to score seven consecutive fifty-plus scores in India, going past the previous record-holders like Sir Everton Weeks (Nov 1948- Feb 1949), Rahul Dravid (Nov 1997- March 1998) and Andy Flower (Mar 1993- Nov 2000), all of whom did it six times.
Watch: 5 talented young India cricketers yet to make their international debuts