'What a shame!' – Twitter lashes out at officials for using hair dryer to dry the pitch in Guwahati
The rain came down after India won the toss and opted to field.
Updated - Jan 5, 2020 9:29 pm
105.1K Views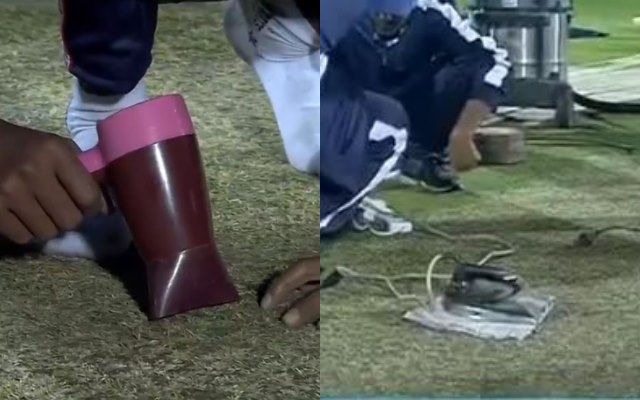 India's first T20 International of 2020 is turning out to be a damp squib. The match was scheduled to begin at 7 PM IST and has been delayed as the rain came down heavily after the toss took place. At the start, it just looked like a passing shower but then it was absolutely pouring down minutes. Around 8 PM though the heavens relented, the rain had already affected the state of the pitch with wet patches.
Just when the ground staff started its repair work, the rain returned to make things worse. This time though more care was taken with an extra cover being placed on the 22 yards. However, the damage was already done and when it all cleared around 8.45 PM, the ground staff much to everyone's surprise brought out the hair dryer to dry the wet patches on the pitch.
Not only this, even the steam iron is being used to get the pitch ready in order to make the play possible. While there is no doubt about the groundstaff's dedication at work, usage of hair dryer and steam iron is looking funny. Rather, Twitterverse is already trolling them and lashing out at them for not opting for proper measures to ready the pitch.
Virat Kohli won the first toss of the year
Earlier, Virat Kohli, the Indian captain, won the first toss of the year and had no hesitation in bowling first. The hosts benched Ravindra Jadeja and Yuzvendra Chahal for the game while Sanju Samson and Manish Pandey continued to be on the sidelines. There was a lot of anticipation around Jasprit Bumrah's return. He was also marking his run-up only for the rain to play spoilsport.
However, one has to feel for the jam-packed crowd in Guwahati as well that they have been made to wait so long thanks to the rain. Though they are enjoying in the stands, the Twitterati is busy trolling the ground staff for using hair dryer and steam iron to dry the pitch.
Here's how Twitter reacted:
The hair dryer and steam iron are being used now to dry the pitch. Sri Lanka should have taken R Premadasa stadium rain covers to India 🇱🇰🏏 #INDvsSL pic.twitter.com/tQxR50axPL

— Azzam Ameen (@AzzamAmeen) January 5, 2020
The lady who tried to roast chicken with hair dryer has competition!#INDvsSL pic.twitter.com/w72qWqpFBG

— Rohit Sankar (@imRohit_SN) January 5, 2020
1980 – will have flying cars in 2020

2020 – drying pitch with hair dryer #INDvSL pic.twitter.com/H6EM1zQwzm

— sarcastic_dude (@_dhamo) January 5, 2020
Some people were annoying about England's ground staff during World cup. Now they are drying pitch by hair dryer..😂😂#INDvSL

— SAFNAS HASHIM |ᵛᵃˡᶤᵐᵃᶤ (@SafnasHasim) January 5, 2020
Such a powerful hair-dryer…. Indian jugaad! 🤣🤣 #INDvSL pic.twitter.com/JKsiO0Vq09

— Tridib Baparnash ॐ (@TridibIANS) January 5, 2020
#INDvsSL  The hair dryer and a steam iron is being used now. Quite clearly, that patch on the surface is refusing to budge.@ICC

— Mahesh Kendre (@KENDREMAHESH) January 5, 2020
Hair dryer and iron (Yes the one used for ironing clothes) deployed to dry the pitch. LOL. Unprecedented.

On serious note, heads need to roll at @BCCI @SGanguly99 #INDvsSL

— Gaurav Chattur (@chatturg) January 5, 2020
Vacuum cleaner, hairdryer, iron… every single thing from a common man's home is currently being used to dry the dampened pitch at Barsapara Stadium, Guwahati.#AssamCricketAssociation Hats off to the hard work #INDvSL #INDvsSL pic.twitter.com/PPRqTH8nzp

— Aakash Biswas (@aami_aakash) January 5, 2020
Hair dryer ? seriously ? What a shame ! #INDvSL

— Naveen (@nowwwin) January 5, 2020
Hair dryer, steam iron , vacuum cleaner and what not for the wet patch on the slot region of the pitch to dry 😀#jugaad #INDvsSL #JustIndianThings

— Devansh Khandekar (@howzaaaaaat) January 5, 2020
Seriously, Are we really the richest board in the world?? When we can't afford measures to tackle these issues. Steam iron and hair dryer being used to dry the pitch… Creative yet poor measures. #INDvSL #Guwahati pic.twitter.com/sKcFquks8t

— Nakul Kulshrestha (@NakulKulshrest1) January 5, 2020
The level of un-professionalism at guwahati stadium is just too high, I can't believe we are using hair dryer at an international venue to dry a patch.This is so fucking horrible to see. #BCCI where's the money you're earning is going? #INDvSL #Slvsind

— Hardik Sarna (@HardikSarna) January 5, 2020
Vanakkam da Mapla. Why didn't you bring along the covers from Premadasa Stadium. See now we have to use the Iron, Hair Dryer and Vacuum Cleaner. #INDvsSL #IndvSL #Ironbox #HairDryer

— Prabhu (@Cricprabhu) January 5, 2020
Anushka Bhabhi wala Hair dryer lakar sukhwao isko.. 😜😜 #INDvSL pic.twitter.com/ZMUBiw1naM

— Anshu K Deipak (@AKDeipak) January 5, 2020
Ground staff man: How can we dry this pitch for the match

Virat: Well, I dry my wet clothes using an Iron or a hair dryer

Ground staff man: say no more#BCCI#SLvsIND

— Tharaka Romesh (@DTRomesh) January 5, 2020