'What do you mean by surly?' – Harbhajan Singh makes fun of Veena Malik's English on Twitter
Harbhajan Singh and Veena Malik engage in war of words over Imran Khan's UNGA speech.
Updated - Oct 8, 2019 3:16 pm
19.2K Views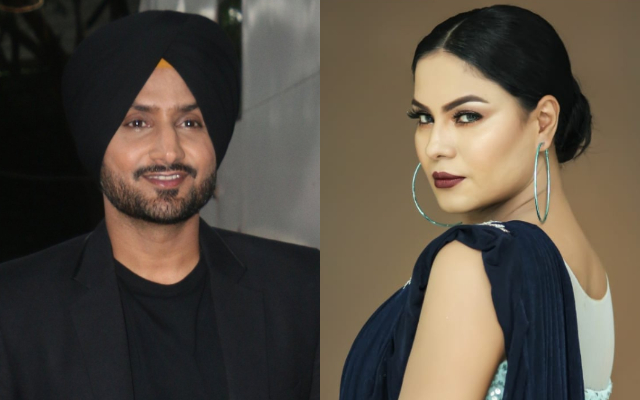 Indian spinner Harbhajan Singh is currently being out of favour of the national team due to his age that has led his performances on a descendant. He turned 39 this year on 3rd July but keeping his age aside, he still feels that he has enough left to represent India once again. It's been long that his fans have seen him wearing Team India jersey and it's been three years since he last played any international match.
Punjab-born spinner has turned into a commentator although he has not dropped the ball and is yet to announce his retirement but recently he has become more proactive on social media, than on cricket field and never bags down in taking a dig against any issue.
Now, he has taken a jibe against Pakistan-born actress Veena Malik and made fun of her English on a social media platform that was witnessed by his fans around the world. On Monday, Veena came forward to support the Prime Minister of her origin after his speech delivered during the United Nations General Assembly (UNGA).
A Twitter battle between Indian spinner and Pakistan actress
It all started after Imran Khan gave a speech pointing against India which poked Harbhajan Singh and in order to take a dig over it, Bhajji came out and felt that it was not expected from a prominent sportsperson to use words like 'bloodbath' and 'fight to the end' in his speech, and Indian commentator posted a message on Twitter in which he wrote, "At UNGA speech, there were indications for India of potential nuclear war. As a prominent sportsperson, Imran Khan's choice of words 'bloodbath' 'fight to the end' will only increase hatred between the two nations. As a fellow sportsperson, I expect him to promote peace."
Here is the tweet from Indian spinner
At UNGA speech, there were indications for India of potential nuclear war. As a prominent sportsperson, Imran Khan's choice of words 'bloodbath' 'fight to the end' will only increase hatred between the two nations. As a fellow sportsperson I expect him to promote ✌️ peace

— Harbhajan Turbanator (@harbhajan_singh) October 2, 2019
This tweet was not acceptable by Pakistan actress and she replied to the Indian turbanator post and stated in his reply that, "PM Imran khan DID talk about peace in his speech. He talked about the reality and the horror that will surly occur when the curfew is lifted and sadly there's gonna be a bloodbath. He clearly states that it's not a threat but a fear. Don't you understand English?"
Here is the reaction from the actress:
PM Imran khan DID talk about peace in his speech.He talked about the reality and the horror that will surly occur when the curfew is lifted and sadly there's gonna be a bloodbath.He clearly states that it's not a threat but a fear
Don't you understand English? @harbhajan_singh https://t.co/WTpjholRoT

— VEENA MALIK (@iVeenaKhan) October 7, 2019
But this was never taken lightly by 39-year-old Indian cricketer and in the reply of Veena, he found a point where she wrote the spelling of surely wrong and the veteran player made fun of her while giving a reply in which he stated, "What do u mean by surly? Oh is it surely ?? lo ji dekho yeh Angreji Inki.. chill pill next time try and read before u put something in English."
Here is the funny reaction of Harbhajan Singh:  
What do u mean by surly? Oh is it surely ?? 😂😂😂😂 lo ji dekho yeh Angreji Inki.. chill pill next time try and read before u put something in English 👍 https://t.co/dgaTOJplDU

— Harbhajan Turbanator (@harbhajan_singh) October 8, 2019
Watch: All-time captains XI in ODIs