What Virat Kohli has achieved is unreal, will play for another 6-7 years: Ravi Shastri
Kohli recently stepped down from the T20I captaincy.
Updated - Nov 12, 2021 6:22 pm
2.4K Views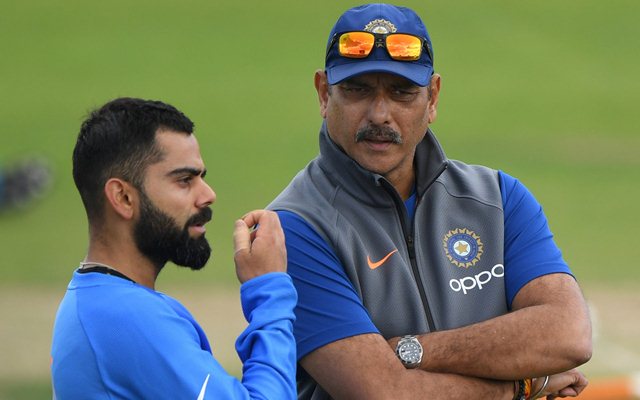 Follow us on Telegram
Former India head coach Ravi Shastri recently opened up on how Indian skipper Virat Kohli deserves his due as a captain and that he will keep playing for the next 6-7 years at the highest level. Kohli, before playing the T20 World Cup 2021, stated that he will quit the captaincy of T20Is after the tournament. However, there were reports that Kohli was asked to step down as a T20I skipper.
In the same light, Shastri also rubbished reports of Kohli losing the support of the dressing room. He stated that his records are unreal and that he will keep shining on the highest format for years to come. The ex-head coach also stated that there are always a lot of things written about him and that he has learned to ignore all of it.
"He deserves his due as a captain, what he has achieved is unreal. What he has got used to is that there will be things written which is just there to stir the pot. A sportsman's ability to ignore all that is what will make him play longer than he thinks. Ignorance is bliss. If he follows that and I think he is doing it, then he will not have a problem playing for another 6-7 years. Planted crap will always be there," said Ravi Shastri while speaking to India today.
No question about that being an all-time great: Ravi Shastri
Shastri further added that there a no questions about Kohli being an all-time great. He achieved his glory quite early and he is enjoying the success now. Though Kohli's batting numbers and bilateral series win records have been surreal, an ICC Trophy eludes him and it still remains to be seen when he will be able to get that glory for the nation.
"No question about that (Kohli is an all-time great). Not many become great players in their lifetime and he became one three years ago. He is enjoying the success. If his body and mind get a break at some stage it will be very good," Shastri added.
Follow us on Google News