When Bollywood actress Rekha and former Pakistan skipper Imran Khan almost got married
Imran Khan has been associated with several women throughout his career and some of them were Bollywood actresses.
Updated - May 11, 2021 11:48 am
15.1K Views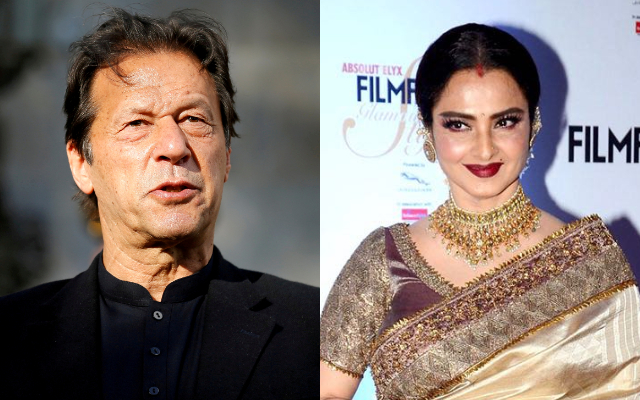 Follow us on Telegram
In the past, several Bollywood actresses have married cricketers and many have been linked up as well. However, a fresh report has revealed one of the most hidden relationships which happened between Bollywood and the world of cricket. That report suggested that former Pakistan captain and current Prime Minister Imran Khan was involved with Bollywood actress Rekha. 
Back during his younger days, Imran, who was one of the top cricketers from Pakistan was quite famous among the ladies for his good looks and charm. He had been linked up with several women, but one of the most popular ones was Rekha. It was also revealed in the same report that Rekha's mother also approved of their association. 
The report which has once again come to the light of day was posted on Star back in the day. The report revealed that the cricketer was soon to be married to the actress. Rekha's mother in fact was happy with this relationship and even consulted her astrologer regarding this. In the same report, it was also mentioned that the then Pakistan cricketer spent some quality time with Rekha in Mumbai. 
They loved each other deeply and passionately: accounts by people who saw them together
It was reported that he spent an entire month of April in Mumbai. During that period, he and the actress were seen enjoying each other's company on several occasions including visits to the beach, the residence of Premi Shivar Godraj, and at nightclubs. People who saw the couple reported that they seemed quite close and 'that they loved each other deeply and passionately."
In the end, the article also quoted Imran Khan's views on dating actresses. He once said, "The company of actresses is good for a short period. I enjoy their company for some time and then move ahead. I can not even think of marrying a movie actress." He was also rumored to have link-ups with other Indian actresses like Zeenat Aman and Shabana Azmi. 
View this post on Instagram
The Prime Minister of Pakistan retired from cricket in 1992 but remained an iconic figure in his country. He eventually entered politics and after years of struggle, his party was finally able to win the elections. He got elected as the Prime Minister in 2018 to add a new chapter to his legacy.
Famous Indian Cricketers who turned into Politicians
Follow us on Google News