'Why can't we have an 'I don't know' call for umpire?' – Virat Kohli on 'soft signal' debate
Virat Kohli's comments came after Suryakumar Yadav's controversial dismissal during the fourth T20I against England.
Updated - Mar 19, 2021 12:22 pm
332 Views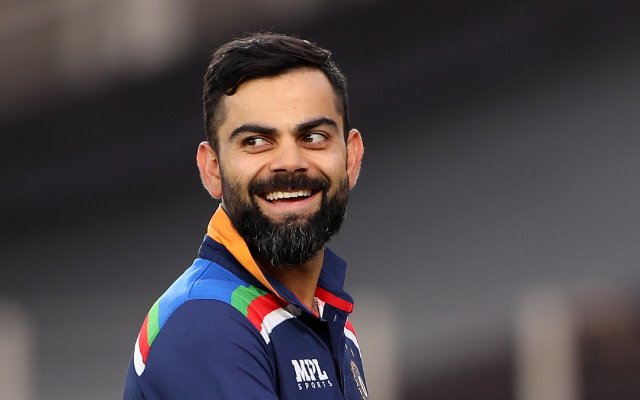 Follow us on Google News
In the wake of Suryakumar Yadav's controversial dismissal during the fourth T20I between India and  England, the 'soft signal' rule has once again become a topic of debate in the cricket fraternity. Suryakumar's impressive 57-run knock came to an end when he was given out caught by Dawid Malan in the deep.
The on-field umpires had gone upstairs after Malan claimed the catch but it led to more controversy. It was not clear whether the low grab by Malan was a clean take but the third official decided to uphold the on-field umpire's 'soft signal' of out due to lack of conclusive proof. The TV umpire watched the replays from several angles for nearly four minutes and repeatedly described the evidence as 'inconclusive' before deciding to give his decision in the favour of the bowling team.
Fortunately for India, the dismissal did not cost them the match as they went on to win the game by eight runs. With the win in the must-win clash, India drew level in the five-match series. Asked to bat first, the Men in Blue scored 185 for 8 in the allotted 20 overs. Suryakumar top-scored for the hosts with 57. In reply, England finished their innings on 177 for 8.
You want these things ironed out as much as possible: Virat Kohli
Following Suryakumar's dismissal, several experts have raised their fingers at the soft signal rule. India skipper Virat Kohli has also expressed his reservations over the umpire protocol by suggesting that there's no realistic way for an on-field umpire to judge low catches from a distance. Kohli said that the rules around that part of the game need to be more clear than the "grey areas" that they currently are.
Kohli pointed out that decision like Suryakumar's dismissal could change the course of the game as he urged for more simpler rules in the game. The India star finished expressing his views on the soft signal rule by calling for more clarity.
"Look, there was that instance that happened during the Test series where I was next to Jinks [Ajinkya Rahane] when he clearly caught the ball, but then I wasn't sure and I asked Jinks, he wasn't sure. And then we went up straightaway. If it's a half-and-half effort and the fielder's in doubt, I don't think the umpire from square leg would see that clearly and, you know, make a conclusive call. So the soft signal becomes that much more important and it's a tricky one. I don't know why there cannot be a sort of "I don't know" call for the umpire as well. Why does it have to be a conclusive one? Because then that [dictates] the whole decision completely. Similar to the argument we have about umpire's call as well," Virat Kohli told Star Sports.
"I think these are some things that can really, really change the whole course of the game, especially in a big game. We are on the other side [of the result], but there could be another team bearing the brunt of this. So you want these things ironed out as much as possible, keep this game simple, keep it linear, have one set of rules which are not grey areas which we don't understand sometimes, and sometimes we do. So it's not ideal, especially in a high-pressure game which has a lot of things riding on it, a lot at stake. It's important to have a lot of clarity on the field," he added.
Follow us on Telegram