Why is there so much hype surrounding India's first-ever Day and Night Test?
India will play its first-ever D/N Test on November 22 against Bangladesh.
Updated - Nov 19, 2019 8:14 pm
379 Views
Eden Gardens is all set to host the first-ever day-night Test match for the number one Test team in the world, India. In a press conference, Indian skipper Virat Kohli said that the new format brings "excitement" to Test cricket. The oldest form of the game has received a significant boost due to the introduction of the World test championship and Day-Night test matches.
Due to the revolution of white-ball cricket and domestic T20 leagues around the world, interest in Test cricket was waning off. In 2012, the ICC approved the introduction of Day and Night Test matches, but it took almost three years before the first-ever match under the lights was played which was between Australia and New Zealand. Australia won the game by 3 wickets as Josh Hazlewood picked up 6 wickets to hog limelight.
The move received massive support and uproar as a colossal sea of crowds gathered to show love and support for three consecutive days. The then New Zealand skipper Brendon McCullum praised the move and said, "day and night Test matches are here to stay." In the four years that have passed, all the major Test-playing nations except India had participated in the new format. Australia have championed the cause hosting 5 of the 11 matches so far. All the encounters have had winners with no game ending in a draw.
What do we know?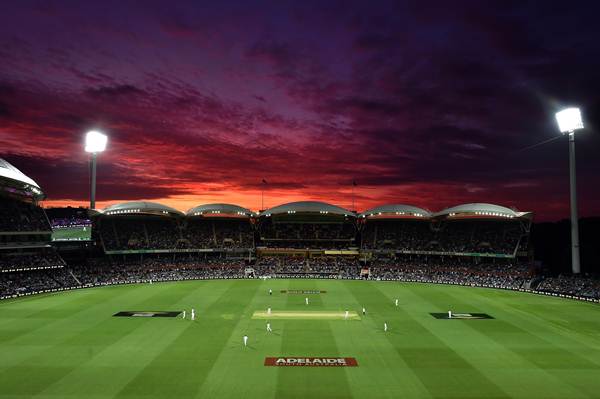 There is not much that can be deduced because there have been only 11 Test matches that have been played under the lights so far. 5 in Australia, 2 in the UAE and 1 each in England, South Africa, New Zealand, and the West Indies. Ironically, 11 times a team has been bowled out for a score of under 150. Pacers have dominated so far, picking up 257 wickets at an average of 25, and spinners have taken 91 wickets at an average of 31.
In Australia, it has been observed that it is around the time of dusk that the pink ball starts doing too much on pitches, which are deemed batting friendly. The reason for that is the profound seam and extra lacquer used on the pink Kookaburra ball. A conventional red ball deteriorates as the Test match progresses, but this cannot be afforded at night under lights.
But most of these conclusions are based on matches played in Australia. There was a day and night Test match played in UAE in which Pakistan spinner Yashir Shah did pick up wickets. How the pink ball behaves in subcontinent conditions is yet to be seen. The match will be played at a time when dew is sure to play a factor in the game. The game starts at 1 PM IST, and the last session will be played from 6 to 8 PM, and the dew will most certainly play its part.
India's reluctance to play D/N Tests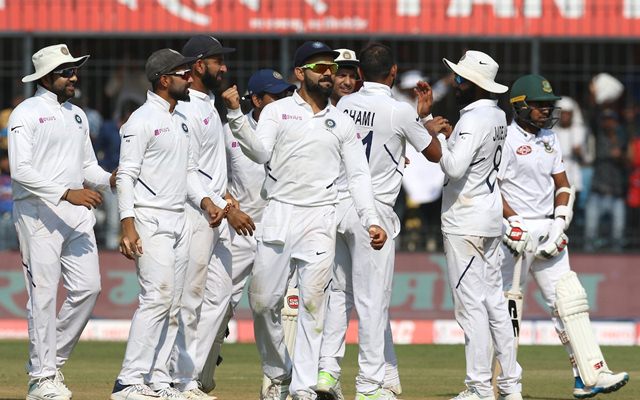 India earlier turned down an offer to play a day-night Test match in Australia in 2018. The head coach Ravi Shastri was quoted saying that the team would require at least 18 months to prepare for the new format. But all this changed when Sourav Ganguly became the new BCCI president.
India will be hoping to see a full crowd when they take on Bangladesh on November 22. Some Indian players such as Cheteshwar Pujara have played under day and night conditions in Duleep Trophy, but for most of the players, it will be their first encounter with the pink ball. The new format differs from the earlier form in terms that a particular part of it is played under floodlights, and a bright pink ball is used for better visibility.
Cricket pundits and fans have lauded this move by Ganguly as this further promotes and strengthens Test cricket, especially in India where the crowd has been sparse. Rohit Sharma's love affair with Eden garden is a tale in itself. The ground witnessed his 173 balls 264, highest ODI score, and his 177-run knock in his debut Test match. One way or the other, India will make history on Friday and it will be interesting to see if we witness another Hitman Marvel in the process.
Exciting figures in D/N matches played so far
November 27, 2015: 1st ever D/N test match played between Australia and New Zealand.
5-0: Australia is unbeaten in the pink-ball game, having won all of their five contests. Sri Lanka is the second most successful team having won 2 of their 3 encounters. England, New Zealand, South Africa and Pakistan have won a game each.
456: Pakistan's Azhar Ali leads the list for most runs scored in Day and NIght test matches. With an average of 91 in 6 innings. Australia's Steve Smith is the only other batsman with over 400 runs.
26: number of wickets taken by Australia's left-arm pacer Mitchell Starc at an impressive average of 23. Josh Hazlewood is second on the list with 21 wickets.
8-49: Though Pacers have dominated the wicket-takers chart, it is a spinner who has recorded the best figures in an innings. West Indies Devendra Bishoo achieved the feat in Dubai in October 2016 against Pakistan.
~Written by Anmol Ahuja