Wicket-keepers with Record of Most dismissals in an innings: T20I cricket
Updated - Sep 22, 2014 2:11 pm
220 Views
Cricket is a demanding game; it calls for everything that you have in yourself. Not only physical strength, but psychological strength too. It shows when you see a wicket-keeper play, he keeps the stumps completely for 20 over's in a T20I cricket match. Comes back to bat, and often bats in tough situations, down the order. Dismissals inducted by the stumper is very important as he is the guy who is continuously in business every ball. A good, expert wicketkeeper is the one who effects dismissals without missing many. Caught, stumping are the two ways in which he can get a batsman out.
Here is the record for top 5 most number of dismissals by stumping for a wicketkeeper in Twenty 20 International cricket.
At the 5th spot is Niel O'Brien of the Ireland, O'Brien got rid of 4 batsmen in the game against Sri Lanka which includes 3 catches and a stumping. This is an impressive record to hold for him as Ireland play very few matches and in the limited opportunities and exposure they get Niel has impressed many by his wicket keeping skills.
Above him at the 4th position is Pakistan wicket keeper Kamran Akmal who is more often criticized for his skills behind the wicket. Akmal dismissed 4 batsmen and all by stumping versus Netherlands and got himself some respect. This record is something to be proud of for Kamran.
The second position is Matt Prior; the English wicketkeeper too does not enjoy the image of a safe and effective one. But he did well against South Africa as he took 4 catches in that innings. Thus he makes himself eligible for the record of 2nd most dismissals in T20I cricket. See also Best Opening Partnerships in ODI cricket: List of the Top 5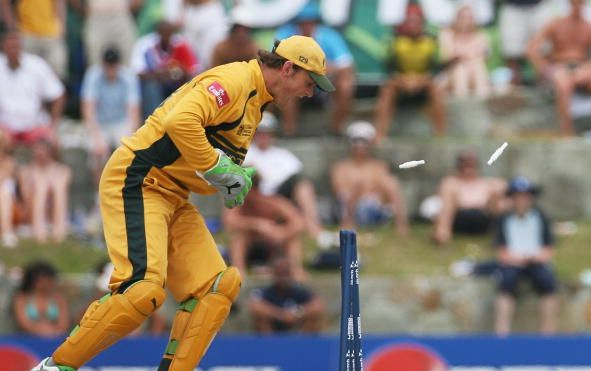 Follow us on Telegram
Guy at the 3rd and 1st place is a legend for everything that he has done to cricket. Its Adam Gilchrist, the best Australian wicket keeper of all time, is one of the best in world cricket as well. He did it twice dismissing 4 batsmen in an innings once versus New Zealand and then against Zimbabwe to capture two spots for himself in the best five. By virtues of this he left an everlasting mark for himself in T20 cricket like tests and ODI's.
Here is the table for most wickets in an T20 innings by wicketkeepers:
| | | | | | | |
| --- | --- | --- | --- | --- | --- | --- |
| AC Gilchrist | 4 | 4 | 0 | 2 | Australia | v Zimbabwe |
| MJ Prior | 4 | 4 | 0 | 1 | England | v South Africa |
| AC Gilchrist | 4 | 4 | 0 | 2 | Australia | v New Zealand |
| Kamran Akmal | 4 | 0 | 4 | 2 | Pakistan | v Netherlands |
| NJ O'Brien | 4 | 3 | 1 | 1 | Ireland | v Sri Lanka |
Follow us on Google News