Would be great to see him opening with Rohit Sharma for Mumbai Indians: Devon Conway's coach Glenn Pocknall [Exclusive Interview]
In his short career for New Zealand, Conway has already grabbed the limelight with his consistency in all formats.
Get every cricket updates! Follow us on
At the age of 18 when he broke into the Dolphins' setup, a bright future seemed to be in the offing for Devon Conway. Also, with a chance of playing alongside the likes of Quinton de Kock and Temba Bavuma, for South Africa U19, he looked good for taking short strides among the big boys. However, even as De Kock and Bavuma went on to captain the Proteas team, Conway remained stranded.
The frustration carried on until 2017 as he found it hard to make a mark in the country's domestic circuit. The agony and grief had piled on to such an extent that even a first-class double century for Gauteng at the iconic Wanderers in Johannesburg didn't make him change his mind about moving to New Zealand. The decision to shift base has turned out to be a blessing for the 29-year-old.
From August 2020, the International Cricket Council (ICC) permitted him to play for the Black Caps. Until the time he was eligible to represent the Kiwis, he honed his skills for Wellington and scored tons of runs for them in domestic cricket. In November 2020, the southpaw made his debut against the West Indies, and ever since then, he has already played all three formats for the national team.
During this while, he scored a Test double ton at the Lord's, an ODI century against Bangladesh, and a couple of 90s in T20Is. The left-hander even went on to break Kepler Wessel's 39-year-old world record of scoring the most runs on Test debut. Moreover, he made an entry into the Indian Premier League (IPL) 2021 auction, though he couldn't find a buyer at a base price of INR 50 lakhs.
Amidst his rise at the highest level, one person, who deserves a mention, is his coach, Glenn Pocknall, who's also the coach of Wellington Firebirds. Under his tutelage, the Transvaal-born Conway has grown leaps and bounds and has given his career a new lease of life.
Pocknall, who also coached New Zealand A, took his time out and had a chat with CricTracker for an exclusive interview. The veteran spoke about Conway's growth as a cricketer and various other aspects, including a chance of him getting an IPL contract.
Here are the excerpts from Devon Conway's coach Glenn Pocknall's interview:
From bagging a duck in his maiden first-class innings in 2009 to scoring a double century at the Lord's on Test debut- Quite a special journey. Your thoughts
Incredible really! When he moved to Wellington, he started at the bottom of the heap as a club cricketer. Within four years of moving from South Africa to starting a new life and reinventing his career, he is out, scoring a double hundred at Lord's on debut. You cannot make these things up or even imagine it.
It has nearly been four years since Conway arrived in Wellington when he was 26. What was your first impression of him as someone who was trying to revive his career?
In the past, we have had a lot of players from overseas come and ply their trade in Wellington. At the start, he was just one of those and we waited to see how he would perform in club cricket. He started well and put some good scores on the board.
So, Bruce Edgar (former New Zealand cricketer) got him to a trial match that the Wellington Firebirds were having. He batted out 10 balls and looked classy during the 20-30 balls he faced.
From struggling in the first half of his career to playing all three formats of international cricket in a span of six months, how has Conway reacted to the turnaround?
He is very grateful for what has transpired and he is just happy to be playing cricket. The last six months have all happened very quickly for him so there would be an element of it still sinking in, I'm sure.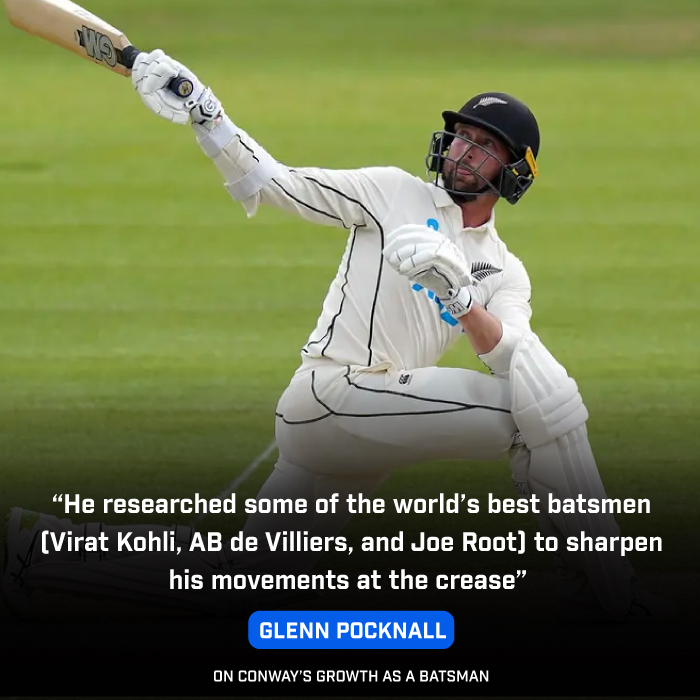 Conway seems an all-format batsman. What was your message to him before his Test debut at Lord's?
We spoke about the difficult choices and times he has been through, all being worth it in this one moment and I asked him to enjoy it.
In South Africa's domestic cricket, Conway was not a regular member of his team, and his batting position was altered frequently. When he started playing for Wellington, how did the team management address the issue?
We saw enough in him, and Bruce and I knew he would play an important role in the team. So, prior to each format, we told him his role and where he would be batting in the order. So, this was something new for him and this clarity gave him certainty and confidence to train for the role we expected of him. This is a process we use with every player as it gives them the best chance to train for that role consistently.
Any specific technical glitch of Conway you worked on when he started playing for Wellington?
Initially, we just let him bat and after the first half of a season, Devon was keen to look at being just a little sharper with his movements at the crease. He researched some of the world's best batsmen (Virat Kohli, AB de Villiers, and Joe Root) and how they set up.
From this, we had numerous discussions about what they did and trialled a few different ways before landing on a pre-movement that had the desired effect for him. This gave him time and improved his balance when he moved while batting. It was a lot of hard work from him to perfect and ingrain this movement so it could become consistent.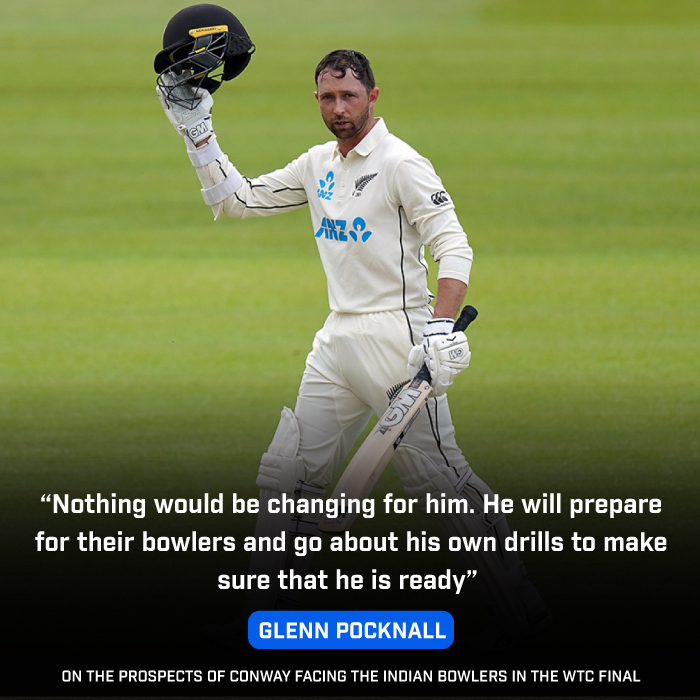 Now being a prolific run-scorer for Wellington, the youngsters must be looking up to him as an example of how not to shelve one's dreams while going through a rough patch. Your thoughts
I hope so. He should be an inspiration for any player who wants to make it to the top. Showing a commitment to work smart and hard shows you what is possible. Add to this, having the deep desire to be the best you can and achieve your dreams comes down to the choices you make as a player. A lot of players want it, but not as many are willing to devote their life to it through the ups and downs.
Conway has never been up against the Indian bowling. Any words of wisdom you want to deliver to him before the WTC final?
Nothing would be changing for him. He will still prepare for their bowlers and go about his own drills to make sure that he is ready. He will go into the match with confidence after performing so well. So, he needs to continue with what he has been doing as it has clearly been working.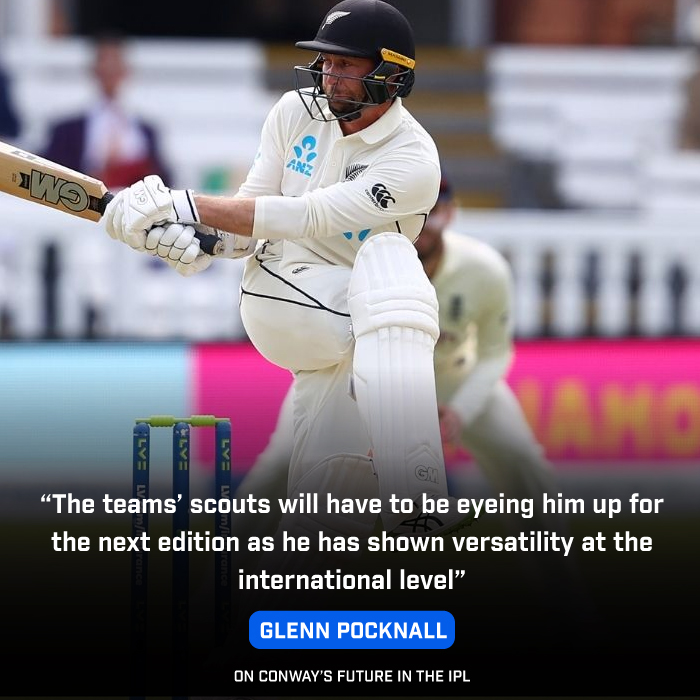 Both of Conway's 90-plus T20I scores came after the IPL 2021 auction. Do you think he would have had a better chance to get a contract had those knocks came before the auction?
It probably would have as they were against good attacks (Australia and Bangladesh). However, he was not too fazed about going unsold in the auction. His time will come, I'm sure.
With his batting success of late, do you think there's an IPL contract on the way for Conway? If yes, which team do you think should pick him?
The IPL teams' scouts will have to be eyeing him up for the next edition. He has shown versatility in batting at the international level by playing in the middle order and as an opener. He can also keep wickets if required. These are handy skill-sets and records for all the IPL teams to look at. It would be great to see him open with Rohit Sharma at Mumbai Indians (MI).