Yorkshire rope in Kraigg Brathwaite for the rest of the county season
Brathwaite will fill in the gap created by Shaun Marsh who will be heading back to feature for Western Australia in the Matador Cup.
Updated - Sep 6, 2017 12:45 pm
160 Views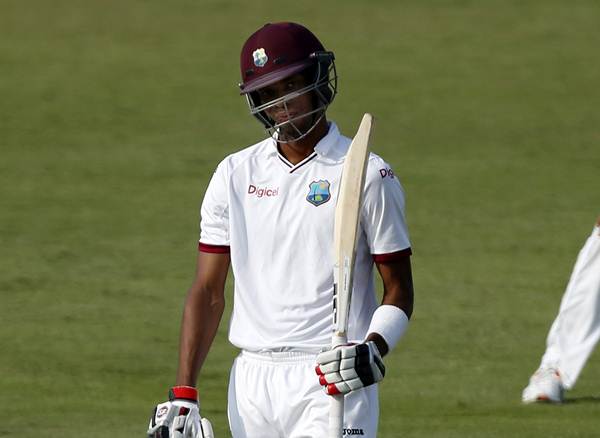 Follow us on Google News
West Indian batsman Kraigg Brathwaite has joined county cricket Club Yorkshire, that will see him don their jersey for the final two County Championship Division One fixture of the 2017 season. The news was announced by the club on Wednesday, September, 6th.
Kraigg Brathwaite's contribution was absolutely crucial for the West Indies in their second Test encounter against England. West Indies showed a brilliant example of guts and character to pull off a remarkable victory against the Three Lions to level the series at Headingley. While Shai Hope stole the limelight with twin centuries in the Test match, Kraigg Brathwaite contributed with scores of 134 and 95 to script an emphatic win.
However, Brathwaite is not a part of West Indies ODI squad that will face England in the limited overs format which will follow the Test series. As a result, Brathwaite will engage himself with Yorkshire prior to their final home game against Warwickshire which is scheduled for a September 19th start.
What Brathwaite had to say:
Speaking about the same Brathwaite said "It's a bit of a surprise,". "Initially, coming to England I knew there would be a lot of opportunities and one of my goals was to score as many runs as possible. I wanted to lead the West Indies batting from the top and earn a chance to play some county cricket." he added.
"Before the second Test I was speaking to my agent and he was telling me that he was talking to Yorkshire's coaching staff. After the game he came back to me telling me he was getting some quality feedback. They really wanted me and I was very happy because Yorkshire is a very big club in England and I'm very happy and proud to have been selected by them." Brathwaite said."Playing county cricket was always one of my goals and coming over here to play against England for the West Indies was going to get me one step closer, if I did well. Many of our past players have played in England and they always say it's the place to develop a better technique and learn more about batting, predominantly because the ball does a lot throughout the day. Playing in England, playing county cricket will help me learn with every game, every day." said the 24-year-old.

Brathwaite will fill in the gap created by Shaun Marsh who will be heading back to feature for Western Australia in the Matador Cup. According to Martyn Moxon, Yorkshire's Director of Cricket, Braithwaite's tremendous performance against the West Indies came at the most appropriate time and will be a huge benefit for the club.

"When we found out that Shaun wasn't going to be available for the last two games, we looked at options to replace him," said Moxon. "At such a late stage and with Kraigg getting the runs he did at Headingley, it all came at the right time. We enquired about his availability and it was pleasing he was keen to play and the West Indies cricket board are keen for him to get more experience playing in England, so it fits well for both parties." he added.

"Importantly for us he's currently playing in English conditions at Headingley, which is obviously one of our games, and was important for us with regards to anybody we brought in." he concluded.https://twitter.com/YorkshireCCC/status/905313376070320128?ref_src=twsrc%5Etfw&ref_url=http%3A%2F%2Fwww.cricbuzz.com%2Fcricket-news%2F96905%2Fyorkshire-sign-kraigg-brathwaite-for-remainder-of-county-season
Follow us on Telegram