'You are better than this' – Twitter not happy with Gautam Gambhir for his distasteful tweet over the World Cup-winning six
Gambhir's tweet hasn't gone down well with the fans.
Updated - Apr 2, 2020 11:08 am
63.2K Views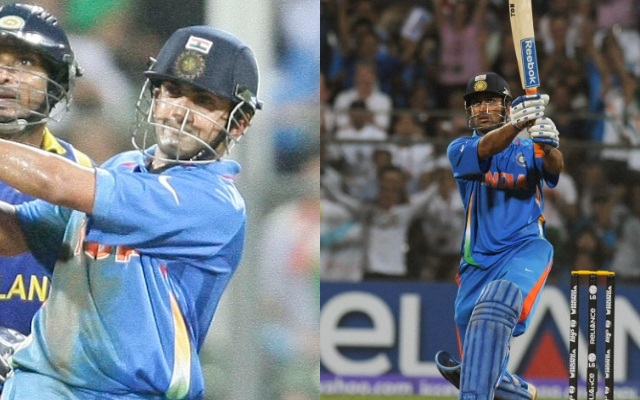 India is celebrating the ninth anniversary of the country's golden moment in its cricketing history. On April 2, 2011, the Men in Blue won the World Cup and became the first team to win the elusive trophy on home soil. It was also end of the long wait of 28 years as India had last won the mega event back in 1983. However, the historic day has started on a bit of a controversial note with Gautam Gambhir coming up with a rather distasteful tweet for glorifying MS Dhoni's winning six over long on.
As far as the match is concerned, it was Gambhir who had helped the team make a comeback in the match after early fall of wickets of Sachin Tendulkar and Virender Sehwag in the steep chase. The southpaw first revived the Indian innings by stitching a brilliant partnership with Virat Kohli and then put India into ascendancy after MS Dhoni arrived to the crease.
However, with only three runs behind the magical three-figure mark, Gautam Gambhir got out to Thisara Perera. And then MS Dhoni made sure that there were no more hiccups in the chase to eventually finish it with a six, the moment which will forever remain fresh in the minds of the fans.
World Cup was won by entire India, said Gautam Gambhir
A leading web portal posted the picture of MS Dhoni hitting the six calling it a moment which sent the millions of Indians into jubilation. No wonder it was all about the winning moment in the post and it didn't take anything away from the efforts put by the other team members and the support staff.
However, Gautam Gambhir didn't seem impressed with their tweet and sent out a reminder stating that the World Cup was won by the whole country and it was a team effort. "Just a reminder: #worldcup2011 was won by entire India, entire Indian team & all support staff. High time you hit your obsession for a SIX," he tweeted. This didn't go down well with the fans who slammed the former India opener for his distasteful tweet.
Here's his tweet:
Just a reminder @ESPNcricinfo: #worldcup2011 was won by entire India, entire Indian team & all support staff. High time you hit your obsession for a SIX. pic.twitter.com/WPRPQdfJrV

— Gautam Gambhir (@GautamGambhir) April 2, 2020
Here's how fans reacted:
Breaking News: Dhoni to break lockdown rules. Soon to visit Delhi and give his Man of the Match trophy to Gambhir.

— SillyPoint #IPL (@FarziCricketer) April 2, 2020
"Sir bill kaise pay karoge – Cash or credit?"

Gambhir: Cash, credit to Dhoni le gya 😏

— DR. GILL (@ikpsgill1) April 2, 2020
When someone says India won 2011 world cup because of Dhoni
Gautam Gambhir: pic.twitter.com/uPSEsPOiHf

— DR. GILL (@ikpsgill1) April 2, 2020
Q. What's the difference between Vijay Mallya and Gautam Gambhir?

A. Gautam Gambhir didn't get the credit

— Sagar (@sagarcasm) April 2, 2020
If anyone is facing shortage of salt during this lockdown, you can go to Gambhir's house.

— Manya (@CSKian716) April 2, 2020
News – this shot sent millions into jubilation
Gambhir – it was a team effort.

News – it was a team effort.
Gambhir – mere 97 ni dikhe kya ?

— BING (@ya_jhakaas) April 2, 2020
I think Gambhir is like most of us… His hatred(ego) towards MS is not directly MS, but because of Dhoni fans/media exhilaration towards that SIX..

— Keerthi (@TheEndhiran) April 2, 2020
In a parallel universe this was clean bowled. Gambhir came at 7 and finished the game while yuvraj scored 97.
I have tweeted on behalf of gambhir. pic.twitter.com/TsQDWbgZCf

— Jay (@Aragorn_2_) April 2, 2020
They never said this shot won us the #WorldCup2011.They are Only saying this shot took Indians into jubilation.

So Stop Crying. https://t.co/6MR7VFigIi pic.twitter.com/Hu2jRXtcgf

— Troll CSK Haters™ (@CSKFansArmy) April 2, 2020
They never said it was because of this shot that India won the game. Sit down. https://t.co/LH5Qt3Z7ki

— Manya (@CSKian716) April 2, 2020
You are better than this Gauti
Surely https://t.co/i90OD00899

— . (@karthik_jammy) April 2, 2020
The jealousy even nine years down the line 🔥 https://t.co/BfYu7d8ad9

— Sameer Allana (@HitmanCricket) April 2, 2020
Ms never ever tweeted about his innings anytime
He has one photo with world cup that night
Why all cricketers are doing such things …
First Yuvi
Now gambhir https://t.co/kjGFavuQdW

— Captain_🚩 (@71Arjunb) April 2, 2020
"When I die, the last thing I want to do is to beg credits for the innings the 2011 World Cup final. – @GautamGambhir https://t.co/fIRhFCYjdx pic.twitter.com/Rm53hMEJCv

— Prince Anil🌠 (@princeanil27) April 2, 2020
My word Gauti 🤦🏼‍♂️ Don't become the next Harbhajan Singh 🤦🏼‍♂️🤦🏼‍♂️ https://t.co/LXQzH6U12h

— Udit (@udit_buch) April 2, 2020
They never said it was because of this shot that India won the game.

Sit down & Stop Crying. https://t.co/PNBPxFFMyC

— MSDian™ (@Ashwin_tweetz) April 2, 2020