'You might get a beamer at your head' – Robin Uthappa recalls getting warned by Shoaib Akhtar in 2007
Robin Uthappa and Shoaib Akhtar were up against each other during 2007 ODI series
Updated - May 15, 2021 6:52 pm
4K Views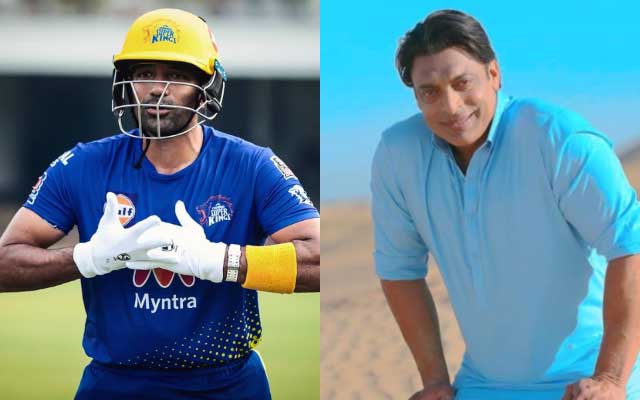 Shoaib Akhtar is widely regarded as one of the most intimidating fast bowlers ever. The former Pakistan pacer instilled fear in batsmen's minds with his raw pace and vicious bouncers. In fact, the fast bowler had also forced many batters to leave the ground midway after injuring them with his thunderbolts. During his career, Akhtar had several memorable on-field battles with batting legends like Sachin Tendulkar, Rahul Dravid, and Matthew Hayden. He also had an episode with Robin Uthappa during Pakistan's tour of India in 2007.
Pakistan travelled to India in 2007 for a three-Test and five-match ODI series. The Men in Blue clinched the Test series 1-0 and even kick-started the ODI leg with a five-wicket triumph. Chasing 240 at the Nehru Stadium in Guwahati, the hosts got over the line with three overs to spare. While MS Dhoni and Yuvraj Singh scored half-centuries in that game, Robin Uthappa smashed the winning runs. During his 11-run cameo, Uthappa also played his trademark walkout shot in which he takes a few steps during the bowler's run-up to unsettle his length.  Moreover, Uthappa did that against Akhtar, who was breathing fire in that game.
Shoaib Akhtar warned me to not step out against his bowling: Robin Uthappa
"I'll share one story about Shoaib Akhtar. We were playing a game in Guwahati. And since it's in the east of India, it gets dark there early. Back then, we did not have two new balls. After 34 overs, we used to get a ball that used to be 24 overs old but slightly better. Shoaib was bowling and Irfan and I were batting. I think we needed 12 to win off 25 balls or something like that," Uthappa told stand-up comedian Sorabh Pant on the latter's YouTube channel.
"I remember he bowled a yorker to me. I missed it from the arm and only saw it coming straight into the blockhole. I stopped the ball dead there. That was 154 something clicks. The next ball was a low full toss and I hit the ball for four. So after that, we needed 3 or 4 runs to win and I told myself, 'Man, I have to walk out to Shoaib Akhtar and hit him. How many times will I get that opportunity?' He bowled a length ball and I did it; it took the edge and it went for four. We won the match," the 35-year-old added.
Pakistan won the next game in Mohali before India retook the lead in the third ODI in Kanpur. Uthappa recalled that Akhtar confronted him ahead of the fourth ODI and warned him not to play that shot against him. Otherwise, the Indian batsman might face a beamer at the head.
"We went to Gwalior for the next game and I remember we all were having dinner together. I think we hung out in someone's room and having a mean. Shoaib Bhai was there as well. He came to me and said 'Robin… well played. Good game'. And then he said 'One more thing… you walked out and hit me today. If you do that again, even I don't know what will happen… you might get a beamer directed at your head.' After that, I didn't even dare walk out to him," the Chennai Super Kings (CSK) batsman added.