'You will not believe that this guy is playing international cricket' – Virat Kohli roasts Chahal for his Tik Tok videos
Virat Kohlis tells AB de Villiers to watch Chahal's Tik-Tok videos.
Updated - Apr 25, 2020 12:16 pm
8.2K Views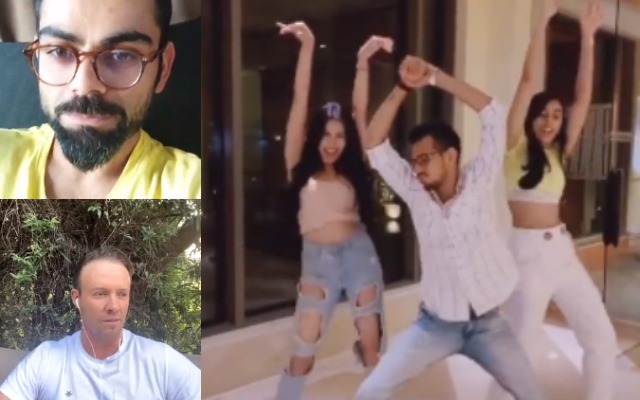 Follow us on Telegram
Yuzvendra Chahal, the prolific Indian spinner hogged the spotlight on the back of his brilliant spin bowling in the recent past. But, now he has hit the headlines due to his Tik-Tok videos that are making rounds on social media. He is getting trolled by the fans for the same but that doesn't make a big difference in his life. On Friday, Virat Kohli, the Indian skipper also roasted him for doing such things being an international cricketer.
Amid Coronavirus outbreak, the cricketers are left with nothing much in their corner. Moreover, the lockdown in the country has made situations from bad to worse for the players. So, they are finding some new and innovative ways to pass their time. Many cricketers have become active on social media platforms and they are interacting with their curious fans and giving answers to their questions, some are busy in spreading awareness messages on how to be safe from the COVID-19.
Virat Kohli takes a hilarious jibe at Yuzvendra Chahal for his Tik-Tok videos
Meanwhile, Yuzvendra Chahal, the 29-year-old spinner might have pledged to become a new Tik-Tok star in India due to which he is frequently coming out with some funny and hilarious clips. Moreover, he is accompanied by his family members in making those clips as well. There is no doubt over the fact that Chahal is turning into a meme material for the netizens.
During a live session with AB de Villiers, Virat Kohli also made fun of his teammate. He told the former Proteas player to just go and check Chahal's Tik-Tok videos. The Indian skipper added that no one can believe after watching those clips that he is an international cricketer. As per him, the leg-spinner is no less than a clown. In the end, both the superstars were finding it difficult to hide the laughter on the activities of the Indin bowler.
"Go and check out Yuzvendra Chahal Tik Tok videos. You will not believe that this guy is playing international cricket. He's 29-years old. Just go and check his videos. He's an absolute clown," Virat Kohli said to AB de Villiers during Live session.
Follow us on Google News