'Your wife will set you up an account' - David Warner asks Virat Kohli to join Tik Tok
Warner would love to see Kohli make his Tik Tok debut.
Get every cricket updates! Follow us on
As the entire world is in lockdown, people sitting at their homes have discovered several new hobbies. The same was the case with Australian cricketer David Warner. The left-handed batsman has found an interest in the social media app, Tik Tok. During this lockdown, the Paddington-born player has been uploading videos on Tik Tok and his other social media accounts Twitter and Instagram.
The batsman has also encouraged his fellow cricketers to join the social media app. He had invited his white-ball opening partner and the Australia ODI captain Aaron Finch. After successfully influencing him, Warner has now turned to Virat Kohli in an attempt to make him join Tik Tok.
Your wife will set you up an account: David Warner says to Virat Kohli
The episode started when the 33-year-old uploaded his new Tik Tok video on his official Instagram handle. In this video, the Sunrisers Hyderabad captain was seen dancing to the tunes of the famous Bollywood song "Shaitan ka Saala" from the movie 'Housefull 4'. The song has a catchy tune as while referring to the protagonist 'Bala' played by actor Akshay Kumar.
After seeing this video, the Indian captain posted a comment on Warner's post. He just added four laughing emoticons. After reading the comment from the batsman, the Aussie replied back asking Kohli to join Tik Tok. He also asked the Indian cricketer to make a duet with him. The Australian also suggested Kohli that he can take help from his wife and Bollywood actress, Anushka Sharma. "you're next bro come on man a duet. Your wife will set you up an account," Warner wrote as a reply to Kohli's comment.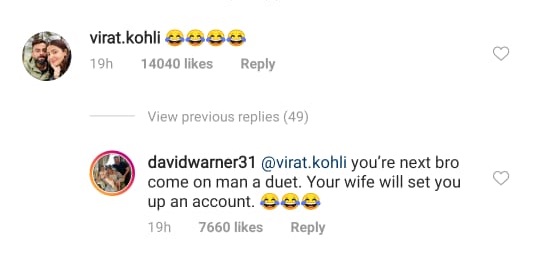 As a matter of fact, the Australian batsman received praise from Akshay Kumar as well. The actor posted a comment on his video. He wrote, "Absolutely! Nailed it."
The dashing opener has been uploading many videos related to Indian movies. In the past few days, he has uploaded a few videos with references from famous South Indian movies like Baahubali and Pokiri.
It will be interesting to see if the Indian skipper follows the footsteps of his Australian colleague and friend. The two share a good relationship despite having some feuds on the field during the initial stages of their careers.