Zafar Ansari retires from all forms of cricket at the age of 25
The left-arm spinner has been with Surrey since a 8 years old and has played his age group cricket with the club system.
Updated - Apr 26, 2017 4:29 pm
26.7K Views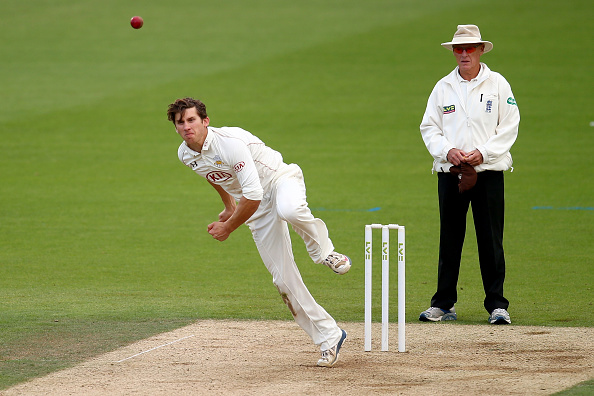 Follow us on Telegram
English all-rounder Zafar Ansari who recently made his Test debut against Bangladesh last year has decided to call it quits from all forms of cricket with immediate effect. It is surely a surprising decision given the fact Ansari is just 25 years old and recently made his national debut. He conceded that cricket was just only one aspect of his life and he now intends to make a career in law
The left-arm spinner has been with Surrey since a 8 years old and has played his age group cricket with the club system. He was part of the team which won the Lord's final while studying at Cambridge. He achieved a double first in Philosophy, Politics and Sociology in 2013. Zafar slowly but steadily started growing as a cricketer and got his maiden national call-up in 2015 and made his ODI debut in the same tour.
He was then included in Test squad but missed out due to a freakish hand injury. The Surrey County Cricket Club wished him all the very best for his future endeavours.  "After seven years as a professional cricketer and almost two decades in total playing the game, I have decided to bring my cricket career to an end. This has been a very difficult decision to make and I have not made it lightly. I started playing for Surrey at the age of 8 and the club has been a hugely important part of my life since then. Surrey has always completely supported me and I am extremely grateful to the club for their backing over the years. It is, therefore, with great sadness that I say goodbye," Zafar was quoted as saying by a media release by Surrey.
"Nevertheless, I have always been clear that when the time was right for me to move on I would, and that time has now come. While the timing may come as a surprise, I have always maintained that cricket was just one part of my life and that I have other ambitions that I want to fulfil.  With that in mind, I am now exploring another career, potentially in law, and to achieve this I have to begin the process now.
"I will look back extremely fondly on playing with some wonderful teams and having the opportunity to perform in front of the best crowds in county cricket at the Kia Oval. Equally, to have played three Test matches for England was a huge honour and it is something I will undoubtedly savour for the rest of my life. Most of all, I will miss the people with whom I have shared my career and I cherish the relationships that I've formed along the way.
"I would like to thank Surrey and its fans for the way they have supported and encouraged me over the last 17 years. I am now looking forward to starting a new chapter in my life, but I know that Surrey will always feel like a home to me."
The Director of Cricket at Surrey, Alex Stewart said that despite the decision being a surprising one they have to respect his decision. "Zafar's exceptionally tough but considered decision is one that we should all respect and understand. To retire at such a young age when his cricket career was progressing very nicely, earning a Test debut against Bangladesh last winter, proves that he has given great thought in deciding to walk away from the professional game.
"He is one of our own, having come through our age group and academy system where he first played for the county at the age of eight. Throughout his time with Surrey, he has represented the club with great pride and skill. He will be missed by all his Surrey team-mates, members and supporters and I speak on behalf of everyone in thanking him for his loyal service.
"We wish Zafar the very best in whatever the future holds for him and he will always be welcomed back to the Kia Oval with open arms," Stewart said.
Follow us on Google News