3TeamCricket: Explained in Detail
A never-seen-before format received green signal by Cricket South Africa amidst the COVID-19 havoc.
Updated - Sep 2, 2020 2:03 pm
1.7K Views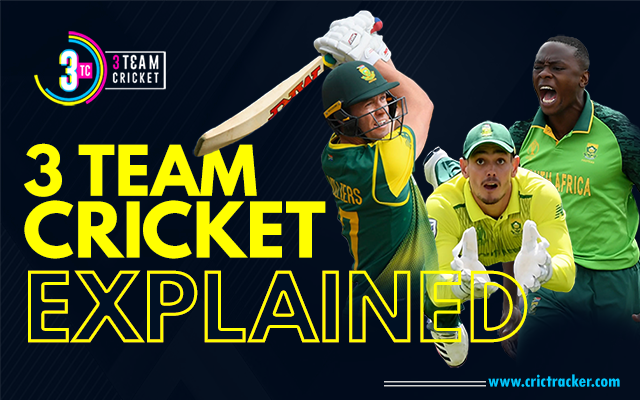 Cricket is set to return in a revolutionary and baffling new avatar as Cricket South Africa (CSA) gave a nod to 3Team Cricket. The one-off exhibition match featuring 24 players divided into three teams- Kingfishers, Kites, Eagles- of eight players, will be played at SuperSport Park in Centurion. The event was postponed last week as CSA failed to secure approval from the South African government, which was mandatory as Centurion was in a coronavirus hotspot.
However, CSA announced a new date for 3TC match and it will now be played on July 18, the Nelson Mandela International day. The experimental format will be played as a fundraiser event titled Solidarity Cup, with all the match-proceeds going to a fund meant to provide relief to the cricket players financially affected by the COVID-19 pandemic.
Termed as an evolution in cricket, the byzantine rules of 3TC has left many flabbergasted. Although the South African legend AB de Villiers is optimistic about the format making sense. "Maybe it'll make a lot of sense once we start and just play," stated the 36-year-old veteran in an online press conference held to launch 3TC.
TEAMS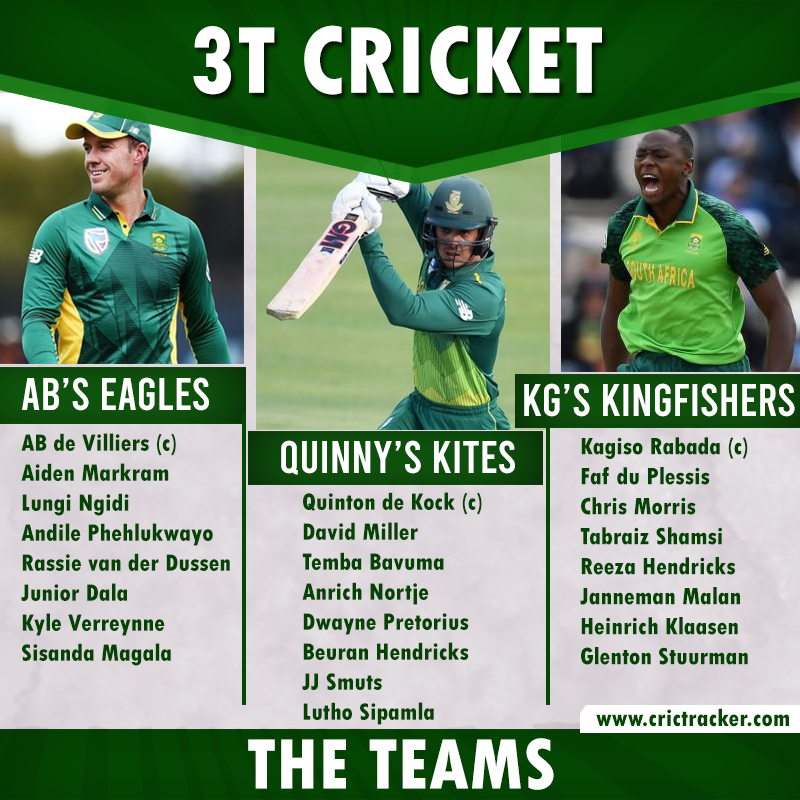 3TC: RISE OF THE IDEA
The path-breaking 3TeamCricket is a brainchild of Paul Harris, former CEO of FirstRand Bank and the current Chairman of a data-firm Rain, who stumbled upon this concept rather serendipitously while playing a three-team card game with his family.
Harris was quick to narrate the idea to two of his friends- former South African skipper, Graeme Smith and Mark Boucher, the legendary South African wicket-keeper- both of whom were more than willing to develop an innovative format of cricket. 
As it stands now, 3TC is a joint-venture of Harris, renowned commentator Mark Nicholas, and Francois Pienaar, the former South African rugby captain.
DISENTANGLING THE RULES
Here are the rules of the format in a simplified manner-
The match will have 36 overs played in two halves of 18 overs each.

There will be a half-time break at the 18-over mark.

These 18-over halves are further divided into three 6-over periods.

Each team will bat and bowl to one opponent in each half.

Each team will face 6 overs from one of their opponents in the first half. In the second half, each team will resume batting for another 6 overs, but this time from their other opponents.

There are three positions- Batting, Bowling, and Dugout. In the first 18-over half, these positions will be decided by a lucky draw. In the second half, there won't be any draw, instead, the teams will bat in order of the highest scores of the first half.

In an event where the scores in the first half are tied, the batting order of the first half will be reversed.

There will be one new ball for a full 12 overs and each team is allowed a maximum of three overs per bowler.

In an event of a team losing 7 of its 8 wickets, the last batsman can continue to play (a.k.a. "Last man standing" rule). However, the "last man" can only score in even number. He may hit a boundary or run a double, but singles and threes will not be permitted.

The team with most runs wins gold, second gets silver, and the third bronze.

In case of a tie for gold, the match will go into super over.

There won't be a super over in case of a tie for silver and the spot will be shared.

If all three teams tie, all will share gold.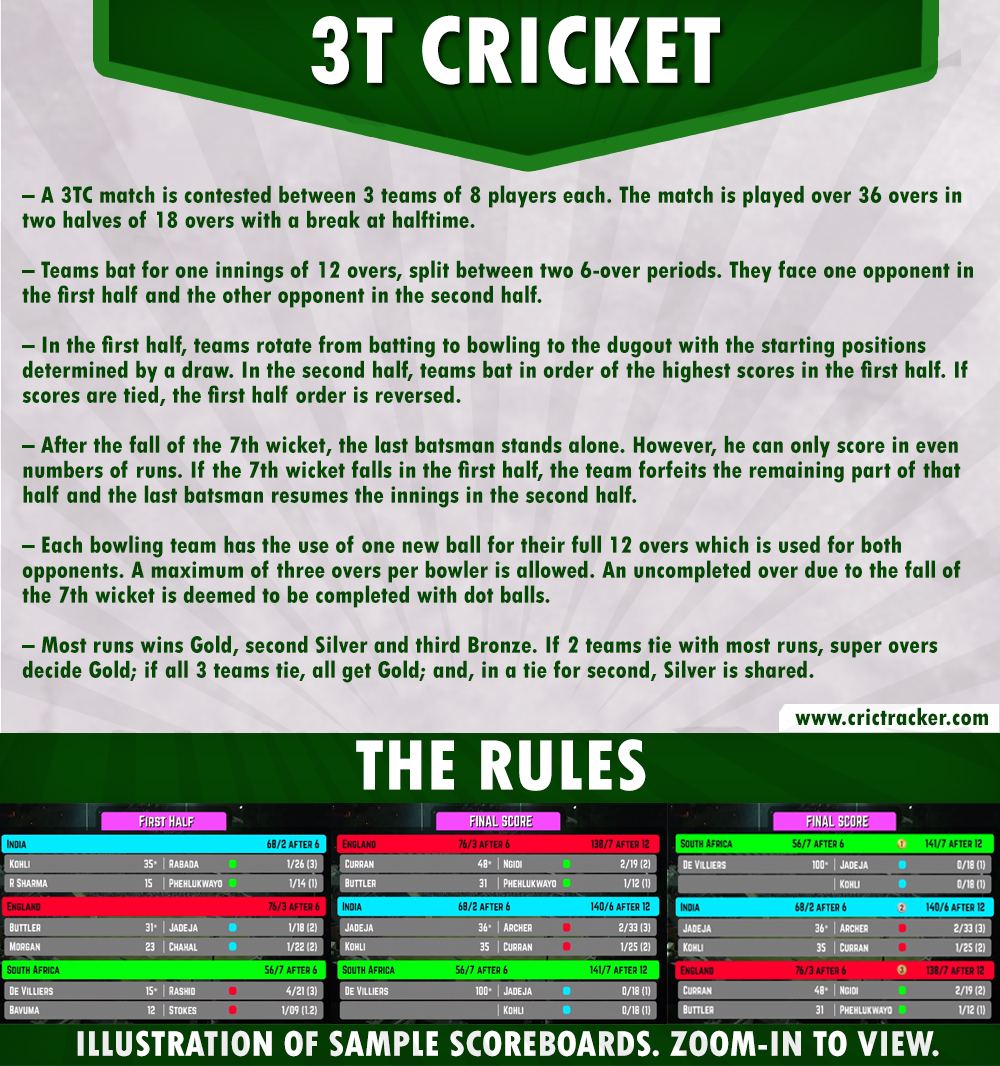 3TC MATCH: A WALKTHROUGH
If you're still bemused and wondering what a real match will be like, let us quickly run a hypothetical match to clear the air. India v Australia v England at Wankhede Stadium, Mumbai. The draw was made and India batted first, followed by Australia and England respectively.
1st HALF
Indian openers fell cheaply to Jofra Archer (3-0-27-2). Some exquisite shots of Kohli 38*(18) and Shreyas Iyer 22*(12) helped India post 70/2 after 6 overs. Archer was bowled-out whereas Adil Rashid (2-0-31-0) had an over left in his quota of 3. Ben Stokes gave away 12 runs in his solitary over and has 2 overs remaining. 
The rotation goes from Batting to Bowling to Dugout, so Australia, which was in the dugout, is set to bat against India. 
Jasprit Bumrah (2-0-19-2) knocked-over Aaron Finch in the first over and took a sensational catch off his bowling to get rid of Mitchell Marsh. However, David Warner's scintillating 46*(24) and Steve Smith 26* (11) ravaged the Indian spin-duo Yuzvendra Chahal (2-0-27-0) and Kuldeep Yadav (2-0-32-0) taking Australia's tally to 78/2 after 6 overs. India didn't bowl Mohammed Shami in the first-half.
Now, it was England's turn to have a go at Australia as India went to the dug-out.
England started well as Jos Butler 12(6) pulverized Kane Richardson (2-0-30-1) by hitting three consecutive boundaries. But Pat Cummins (3-0-11-3) jolted England in their second over when he dismissed Jason Roy, Jos Butler, and David Malan in a space of 4 deliveries. Jonny Bairstow 27* (14) alongside the skipper Eoin Morgan 17* (10) guided England's total to 60/4 after 6 overs.
HALF-TIME
All three teams have batted once for 6 overs. At the half-way mark, the scores are-
Australia- 78/2

India- 70/2

England- 60/4
As the batting order is determined by the highest scores of the first-half, Australia will now be batting first followed by India and England respectively.
2nd HALF
Batting first in the second-half, Australians were unsettled by Tom Curran, who didn't bowl in the first half. Remember, Archer finished his quota of 3 overs already. Curran (3-0-17-2) dismissed the dangerous-looking Warner 50 (27) and Smith 28 (14) in the very first over. Alex Carey's sensible 33* off 19 deliveries and Matthew Wade's 23 (12) steadied the ship for Australia before Wade gifted his wicket to Stokes (2-0-1-30). Australia, after scoring 78 in the first half, added 62 runs in the second half to take their final score to 140/5 after 12 overs. 
Indian had to bat second. Skipper Kohli (previously 38*) continued with flawless rhythm and made it seemed as if he never took a break. Iyer 44 (23) joined the party by smashing Ashton Agar (2-0-33-0) for 18 runs in an over. India looked unstoppable till the penultimate over when a devastating yorker by Mitchell Starc (3-0-1-36) caught Iyer off-guard. India added 80 runs in the second-half, courtesy MS Dhoni's brisk 31-run cameo, and Kohli's unbeaten 68. India scored 150/3 after 12 overs.
England (having 60 on the board) required 91 to surpass India's tally win gold or 81 to beat Australia for silver. The Indian skipper Kohli gave the ball to Bumrah, who had only an over left. Chasing 91 off 36, what a team can surely not afford is scoring 5 runs in the first over of the chase. But England did. Shami (3-0-21-2) was miserly and once he dismissed Bairstow, England never looked in the game and managed to add just 58 runs in the second half to reach 118/6 after 12 overs.
FINAL RESULT
India- 150/3

Australia- 140/5

England- 118/6
India won gold, Australia silver, and England bronze.
To what lies ahead…
3TC may open the floodgates to completely unexplored and never-thought-before dynamics of the game. This format will demand tactics at all times; it will give us chances to witness the likes of Warner, Kohli, Bairstow, Cummins, Archer, Bumrah… and many such dazzling stars in a single game of cricket!
Team selection will be much trickier as each team plays only 8 players. Maneuvering the tactics, getting under the skin of the opponents, and trying to stay a step ahead will be of paramount importance. Captains will have bigger challenges while shuffling bowlers and deciding when to use which bowler against whom. Every team will have a chance till the very end, no matter how slim, to win the gold. 
This format is like a blend of chess and cricket. Be farsighted, read minds, anticipate the moves, or else you are finished. The brighter side? Each participant gets recognition- Gold, Silver, or Bronze- in the end.
Brace yourselves for some thrilling action on 18th July.
~Written by Pratyay Tiwari