5 Instances when Australians sledged Virat Kohli
Since breaking into the national side, Kohli has dominated the best bowlers in the business quite effortlessly.
Updated - Apr 27, 2020 6:17 pm
4.9K Views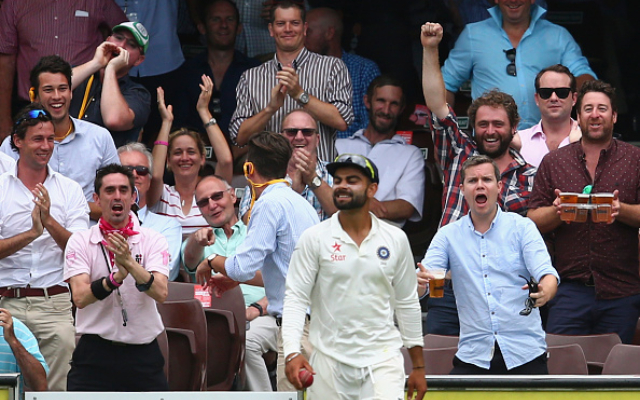 Virat Kohli, the Indian skipper is rated as one of the best batsmen of the modern-day cricket. He has evolved himself into a multi-format batsman, who is a nightmare for any bowler when he is playing at his best. In the last decade, he has dominated the best bowlers in the business quite effortlessly.
This is the main reason due to which the opponents try to sledge him during the games while he is batting. Sledging is a part and parcel of this game until it is done inside the rule books. But sometimes, the players forget the guidelines and try to hit the opponent players below the belt and that is never acceptable.
Interestingly, Australia is one of the teams who are the frontrunners in terms of sledging the current Indian skipper. So, here we are to tell everyone about the top 5 Instances when Australians sledged Virat Kohli in the past.
Here are five such incidents:
1. Virat Kohli and James Faulkner
James Faulkner, the Aussie all-rounder once tried sledging Virat Kohli in an ODI game. But, he got a fitting reply from the Indian skipper. In 2016, Team India went on an important tour of Australia for playing five-match ODI series and three-T20Is. The Faulkner-Kohli sledging instance happened during the 3rd ODI match at the MCG.
In that game, the Indian skipper was playing at his best and the hosts' bowling unit was left clueless on how to dismiss Kohli. So, James Faulkner tried to sledge Kohli in order to shift his focus. He said some words to the Indian batsman who came out with a fitting response that got recorded on the stumps mic.
Kohli said, "You're wasting your energy. There's no point. I've smashed you enough in my life. Just go and bowl!"Soon after that verbal altercation, the Kohli dispatched the very next delivery for a boundary he faced against the left-hand pacer.