'9 from 9' – Jofra Archer's old tweets are trending once again after PM Narendra Modi urges nation to light diya on April 5
Archer continues to amaze everyone with his old tweets.
Updated - Apr 3, 2020 1:33 pm
2.1K Views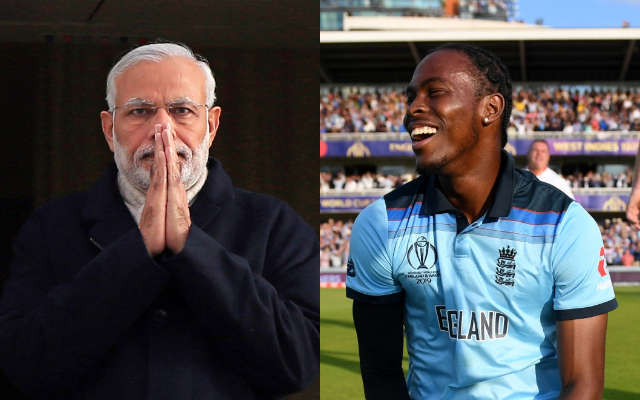 Jofra Archer and his old tweets resembling exactly to the current happenings the world is not a new thing. It happened during the World Cup last year and this time, his old tweets are eerily similar to what is happening across the world and in India at the moment.
India's Prime Minister Narendra Modi announced a nationwide lockdown on March 23 for the three weeks and surprisingly, Archer had previously tweeted, '3 weeks at home ain't enough' in October 2017 itself. Moreover, one of his tweets in 2013 also reckoned it was all going to happen on March 24 (the day when lockdown actually started).
Now, on Friday, Modi once again addressed the nation thanking the citizens of the country for supporting the government during this lockdown period. Moreover, he also urged the people to light diyas, candles or torch from their balconies and doors for nine minutes on Sunday, April 5 at 9 PM and also turn off the lights in their houses for the same duration.
Jofra Archer's four old tweets resemble to Modi's challenge on Sunday
And Jofra Archer had tweeted similar things to light diya challenge from Narendra Modi before. Twitterati was left stunned to see these tweets and soon all of them went viral on social media. While Archer himself had played down the similarities of his old tweets with the current happenings, it is becoming a little too often nowadays.
Moreover, the 25-year-old even had a tweet for the current situation when he had predicted that the world will have no place to run at all. As far as his ongoing viral tweets are concerned they read as, '9 from 9'; 'Tell her I be looking for her with a flash light'; 'Light it up'; 'Shudda turn off the light'. Interestingly, the 'turn off the light' tweet was posted by the cricketer on March 18, only 15 days before.
As far as the Coronavirus cases in the United Kingdom are concerned, 33,718 people have suffered from it out of which almost 3000 (2,921 to be precise) have lost their lives.
Here are those tweets: