A local cricketer in UP gets unconscious after getting hit on head; was assumed to be dead earlier
The entire incident was filmed by a spectator and showcased the tragedy in a clear manner.
Updated - Apr 17, 2021 5:02 pm
5.4K Views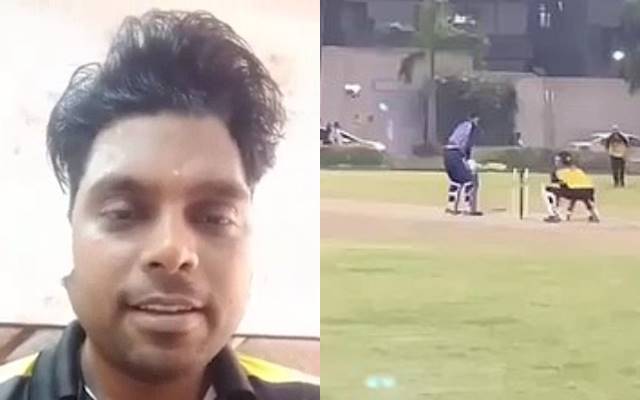 Follow us on Telegram
Cricket is considered nothing less than a religion in India and almost all the citizens love playing the game irrespective of their age. However, the game can be dangerous too and a similar incident occurred on the outskirts of Delhi at VVIP Cricket Academy near the Raj Nagar Extension in Ghaziabad in Uttar Pradesh. 
Recently, a video of April 8 went viral on social media which showcased an Indian cricketer fainting after getting brutally hit on his head during a regional match. In the clip, the batter looked well-settled in the pitch and was all set to hit the ball for a boundary or maximum. He connected the ball well and smashed it straight back towards the bowler, however, the shot turned out to be too fast and fierce to force an evasive action from the bowler. 
The footage, filmed by a spectator, further showed the bowler fainting right at the spot after suffering a blow on his head. Thus, many assumed that the cricketer lost his life. However, after the video became extensively viral on social media, the bowler released a video stating that he is very much alive and was merely knocked unconscious.
After the incident, the bowler was immediately rushed to the hospital and the doctors confirmed that he should feel lucky to get saved as his right earlobe bore all the brunt of the blow.
In a video by Daily Mail, the unnamed sportsman said: 'I am not dead, I am alive. The rumors were doing rounds that I died on the spot which is untrue, however, I was unconscious for the time being. 
"I am feeling alright except for a bit of dizziness and headache.  am a cricketer and I am hopeful that it will go away soon. I am set to undergo a CT scan. Rest, all is fine."
Many connected the incident with the death of Phillip Hughes
The cricket fraternity has seen a cricketer losing his life on the cricket pitch. A similar kind of incident happened during 2014 too when the Australian cricketer Phillip Hughes was hit on the head. While batting in a Sheffield Shield match for South Australia, Hughes lost his life as the delivery by Sean Abbott hit him on his head.
Taking lessons from the same, the close-fielders and wicketkeepers standing close to the stumps have been advised to wear protective gear for every crucial body part. In addition, the players were also asked to wear their helmets while practicing in the nets.
Follow us on Google News