AB de Villiers reveals how he stopped Faf du Plessis from signing Kolpak Deal
AB de Villiers and the current Proteas skipper were friends since their schooling.
Updated - May 18, 2019 3:13 pm
4.6K Views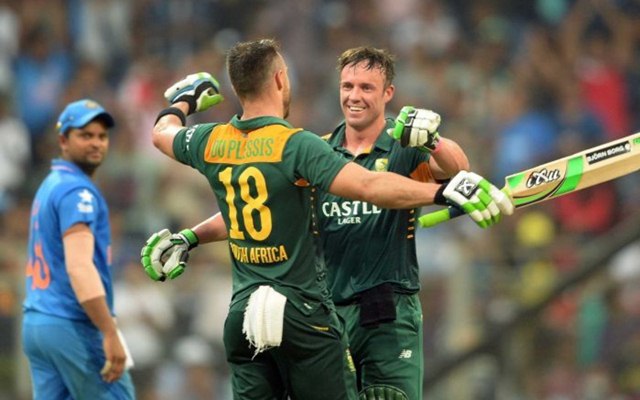 Follow us on Telegram
The friendship between Faf du Plessis and AB de Villiers goes a long, long way back. De Villiers made his international debut way back in 2004 while du Plessis earned his first international cap seven years later in 2011. However, the two know each other since childhood. Long before they became the mainstay of Proteas batting order, both of them played in the same age group sides. Not only that, but the two also shared a room at the hostel, during their years at Affies from 1998 to 2002.
Du Plessis and De Villiers played for the school's first cricket team when they were only 15. The duo were the best batsmen and their friendship grew stronger and stronger. But in the coming years, the two had contrasting paths. While De Villiers quickly made it to international cricket, Du Plessis had to toil hard in domestic cricket. In fact, at one stage Du Plessis had run out of patience and decided to quit South Africa in order to sign Kolpak deal.
However, De Villiers intervened at the right time and convinced Du Plessis to hang on around the national team and not sign the Kolpak Deal. Du Plessis listened to De Villiers' advise and has not looked back since then. Du Plessis is now the skipper of South Africa team across formats and will definitely go down as one of the finest Proteas batsmen of all time. De Villiers, meanwhile, spoke about his friendship with Du Plessis on Breakfast with Champions, the popular chat show hosted by Gaurav Kapur.
"We played against each other for most of our younger years. Since 9 till about 13 — Yeah — Four, five years. Primary school level, we played against each other for different provinces. And then we ended up going to the same high school. So at the age of 14, having been big rivals leading up to that we actually found ourselves in the same team which was very refreshing," said De Villiers.
"Yeah, that's good. – I think we both were very relieved. Because we were very competitive. We knew about each other. We didn't really talk to each other too much. And the next minute, I was sitting next to him going, "Finally we're teammates."
And that's where the friendship really got going," recalled De Villiers.
De Villers on Kolpak
AB de Villiers further said how he prevented Du Plessis from heading to England. The former South Africa skipper said that Du Plessis was thinking about signing a Kolpak deal after not getting the call from the Proteas. But De Villiers successfully managed to change Du Plessis' mind.
"He waited a bit longer. It happened quite quickly for me. A couple of doors opened up. I put my hand up at the right time. The path he walked, it was a different one. But it set him up perfectly for international cricket. I think he was mentally in a great space when he finally made his debut," said de Villiers.
"There was a moment where he was thinking of signing for one of the English counties. He did call me up and said what I think about it and I said "Listen, not a long time from now, there will be a few retirements". "Few guys will step down. You're pretty close and the coaches and the team are talking about you."
"So, just hang in a little bit longer." And finally, the breakthrough came. I'm not taking credit for that. We did have that conversation. And I'm very happy I was straight up. It's a great story. If there are some people in England who are going it was him. He didn't let Faf come." It's okay. It's South Africa's gain," added De Villiers.
Here is the full episode
Follow us on Google News