Afghanistan aim to gain valuable points in the ODI series against Ireland
Afghanistan can gain points if they win the ODI series 3-0.
Updated - Aug 26, 2018 3:18 pm
6K Views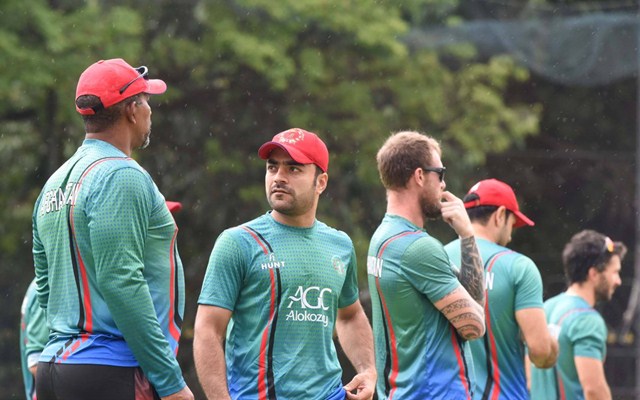 Follow us on Telegram
Afghanistan leg-spinner Rashid Khan will be hoping to make a move towards the top of the bowlers' list in the ICC ODI Player Rankings as his side prepares for a three-match ODI series against Ireland in Belfast from Monday. Rashid, who is the top-ranked bowler in T20Is and a major draw in T20 leagues the world over, is currently on 763 points in ODIs, just 12 points adrift of top-ranked India pace bowler Jasprit Bumrah.
His compatriot Mohammad Nabi is another player who would be eyeing the chance of moving up the rankings from his 16th position among bowlers and second among all-rounders. The leading Afghanistan batsmen in terms of rankings are Rahman Shah (31st) and Mohammad Shahzad (47th), while for Ireland, Paul Stirling (34th) and Kevin O'Brien (50th) lead the field. Fast bowler (Tim Murtagh 23rd) and off-spinner Andy McBrine (44th) are their main bowlers in terms of rankings in the series which culminates on 31 August.
In the ICC ODI Team Rankings, Afghanistan can gain two points and reach 65 points if they are able to continue the kind of domination displayed in a recent three-match T20I series against Ireland and win the ODI series 3-0. On the other hand, Ireland can move up by 10 points to 48 if they are able to win by the same margin. However, there will be no change in the ranking positions with Afghanistan and Ireland remaining in 10th and 12 positions, respectively, in any scenario.
The next rankings update will take place following the ODIs of the Asia Cup Qualifiers, to be held in Malaysia from 29 August to 6 September. Nepal and the United Arab Emirates are the two sides with ODI status and their match on 30 August will enjoy ODI status, as will the final should both these teams qualify for it.
ICC ODI team rankings
| | | |
| --- | --- | --- |
| Rank | Team | Points |
| 1 | England | 127 |
| 2 | India | 121 |
| 3 | New Zealand | 112 |
| 4 | South Africa | 110 |
| 5 | Pakistan | 104 |
| 6 | Australia | 100 |
| 7 | Bangladesh | 92 |
| 8 | Sri Lanka | 80 |
| 9 | West Indies | 69 |
| 10 | Afghanistan | 63 |
| 11 | Zimbabwe | 53 |
| 12 | Ireland | 38 |
| 13 | Scotland | 33 |
| 14 | UAE | 18 |
Batsmen ranking (top 20)
| | | | | | |
| --- | --- | --- | --- | --- | --- |
| Rank | (+/-) | Player | Team | Points | Avge |
| 1 | ( – ) | Virat Kohli | Ind | 911! | 58.2 |
| 2 | ( – ) | Babar Azam | Pak | 825 | 54.8 |
| 3 | ( – ) | Joe Root | Eng | 818 | 51.61 |
| 4 | ( – ) | Rohit Sharma | Ind | 806 | 44.98 |
| 5 | ( – ) | David Warner | Aus | 803 | 43.43 |
| 6 | ( – ) | Ross Taylor | NZ | 785 | 46.28 |
| 7 | ( – ) | Quinton de Kock | SA | 781 | 45.25 |
| 8 | (+1) | Kane Williamson | NZ | 778 | 46.87 |
| 9 | (+1) | Shikhar Dhawan | Ind | 770 | 45.72 |
| 10 | (+1) | Jonny Bairstow | Eng | 769 | 50.3 |
| 11 | -3 | Faf du Plessis | SA | 766 | 44.4 |
| 12 | (+1) | Tamim Iqbal | Ban | 737! | 36.23 |
| 13 | (+1) | Martin Guptill | NZ | 731 | 42.99 |
| 14 | -2 | Hashim Amla | SA | 729 | 49.65 |
| 15 | ( – ) | MS Dhoni | Ind | 714 | 51.25 |
| 16 | ( – ) | Fakhar Zaman | Pak | 713*! | 76.07 |
| 17 | ( – ) | Aaron Finch | Aus | 706 | 38.19 |
| 18 | ( – ) | Jos Buttler | Eng | 701 | 40.35 |
| 19 | ( – ) | Steve Smith | Aus | 675 | 41.84 |
| 20= | ( – ) | Travis Head | Aus | 670*! | 37 |
| | ( – ) | Jason Roy | Eng | 670 | 39.06 |
Bowlers ranking (top 20)
| | | | | | | |
| --- | --- | --- | --- | --- | --- | --- |
| Rank | (+/-) | Player | Team | Points | Avge | Eco |
| 1 | ( – ) | Jasprit Bumrah | Ind | 775* | 22.5 | 4.64 |
| 2 | ( – ) | Rashid Khan | Afg | 763* | 14.4 | 3.96 |
| 3 | ( – ) | Hasan Ali | Pak | 742* | 20.88 | 5.21 |
| 4 | ( – ) | Trent Boult | NZ | 699 | 24.63 | 5.09 |
| 5 | ( – ) | Josh Hazlewood | Aus | 696 | 24.27 | 4.72 |
| 6 | ( – ) | Kuldeep Yadav | Ind | 684* | 19.35 | 4.82 |
| 7 | (+1) | Adil Rashid | Eng | 681! | 30.8 | 5.52 |
| 8 | (+1) | Kagiso Rabada | SA | 676 | 27.62 | 5.09 |
| 9= | -2 | Imran Tahir | SA | 666 | 24.81 | 4.68 |
| | (+1) | Y. Chahal | Ind | 666* | 23.86 | 4.72 |
| 11 | ( – ) | Chris Woakes | Eng | 643 | 30.77 | 5.5 |
| 12 | ( – ) | Mitchell Starc | Aus | 642 | 20.95 | 4.93 |
| 13 | ( – ) | Mitchell Santner | NZ | 632 | 33.91 | 4.9 |
| 14 | ( – ) | Moeen Ali | Eng | 621 | 45.08 | 5.09 |
| 15 | ( – ) | Akshar Patel | Ind | 615* | 31.31 | 4.43 |
| 16 | ( – ) | Mohammad Nabi | Afg | 611 | 31.95 | 4.29 |
| 17 | ( – ) | M. Rahman | Ban | 609* | 20.01 | 4.71 |
| 18 | ( – ) | Pat Cummins | Aus | 607 | 28.45 | 5.38 |
| 19= | ( – ) | M. Mortaza | Ban | 606 | 30.87 | 4.78 |
| | ( – ) | Matt Henry | NZ | 606 | 24.59 | 5.57 |
All-rounder rankings (top 5)
| | | | | |
| --- | --- | --- | --- | --- |
| Rank |   (+/-) | Player | Team | Points |
| 1 | ( – ) | Shakib Al Hasan | Ban | 362 |
| 2 | ( – ) | M. Nabi | Afg | 323 |
| 3 | ( – ) | M. Hafeez | Pak | 322 |
| 4 | ( – ) | Mitchell Santner | NZ | 317! |
| 5 | ( – ) | Angelo Mathews | SL | 305 |
Follow us on Google News