Ashes 2019: Chris Woakes oversteps after umpire draws fresh crease line
The delivery was a great one with an impeccable line and length but remained an unfruitful one.
Updated - Sep 16, 2019 11:55 am
635 Views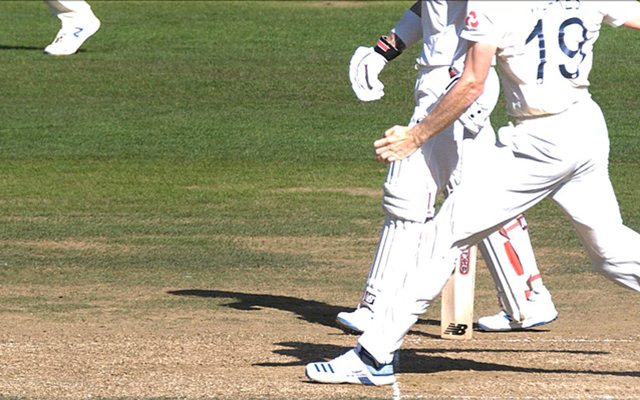 Day four of the fifth and final Test between England and Australia at the Oval saw an interesting episode unfolding. Chris Woakes, playing for the home side, was bowling in this second spell in the fourth innings. The all-rounder bowled only three overs in his first spell and it was in the 31st over of Australia's second innings that he came back to bowl his second.
His first delivery alerted the umpire, Marais Erasmus, who then went on to draw the line prominently. In the very next delivery, Woakes was clearly found overstepping the line and worse for England, they had a wicket coming in that invalid ball.
Mitchell Marsh was the batsman facing Woakes in the delivery when the pacer hit the length off the off stump and Marsh, looking to hit that, edged it to Rory Burns who made a brilliant dive to his left to bag it. The hosts started celebrating the breakthrough but an immediate check showed that Woakes, who returned to the team after missing the previous match in Manchester, violated the line that belongs to the umpire.
The delivery was a great one with an impeccable line and length but remained an unfruitful one. It was also Woakes' first no-ball in his 30-Test career so far. Marsh got life though he fell to a less known bowler in Joe Root, the captain of England, later. Umpire Erasmus, on the other hand, succeeded in salvaging some pride for his tribe as the on-field officials' reputation has come under the scrutiny of late because of glaring errors that sparked some serious controversies in the past.
Watch the video
Australia lost the fifth Test
Australia were defeated in the final Test after they won the fourth by 185 runs to retain the Ashes. After conceding a 69-run lead in the first innings, the visitors could not get England cheaply in the second innings and were set a target of 399 to win the series 3-1. They faced a top-order slump in the second innings as well. Steve Smith, who had a terrific Ashes with three hundreds and three fifties, fell for 23 in the final innings to end with 774 runs from four matches.