Australian journalist Dennis Freedman mocks Tendulkar, gets trolled on Twitter
Dennis took a dig at Virat Kohli a few days ago.
Updated - Sep 16, 2017 4:42 pm
2.1K Views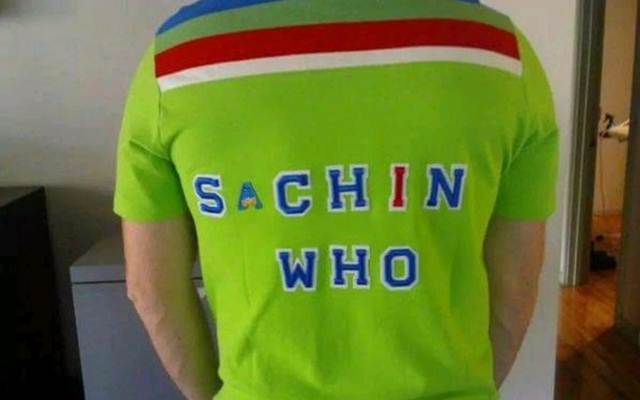 Australian Journalist Dennis Freedman has mocked Sachin Tendulkar by re-posting his 'infamous' 'Sachin Who' picture and was trolled hilariously by Indian fans. He also took a dig at Virat Kohli and Co. ahead of the recently concluded Independence Cup earlier this week. His post has invited a lot of scathing from Indian fans who term Sachin as 'God' of cricket and they trolled him on social media.
Dennis, who is known to be a humorous cricket reporter posted a picture of  Kohli sweeping the stands of Eden Gardens as a part of Swacch Bharat Abhiyan on the occasion of Gandhi Jayanti last year. But he captioned the picture as, "Sweepers clean the stadium in readiness for the World XI match," on Twitter. This kind of humour from the reporter did not go down well with the fans and they thrashed him with verbal volleys in reply.
Sweepers clean the stadium in readiness for the World XI match pic.twitter.com/QWzzW13OFc

— Dennis Sweeper (@DennisCricket_) September 12, 2017
Furious Indian fans
Cricket is a religion in India and they hail Master Blaster Sachin Tendulkar as 'God of Cricket' for his superhuman contribution to Indian cricket. Dennis once again decided to hurt and make fun of Indian cricketer, this time of Tendulkar. He posted a picture of him wearing a green t-shirt and written 'Sachin who' on the back on Twitter. His message read, "Here's what I'm wearing for the World XI match. Show me what you're wearing."
Obviously, the die-hard fans grew furious after this and gave him a fitting reply. Few replies were so funny that they photoshopped and replaced the 'who' word with 'My Father'. Some opted to respond to him with the similar picture as the answer to his question. The best response among the lot was the video of Sachin coming out to bat at Lord's during an exhibition match for Marylebone Cricket Club and all the people standing for him in respect.
While it is fun for someone to take a sly dig on the celebrities but it should not cross the limits and hurt others which have happened with Indian fans twice in 4 days now.
Here is the tweet:
Here's what I'm wearing for the World XI match. Show me what you're wearing. pic.twitter.com/KCoUIFehx9

— Dennis Sweeper (@DennisCricket_) September 12, 2017
This is how he got trolled:
Pic 1: @DennisCricket_ on his jersey.

Pic 2: @DennisCricket_ on his body pic.twitter.com/bkhuyQUi1y

— PhD in Bakchodi (@Atheist_Krishna) September 13, 2017
For 24 years.. pic.twitter.com/mc9tJ28jCq

— Dipendra Dipzo Khati (@DipendraDipzo) September 12, 2017
— Raj (@roflbaba) September 12, 2017
??????? pic.twitter.com/S77tK64RZZ

— chetan98 (@nightmarechetan) September 12, 2017
Sachin who? Well here is Sachin for you. If you can't respect someone or anyone, your life is of no use. pic.twitter.com/ywb0ZoJOsG

— Sri Ram E (@s_r_i_r_a_m_007) September 13, 2017
Good Choice. pic.twitter.com/fCu3hpJOR2

— Pun of God (@Punofgod) September 14, 2017