'Bhaiya chale gaye Samaira was crying' - Yuzvendra Chahal hilariously tells Mohammed Shami after Rohit Sharma leaves Instagram live session
Shami and Rohit went live on Instagram on Saturday.
Get every cricket updates! Follow us on
The ongoing Coronavirus pandemic has forced the cricketers and athletes along with the other people of the nation to stay at home. This has led to some of the players resorting to social media to pass their time and also interact with their teammates and fans. Rohit Sharma has been one of the most active cricketers in this aspect as he has gone live with several Indian players so far during the lockdown in India.
On Saturday, it was Mohammed Shami's turn to have a chat with him and the duo spoke about different topics at length. However, during the chat there was a technical glitch or probably an internet issue with the pacer which led to Rohit bidding adieu to the fans and wrapping up the session.
However, soon Shami was back with a better internet only to find out that his teammate had already left. This is where Yuzvendra Chahal made his appearance in the comments' section. While Shami was still figuring out where Rohit Sharma went from the live session, the leg-spinner hilariously told him that the opener had to go as his daughter Samaira started crying.
"Bhaiya chale gaye Samaira was crying," Chahal's comment read which left the others in splits. This isn't the first time that he has come up with funny statements in live sessions. The leggie has been on social media almost all the time during this period. He has also posted some funny videos with his family on TikTok which have kept the fans entertained.
Here's his comment: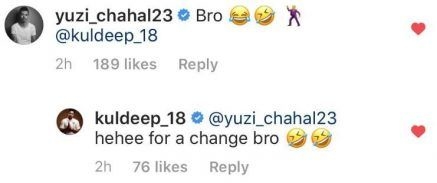 Rohit Sharma wants more practice post lockdown
Meanwhile, during the chat, Rohit Sharma revealed how he hasn't been on the field more than his other teammates. He was injured during the T20I series against New Zealand and missed the subsequent T20I and Test series. He was also rested for the South Africa ODIs and it seems Rohit was keen to return for the IPL. But the COVID-19 pandemic has stopped all the activities including cricket.
India's limited-overs vice-captain also hoped for more batting practice for him after the lockdown ends. "We should get more time for batting. I was already injured and returned to Mumbai even before you came. I was injured in February and I have not held a bat since then. I'm guessing it will take two to three months to play. Need to focus on batting skills," he said.