Bizzare run-out sends batsman packing in German T20 league
The ball deflected off the bowler's hands caught the non-striker napping.
Updated - Jun 19, 2018 8:25 pm
201 Views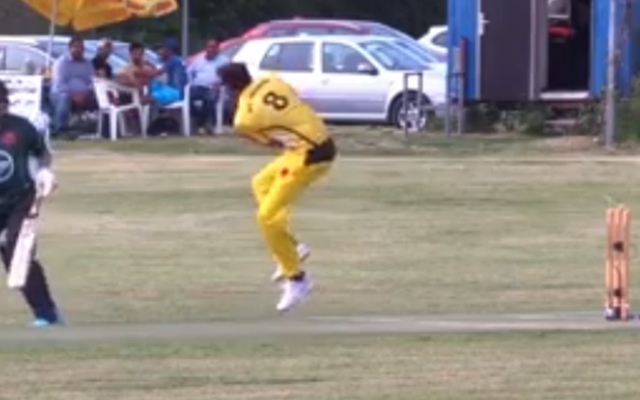 The game of cricket has been a witness to some bizarre dismissals over the years. Run-out is an embarrassing manner to get dismissed. The dismissal also has an unlucky aspect attached to it, when the batsman is at the non-striker's end. The incident panned out in the German Cricket TV Super Series 2018 T20 league, which was streamed live on Facebook.
The match was played between the BW Sharks and Northern. A right-arm off-break bowler wound up and smacked the leather with his might. The ball was pitched outside the off-stump and hence, the batsman had to reach out for the same. He tried to go downtown, but couldn't find the middle of the bat. Subsequently, it went straight to the bowler.
The horrendous run-out in Germany
The bowler didn't have enough time to react and he showed good reflexes to stick his hand out in time. Nevertheless, he couldn't latch on the ball owing to the speed at which the leather came at him. The batsman breathed a sigh of relief after the dropped chance. The non-striker, though, didn't have much to cheer as the ball cannoned into the stumps at his end.
The ball deflected off the bowler's hands and caught the non-striker napping. The batsman was set to go for a run and the happenings left him in utter shock. The occurring takes the mind back to an even more unfortunate event, which panned out in the 2016 Australian Big Bash League between The Melbourne Stars and the Melbourne Renegades.
Dwayne Bravo of the Renegades whacked the ball with all his strength. Adam Zampa was the bowler and the ball struck him right on the nose. The ball, thereafter, changed projection and went on to shatter the timber at the non-striker's end. Peter Neville was at the victim of the weird dismissal
Here is the video of the dismissal
For more news and developments, stay tuned on CricTracker.com.