Brad Hodge names his playing XI for T20s with a unique stipulation
The stipulation was that none of them must have ever played a T20I game in their entire career.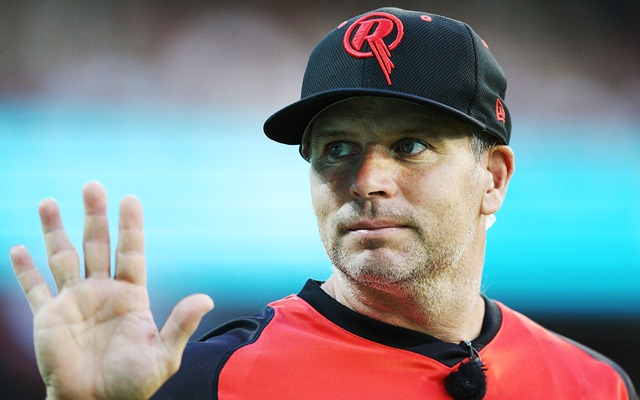 Ever since its inception, the T20 format has taken the cricketing universe by storm. The innovation of various batting shots, bowlers with more control of their line and length and fielders doing an extra inch at the field of play. All the above factors can be attributed towards T20 cricket.
Australian cricketer Brad Hodge came up with a fun activity on Twitter recently. The former batsman asked fans to come up with a playing XI for T20Is. However, the stipulation was that none of them must have ever played a T20I game in their entire career. While it was a tough task, the cricketer managed to put up his playing XI.
The first name was that of Jack Hobbs, the all-time English great who holds the record for the most first-class runs ever. A staggering 61,760 runs with 199 centuries to his name, Hobbs represented England in 56 Tests. His opening partner was Warwick Armstrong hailing from Australia, who was another domestic great.
The No.3 was Windies great Viv Richards. Renowned for his aggressive batting style, Sir Viv would have surely embraced the T20 format with open hands. Next to him was Don Bradman, the name speaks about his batting stature. An unbelievable average of 99.94. It surely would've been interesting to see Bradman in T20 cricket.
The captain to win two World Cups, Clive Lloyd was placed at No.5. Following him was all-rounder Gary Sobers and Lance Klusener. Both are still regarded as the finest all-rounders to have played the game of cricket. Surprisingly there was no mention of any Indian batsmen in Hodge's XI. Someone like a Kapil Dev would have fit in well.
The bowling lineup had three pacers. Wasim Akram leads the pack with his partner being Michael Holding and the speedster Jeff Thompson. Surely, these pacers can send down chills in any batsman's spine. The lone spinner in the team was Tiger O'Reilly. Sir Donald Bradman once asserted that he was the greatest bowler he had ever faced or watched.
Here's Brad Hodge's playing XI
A fun idea from our man @bradhodge007.

Anyone have any other suggestions for players? pic.twitter.com/VKnK197Ppd

— 7 Cricket (@7Cricket) December 12, 2018