Brad Hogg reveals how Adam Gilchrist, Ricky Ponting helped him dismiss Sachin Tendulkar in 2007
Brad Hogg dismissed Sachin Tendulkar for 43 in an ODI in 2007.
Updated - Jul 15, 2021 12:47 pm
564 Views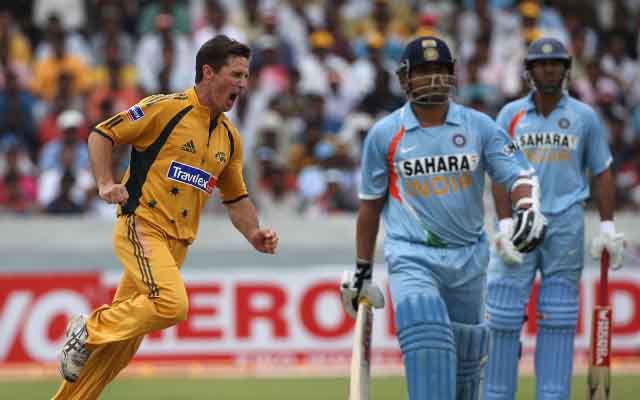 Follow us on Telegram
Former Australia chainman bowler Brad Hogg got a chance to take the prized scalp of legendary batter Sachin Tendulkar once while playing international cricket. But there was not an intense rivalry between the two, like a rivalry between Shane Warne and Tendulkar or Glenn McGrath and Brain Lara.
Hogg didn't share such intense battles with Tendulkar. But he dismissed the batter in the ODI game when these two teams had contested in the year 2007 in Hyderabad. And as soon as the match got over, Hogg went up to Tendulkar asking him to sign on the ball. 'Never again, mate', Tendulkar wrote on the ball.
The Little Master lived up to his promise as he never got dismissed again by Hogg in his career, and instead went after the bowler whenever they came face to face. During one such duel between the two, Tendulkar took Hogg apart in the Boxing Day Test in the same year and hit the bowler for two fours and a six in the 39th over.
When Ricky Ponting and Adam Gilchrist came to Brad Hogg to bowl wrong ones
Recently, the cricketer-turned-expert opened up about his experience of bowling to Tendulkar and how timely advice from Ricky Ponting and Adam Gilchrist helped him get Tendulkar out during the ODI series.
"I think it was a tactic from India as well because I knew there was no Shane Warne or Stuart MacGill. If you're going to look at a weak link from that particular team, especially in the bowling department, it was going to be me. And that put a little bit of pressure on me," Hogg told Harmison on the latter's show 'Test of Time' on YouTube.
Hogg further opined that it was Ponting and Gilchrist's idea to bowl the wrong ones and lure Tendulkar into making a mistake.
"There was a moment when Gilchrist and Ponting came up and asked me to bowl wrong ones to him. They said what if we keep bowling the wrong ones to leg stump and try to use the minimal footmark outside and try and bamboozle to tie him up. I said 'look… I'm not comfortable with that. I want to keep bowling my leggies. To bowl wrong ones all the time ball after the ball is quite difficult".
Follow us on Google News