Can Rohit Sharma become the greatest ODI opener after Sachin Tendulkar?
At the age of 31, Rohit has already etched his name as one of the greatest openers in ODI cricket.
Updated - Jul 16, 2020 2:43 pm
2.1K Views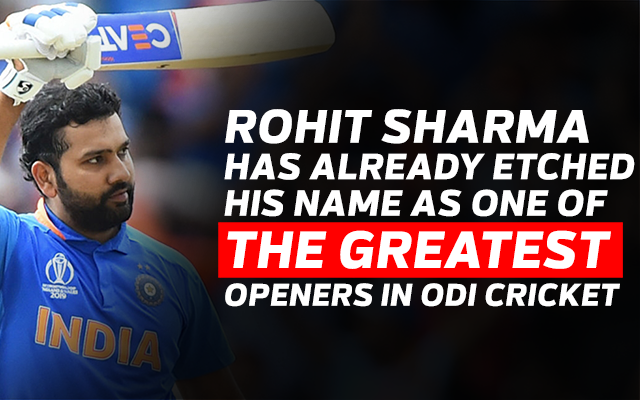 There was a time when Rohit Sharma was labeled as a 'wasted talent.' He was floating around in the middle order when he made his debut in 2007, and big scores eluded him. In fact, in his first 83 ODI matches, Rohit could manage to score just two ODI hundreds for his side and averaged an ordinary 31.45. But then, there arrived that seminal moment in his career in the year 2013, when MS Dhoni unveiled another classic move of his by promoting Rohit to open the innings. And from there on, Rohit has not looked back.
A new lease of life for Rohit
Opening the batting opened up new dimensions for Rohit. He had the full 50 overs at his disposal, he could take his time to get his eye in, the ball was new and hard, and it suited him, as he was a natural stroke maker. It was as if a new lease of life was induced into his career, and it was this impetus that he was desperately looking for.
And, the runs started flowing from his willow. In fact, Rohit as an opener averages 58.11, as opposed to his career average of 49.27. And, the numbers that he has generated in ODI's as an opener places him among the elite list of icons who have graced the game.
Rohit's dazzling numbers
Rohit is already the second fastest Indian batsman to have crossed the 9000 run mark behind Virat Kohli, and 7148 of those runs have come opening the batting. With a colossal 27 ODI hundreds as an opener, he stands third in the list of opening batsmen with most ODI hundreds, behind only Sanath Jayasuriya and Sachin Tendulkar. He is also the only batsman in the history of the game to have scored 3 ODI double hundreds, and also holds the record for the highest individual score in ODI cricket.
Rohit Sharma in a run chase
A run chase in ODI cricket presents a separate set of challenges to a batsman. There is a predetermined target to be achieved and the batsman has to mould his game to suit the situation. In this table below, let us have a look at Rohit Sharma's record in a chase as against the Top 5 openers with the most runs in ODIs.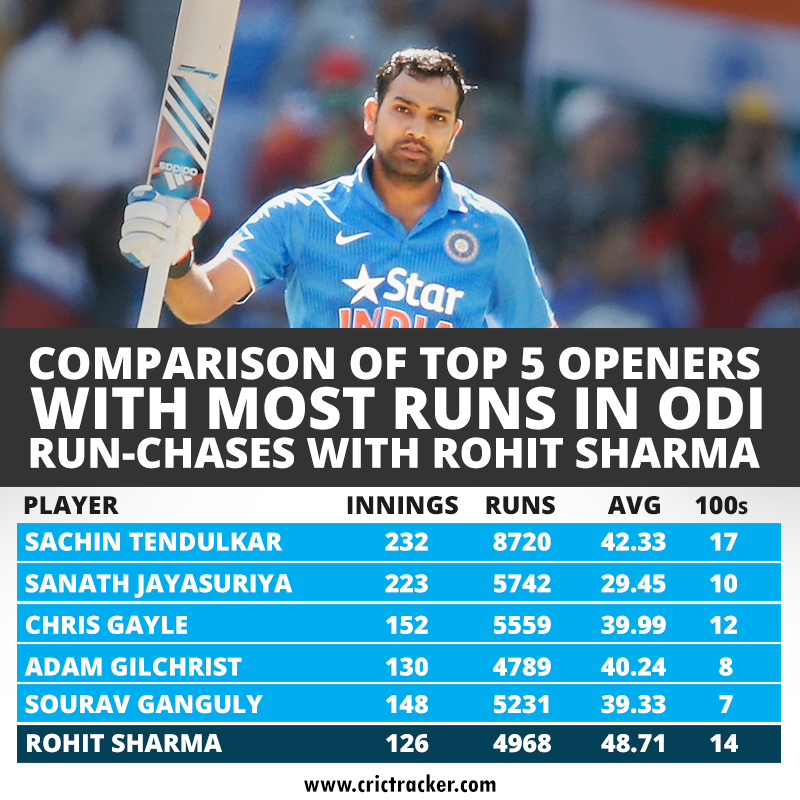 Here, we can see that Sharma has the highest average as compared to any of the other 5 batsmen in the list. Also, he has scored the second most number of hundreds in chases, only behind Tendulkar, in spite of playing the least number of innings amongst all the batsmen in contention.
Rohit Sharma in World Cups
The World Cup is the grandest stage in the ODI form of the game. It is the stage where even one single performance can immortalize a player in the hearts of cricket aficionados. And, during the 2019 World Cup, Rohit's performances reached a crescendo. He became the first and the only player to score a colossal 5 hundreds in a single World Cup event, and is already level with the iconic Tendulkar for the most number of hundreds in spite of playing four World Cups lesser than the 'Master Blaster'.
In the table below, let us have a look at the top 5 openers with the most runs in World Cups and again compare Rohit's record against the World Cups records of these openers.
Sharma has some hugely impressive numbers in World Cups. He averages a whopping 65.20, which is almost 9 points higher than even Tendulkar. Also, he also has 6 World Cup hundreds, a record that he jointly shares with Tendulkar, in spite of playing 27 innings lesser than the 'Little Master.'
Even if Sharma plays one more World Cup, he will overhaul everyone on the list except Tendulkar.
In Conclusion
At the age of 31, Rohit has already etched his name as one of the greatest openers in ODI cricket. He has the best average for an opener (with a minimum of 5000 runs), stands 3rd in the list of openers with the most ODI hundreds, and is the only batsman in the world to have scored three ODI double hundreds.
With age on his side, Sharma will continue to plunder bowling attacks and thwart records with nonchalance. And, with so much cricket left in him, he can easily etch his name as the greatest ODI opener of all time, after the incomparable Sachin Tendulkar.
Note: All Stats have been taken from Howstat Cricket and Cricinfo and have been updated as on 16th July 2020
Follow us on Telegram