Can't explain what this final means to me: AB de Villiers
Updated - May 25, 2016 8:51 am
44 Views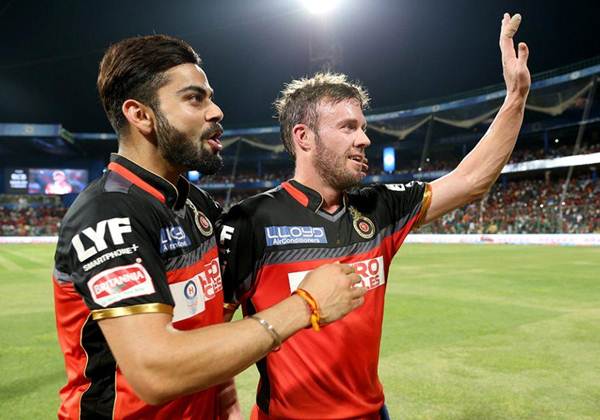 AB de Villiers was the star of the show when RCB thwacked GL by 4 wickets at Bengaluru. Royal Challengers had a major scare in their run chase of 159 against the Gujarat Lions when they were struggling at 29/5. It was one man, the big South African, who held the fort for the home side and eventually saw them over the line.
However, the Proteas batsman commended Iqbal Abdulla's efforts too, who played the second fiddle to AB in the run chase.
"To be very honest, I thought I'd have to say a lot to him (Abdulla) but he was probably calmer than me. When he walked up, you could see that he has done this before," he quoted.
He also called Abdulla as a calm head and said he did not have to talk a lot to Abdulla in the later part of the innings. The duo put on 91 runs in just 52 balls to see RCB through to the big finals. He credited the young Indian for his spirit and efforts.
"He had a calm head on his shoulders and straight away understood what I was trying to tell him. I didn't have to talk to him after that. You can just see it when you have a connection with someone his eyes were open and he was there to win the game for the team and cross the line with me. A lot of credit should go to him, fantastic partnership," said AB in praise of Iqbal Abdulla.
Talking about the wicket, which played like an unconventional Chinnaswamy wicket, AB termed it as a funny wicket. He also admitted that a score above 160 always looked threatening on this wicket.
"It was a funny kind of wicket. I thought anything more than 160 and we'd be in trouble. It didn't seem like a wicket where you can just go and score. I always felt we needed a foundation in the first six but we didn't get that," de Villiers said.
Crediting Dhawal Kulkarni, who ripped apart the RCB top order with a fiery spell of 4/14, he was all praise for the youngster. He also quoted that Zaheer Khan had once told him that cricket is a funny game and he truly remembered his words today.
"Kulkarni bowled that fantastic spell, a lot of credit should go to him. He basically had the game in the pocket but like Zaheer Khan always tells me, it's a funny old game and you're never out of it. We had a lot of belief. They almost won the game in the powerplay but we kept fighting," said the Proteas batsman.
Also, read – Yuzvendra Chahal apologizes to AB de Villiers
He further expressed his happiness of reaching the final. He admitted that RCB is a special team to him and the feeling of being in the finals with this team is beyond words for him.
"Tonight was a special for me. To cross the line for the team, to have an impact on winning the game that's why I play this game. Honestly, I can't explain what this final means to me. I haven't played in a lot of finals throughout my career," said AB.
"I've been with RCB for six years. We haven't seen a lot of finals. Lot of people say we were under-performing. But it's moments like this that really makes it worthwhile. We've had a great team spirit for quite a few years. We've played some really good cricket. Never got to really enjoy a final and hopefully we'll win it. We don't know what's going to happen. It is a great honour and privilege to be in a final with this great franchise, which has looked after me and the team so well over the years," he added.