Channel Nine roasted for their choice of "World Ashes XI", Kevin Pietersen trolled for his shoes
It was a sarcasm riot with the Twiteratti leaving no stone unturned to mock media enterprise.
Updated - Nov 25, 2017 9:38 pm
853 Views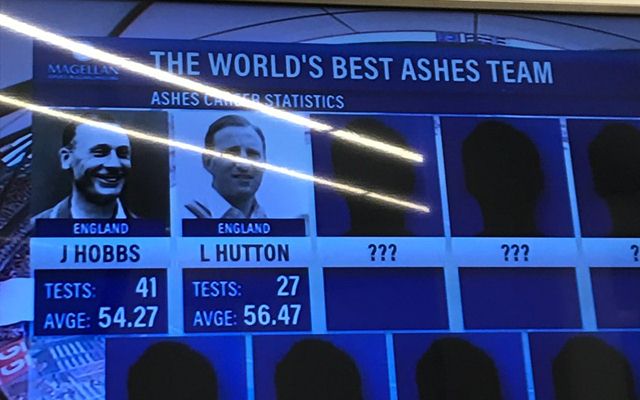 One of cricket's longest standing rivalries, Ashes has produced some dramatic moments since the first game was played way back in 1877. Dubbed as the greatest cricketing duel in the world of cricket, the bitter age-old rivalry between England and Australia could not be exhibited any better than by the cricket the two countries engage in every couple of years.
The Ashes 2017 promises to be special as hosts Australia and defending champions England battle it out once again for possession of the Ashes urn. During the ongoing first Test at Gabba, the Channel Nine commentators were asked to select their all-time "world's best Ashes team" including players from both Australia and England.
The criterion, however, makes it pretty difficult as it demands inclusion for the likes of India's Sachin Tendulkar, Pakistan's Wasim Akram and any of the sensational West Indian giants who ruled world cricket in the 1970s and 80s. And in this age of media, the topic soon got caught on Twitter. Former Test batsman Ed Cowan picked up on the curious wording in a Tweet to his 80,000 followers.
However, the fan reactions weren't exactly what Channel Nine operatives would have hoped for. It was a sarcasm riot with the Twiteratti leaving no stone unturned to mock media enterprise.
You can see the post below:
"World's best"? pic.twitter.com/hS7jqN608u

— Ed Cowan (@eddiecowan) November 24, 2017
The hilarious reactions:
Exactly what I was thinking @eddiecowan, dissapointing Kohli could make it #worldsbestxi

— Darcy Middleton (@darcymid9) November 24, 2017
Well half of the English are south African so world best Ashes team

— Kim Rogers (@kimborogers05) November 24, 2017
Quaint term, like American baseball. The "World Series" when all teams bar one are from the USA and the other is in Canada.

— Adrian Betts (@TheBetterAdrian) November 24, 2017
Pietersen gets trolled for his shoes
Channel Nine commentator Kevin Pietersen's had a fashion faux pas when the former England cricketer looked extremely causal on television during the ongoing Test in Brisbane which put his wardrobe choice to question.
He failed to wear a belt, perhaps because no belt would match the tan-grey hybrid color of his suede shoes, which copped the most grief given the dark suit. The social media was quick to jump at the opportunity to lay into Australia's former nemesis.