5 Best fielders in IPL History
Along with batting and bowling, these players flaunt some marvelous records with their fielding also.
Get every cricket updates! Follow us on
In cricket, like the batting and bowling, fielding is also one of the important aspects to win any game. To emerge victorious in games, every side focuses on the fielding part too getting proficient fielders into the team. The same thing applies to the Indian Premier League (IPL) also as, after 15 seasons of the tournament, fans have witnessed how franchises that got in quality fielders have reaped benefits in the competition.
In the IPL, reliance on fielders becomes more as games are often decided by a narrow margin. Till 2022, IPL supporters saw some amazing players who became assets for their sides by grabbing every possible catch and saved runs with their exquisite fielding efforts. In some instances, these fielders have also changed the course of matches with their exceptional skills.
Here are 5 best fielders in the history of IPL (in no particular order)
1. Faf du Plessis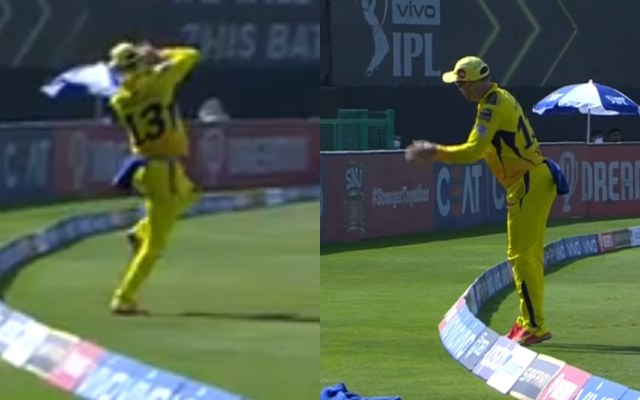 After playing 10 IPL seasons, Faf du Plessis has become an iconic player in the league. From 2011-2021, the South African cricketer was a part of Chennai Super Kings (CSK), but in 2022, Royal Challengers Bangalore (RCB) believed in him relying on his batting and fielding skills.
With the bat, he has delivered many credible batting displays, but apart from that, he also features among the players who don't compromise in displaying dedication as a fielder. So far, in 116 games of the IPL, the former South African cricketer has taken 70 catches, which tells his success story as a fielder. In the last few seasons, the former Protea also showed that he is adept at taking difficult catches with ease. However, in the 2021 season, he set a prime example of fitness and commitment towards the game.
Playing for CSK against Kolkata Knight Riders (KKR) in match number 38 of IPL 14, Du Plessis showed his courageous fielding display with his bleeding knee by taking a spectacular grab on Josh Hazlewood's delivery to remove Eoin Morgan from the crease. Going through his perseverance and talent, there are chances that he could become a headache for batters in the upcoming season due to his phenomenal fielding skills.