3 batters dismissed by both Sachin Tendulkar and Virat Kohli in international cricket
Sachin Tendulkar finished his international career with 201 wickets, while Virat Kohli has 8 wickets thus far.
Sachin Tendulkar and Virat Kohli are considered to be all-time great batters among some most elite names in the sport who have a plethora of records to their name. Tendulkar retired from the game with over 18000 ODI runs and 15000 plus runs in Test matches. He played 443 ODIs and 200 Tests with a combined 100 centuries as well, being the only batter to play 200 Tests and hit 100 centuries in international cricket.
On the other hand, Virat Kohli has over 25,000 runs in international cricket at 34 years old and has 76 centuries in international cricket. He is just 4 centuries shy of breaking Tendulkar's record of 49 ODI tons. However, one thing that both also loved doing was bowling, Tendulkar, more than Kohli.
The 'Little Master' finished his career for India with 201 international wickets with 154 of them coming in ODIs with two fifers. Interestingly enough, when it comes to Virat Kohli, the batter and orthodox medium pacer took a wicket off his 0th delivery in international cricket which stands as the most unique record to date. Besides, he also has 4 ODI and 4 T20I wickets to his name. Hence, fans often wonder who are the batters who have been dismissed by both the greats of the game.
Here are 3 batters dismissed by Sachin Tendulkar and Virat Kohli in international cricket:
3. Kevin Pietersen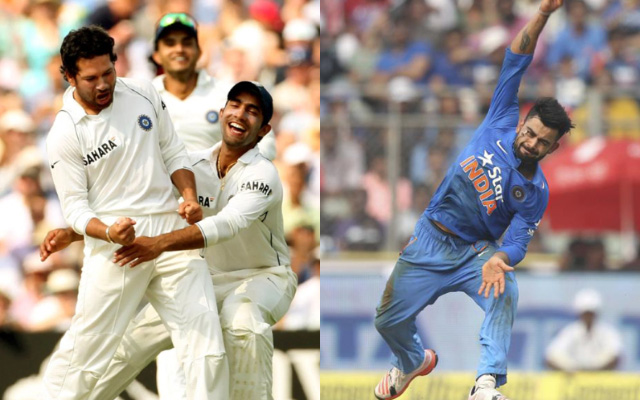 Sachin Tendulkar dismissed Kevin Pietersen in a Test match in 2007 during India's tour of England. The incident happened during the third Test of the series at the Oval. Pietersen was batting on 41 runs when captain Rahul Dravid brought on Tendulkar to turn his arm over. In the process, Tendulkar bowled a leg-break around off-stump and Pietersen tried to play an expansive drive, only managed to edge the ball to slips where Dravid took an easy catch.
On the 2011 England tour of India, both the sides clashed in the only T20I match and Pietersen was looking dangerous as he had scored 33 runs. MS Dhoni brought on Virat Kohli to have a go with the ball and on his first delivery in international T20 cricket, Kohli dismissed Pietersen. Notably, Kohli bowled a wide delivery full on the leg side and the England batter trying to flick it, moved out of his crease, which was enough for MS Dhoni to whip the bails off. Consequently, Kohli became the only bowler in T20I history to take a wicket off his 0th delivery.