5 goof-ups that have happened during the toss
Here are five instances when the toss grabbed the attention due to strange reasons
Get every cricket updates! Follow us on
In the game of cricket, the toss is one of the important factors for teams. In the T20 World Cup 2021, the toss played an important role in the outcome of the games. Of 11 matches played in the T20 World Cup in the UAE, 7 were bagged by the team that had luck on their side during the toss. Taking the 2021 event as an instance, one could say that no skipper wishes to have bad fortune when toss becomes the boss.
However, sometimes, it has been witnessed that controversies erupt during the toss. In 2012, a bizarre incident happened when the then-India skipper Anjum Chopra and Australia captain Jodie Fields participated in the toss conducted five minutes before the scheduled time. Things looked weirder as the event happened without the match referee Anjali Pendharkar. Similarly, there have been a few more incidents when the toss time hit headlines due to some confusing acts of captains.
Five times when controversies marred the toss
1. Meg Lanning-Stafanie Taylor 2017 World Cup incident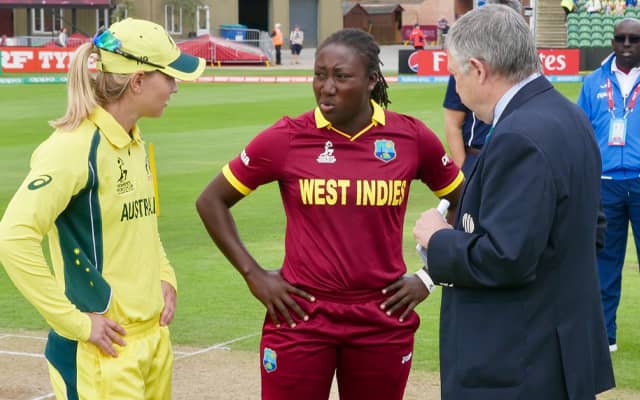 In the 2017 Women's World Cup in England and Wales, Australia were looking to kick off their journey with a victory against the West Indies. On County Ground, Taunton, the skippers of both teams Meg Lanning and Stafanie Taylor walked out for the toss with the match referee David Jukes.
The coin tossed by Lanning fell into Taylor's favour but the Caribbean captain created an ugly scene during the event as she contradicted herself while making a choice. When asked about her decision after emerging victorious during the coin toss, Lanning informed Jukes and others that the Caribbeans will bat first.
But when the television host Ian Bishop asked her, she said that her team will bowl first. Witnessing her counterpart's confusion, Lanning got involved in a heated argument with Taylor. Eventually, the match referee entered the scene and it was ruled that the Windies skipper will have to go ahead with her decision of batting first.