5 teams that have not faced India in T20 World Cup history
Here are five teams that are yet to face India in T20 World Cup history.
The T20 World Cup 2022 saw the participation of 16 teams. But it was not the case that only the top tier teams set the stage ablaze by their phenomenal performances, teams such as the Netherlands, Ireland, Scotland, Zimbabwe, and Namibia missed no chance to stun cricket fans and caused upsets.
Looking at the displays of these small cricketing nations in the T20 World Cup, it can be said that the T20 World Cup 2024 can become more interesting with the participation of 20 teams.
This year, one of the favourites of the tournament South Africa were knocked out of the T20 World Cup after suffering defeat at the hands of the Netherlands.
Courtsey of South Africa's shocking exit after suffering defeat at the hands of the Dutch, India can also learn a lesson that they also have to be wary of opponents whom they haven't played in T20 World Cup.
While playing eight editions of the T20 World Cup, India have played against all big teams such as Australia, New Zealand, South Africa, and England among others but there are a few teams that the Men in Blue haven't played against in the mega T20 event.
Here are some teams India haven't locked horns with in T20 World Cups:
5. Oman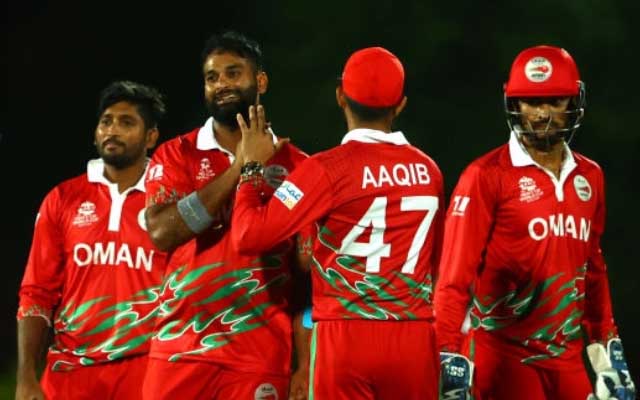 Oman played their first T20 World Cup in 2016 by playing the First Round (Group A) against teams such as Bangladesh, Ireland, and the Netherlands. In three games, they lost against an experienced side like Bangladesh (by 54 runs DLS method), but with their win over Ireland by two wickets, they showed their caliber.
In 2021, Oman appeared in T20 World Cup for the second time and played in the preliminary First Round of the T20 World Cup 2021. Placed in Group B alongside teams like Bangladesh, Scotland, and Papua New Guinea, Oman had to do something special to go to the Super 12 stage but the team could rack up only two points after beating Papua New Guinea.
In the next T20 World Cup in 2024, they could play quality teams including India also as the International Cricket Council (ICC) has increased the number of teams in the competition. In T20 World Cups, Oman is one of the teams that India haven't faced till now.