India-Pakistan Rivalry | Most Controversial Moments in India-Pakistan Cricket
Here's the list of the top 5 biggest controversies in India Pakistan Match.
India-Pakistan have an age-old legacy starting from the 1950s. Post-partition and independence of both countries, their rivalry started growing by leaps and bounds. This ignited because of the similarities on different levels. Hence, a healthy on-field rivalry is used to get the best out of the players. They feel more pumped up to step up for their teams.
Their passion and hunger to win are second to none. Such is the expectation from the fans, if the players got defeated they would be humiliated badly. And if they won, they would be given a king-like honour. So, there always lies a moment of heroism in these matches.
In such cases, sometimes things get out of control in the heat of the moment. Players lose their calm and involve themselves in altercations. But thankfully it has stayed on the field and never blew out of proportion. They all take it sportingly as long as it doesn't get personal.
5. Javed Miandad and Kiran More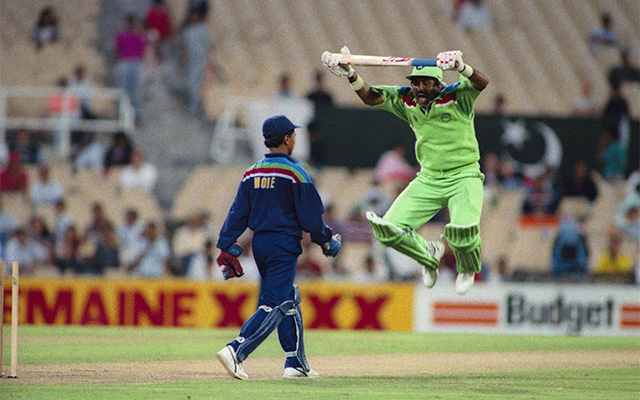 If cricket fans from the early '90s era associate the India-Pakistan clash with something intriguing, it has to be the famous imitation of Kiran More by Javed Miandad. This time stage was set in Australia, during the 1992 Cricket World Cup. The incident took place while Pakistan were batting against the Men in Blue.
Miandad used to be an ace middle-order batter for his side, and any opponent would dream of getting him out cheaply. The prime reason for it was his impeccable match-winning abilities at the time. For India, Kiran More was the keeper standing behind the stumps. Like other keepers do, More was also seen appealing for quite some time in excitement, he might have jumped a few times.
This caught the eyes of Javed. He got annoyed at More's excessive appeals and complained to the umpire. That didn't stop More from doing this part of mind games. However, an agitated Miandad pulled up a trick up his sleeves. The batter came close to the stumps and out of nowhere, hilariously jumped thrice to mimic More's high spirit. At that moment, everyone was shocked to see something like this in a serious match. But again, it was Javed Miandad, the legendary yet funnily competitive batter from the neighbouring country.