Cricket fraternity mourns the demise of veteran singer SP Balasubrahmanyam
Legendary singer SP Balasubrahmanyam, popularly known as SPB, passed away on Friday (September 25) in Chennai.
Updated - Sep 25, 2020 3:25 pm
2.2K Views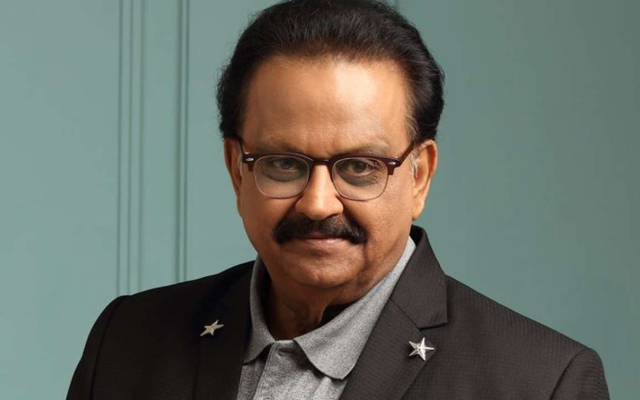 The year 2020 is wreaking havoc in all senses, and every other day adds up to the miseries. Legendary singer SP Balasubrahmanyam, popularly known as SPB, passed away on Friday (September 25) in Chennai. The utmost famous singer was admitted to MGM Healthcare Hospital on August 5, after he was detected positive for COVID-19. Nine days later, his condition worsened, and he was shifted on life support on August 14.
The 74-year-old singer was showing signs of recovery, and he was expected to get recovered fully before he succumbed to his critical conditions. He was going through some chest discomfort for the past few days before he was finally admitted to the hospital. It was detected to a mild coronavirus, but the sudden news of death has shaken the world brutally.
"Last two to three days I have been having a little discomfort. Discomfort means little chest congestion, which for a singer is nonsense. But I didn't want to take it easy, so I went to the hospital and checked. So they said it was just a mild, mild, mild, very mild positive of the corona. They said you can stay home and self-quarantine yourself. But I didn't want to do that. It is very tough in the place with all the family. They are very concerned, they can't leave you alone. So I got admitted to the hospital," the legend wrote in his last Facebook post.
SPB's sparkling career at a glance
SPB was recognized as a favourite and accomplished playback singer, actor, and voice artist. Ruling the singing world with his multitalented personality, he sang over 40,000 songs in various languages. In a glorious career of 50 years, he saw singing in Tamil, Telugu, Kannada, Malayalam, and Hindi. His unmatchable contribution to this industry earned him a lot of honours. He was honoured with Padma Bhushan and also registered his name in the Guinness Book of World Records for recording the maximum number of songs in one day.
When the Tamil movie Adimai Penn hit the theatres, it saw the birth of the one legendary singer who was set to rule the world with his vocals. People across the nation are pouring condolences on his sudden demise, let's check out some tweets from cricketers.
Indha thegam maraindhaalum isaiyaai malarven 🙏🙏 #RIPSPBSIR #SPBalasubrahmanyam pic.twitter.com/yHrNXYXTFx

— Vijay Shankar (@vijayshankar260) September 25, 2020
Saddened to hear the demise of such a legendary singer #SPBalasubramanyam. Your voice will be an inspiration for the generations to come. Condolences to friends & family. Om Shanti🙏 #RIPSPBalasubramanyam pic.twitter.com/weNqCthlZe

— Suresh Raina🇮🇳 (@ImRaina) September 25, 2020
Devastated to hear the passing away of #SPBalasubrahmanyam Sir. 💔Your voice and songs will continue to live with us for generations to come. We will deeply miss you. 💔

— Washington Sundar (@Sundarwashi5) September 25, 2020
#RIPSPB 🙏 Your voice will stay with us through your songs. Condolences to his loved ones.

— Shikhar Dhawan (@SDhawan25) September 25, 2020
End of an Era #ripspbalasubrahmanyam pic.twitter.com/TDjUoumEfH

— Russel Arnold (@RusselArnold69) September 25, 2020
Shocked and in disbelief. #SPBalasubhramaniam Garu is no more. It's a massive loss for all of us. My deepest condolences to the family. #omshanti 🙏🏼 pic.twitter.com/UsiukzpQjB

— Pragyan Ojha (@pragyanojha) September 25, 2020
What a monumental loss to the world of music. He was always very warm and kind to me. Known him for many many years. He has always been someone who loved the game. He always messaged/called me whenever I have done well. He will be sorely missed. #RIPSPB Sir 🙏🏻😞 pic.twitter.com/M9HRqWipIF

— Hemang Badani (@hemangkbadani) September 25, 2020
The nightmare continues – so very sad to hear about the passing away of #SPBalasubramanyam. My thoughts and prayers are with his family and fans. He loved music and music loved him back. Om Shanti 🙏🏻 pic.twitter.com/PKr0hREPbx

— Ravi Shastri (@RaviShastriOfc) September 25, 2020
One of the greatest singers of all time, #SPBalasubramaniam sir's soulful voice will remain in our hearts forever! He is irreplaceable. Condolences to his family & loved ones.

— Gautam Gambhir (@GautamGambhir) September 25, 2020
Omg!! This year just gets worse by the day! #SPBalasubramaniam #RIP

— Ashwin 🇮🇳 (@ashwinravi99) September 25, 2020
One of my favourite artist breathed his last today and that's the best way to describe you SPB sir,(an ARTIST) . You were one of the best and most versatile singers in the history of Indian cinema. That's the world will always remember you.

— DK (@DineshKarthik) September 25, 2020
It will remain a lifelong unfulfilled dream of mine. But now you've moved on to a better place. May his soul rest in peace

I wish his family and friends and all his million fans like me all the strength to get through this.

— DK (@DineshKarthik) September 25, 2020
For me personally, I remember coming to your house the one time and you politely obliged me by singing a few lines of my favourite songs. Will never ever forget that day.

SPB sir ,am not gonna lie , I wanted to do that just once more,well,alas , it will remain a lifelong

Contd

— DK (@DineshKarthik) September 25, 2020
A legend and one of the most renowned musicians of our country. Rest in peace, SP Balasubramaniam sir. My condolences to his family and loved ones.

— Veda Krishnamurthy (@vedakmurthy08) September 25, 2020
Shattered to hear about passing of SPB sir. A Legend of Indian Cinema. His songs will reverberate forever. His friendship, love for the game and our chennai meetings will be cherished forever. My heartfelt condolences to Sudakar, Sailaja, Charan and rest of family and fans. 🙏🏽

— Anil Kumble (@anilkumble1074) September 25, 2020
Music has been a friend that has helped me through highs and lows , SPB will live through his songs and evergreen voice forever and forever in our ears and hearts 💕…. #RIPSPB #Geniusforever

— S.Badrinath (@s_badrinath) September 25, 2020
Extremely saddened to hear about the demise of #SPBalasubramanyam garu. My deepest Condolences to his family. His voice will always remain etched in our hearts. Om Shanti ! pic.twitter.com/BrqUirT8Kh

— VVS Laxman (@VVSLaxman281) September 25, 2020
Sad to hear the Demise of the legendary singer – SPB, his songs will echo through time, condolences to his family and close friends 🙏! Om Shanti

— Kris Srikkanth (@KrisSrikkanth) September 25, 2020