IPL 2023: Equivalents of Indian teams in Big Bash League
Many IPL teams and BBL sides share similar traits. The 2008-born Indian league and its Australian counterpart have had a kindred flow.
Cricket is a common language spoken across the world which is tesified by the multiple T20 leagues played in different countries. Two of the most famous leagues are the Indian Premier League (IPL) played in India, and Big Bash League (BBL), its Australian counterpart.
Both leagues have witnessed some of the best players in the world coming together to celebrate the extravaganza of cricket. The two leagues are popular among the masses even beyond India and Australia and have always seen jam-packed stadia with crowd drawn from all across the globe.
In this article, let's take a look at the BBL equivalents of the current IPL teams:
To draw a trans-continental interlink, we brainstorm to plot a comparison between BBL franchises and IPL teams that participated in the previous year's competition. The two new IPL teams, Lucknow Super Giants and Gujarat Titans have not featured in this list since the BBL comprises of only eight teams and it was thus required to make two omissions from the 10-team IPL. To do so, only those IPL teams have been considered who have played atleast 100 matches.
Mumbai Indians (MI) - Perth Scorchers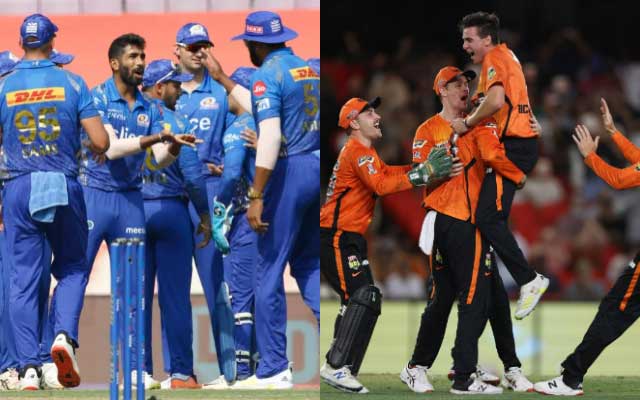 Often considered to be two of the best T20 franchises in the world, both Indians and Scorchers have been top-tier teams of their respective leagues. The two teams also enjoy immense fan popularity for their consistent performances.
The biggest similarity between MI and Perth Scorchers is that they have won five trophies each in their respective T20 leagues. Scorchers recently equated Mumbai's tally when they defeated Brisbane Heat to win their fifth BBL championship. MI's five wins came in 2013, 2015, 2017, 2019, and 2020 whereas Scorchers won the BBL in 2013/14, 2014/15, 2016/17, 2021/22, and 2022/23.
Mumbai Indians and Perth Scorchers are among the teams that have participated in every edition of the Indian Premier League and the Big Bash League, respectively. While both sides are five-time champions now, they suffered a defeat in their first-ever match, that too on their home ground. MI lost to Royal Challengers Bangalore (RCB) in IPL 2008 at the Wankhede Stadium whereas Perth lost against Hobart Hurricanes in BBL 2011/12 at the WACA Ground.