Cricketing Trends on Social Media Today
Here's how the cricketers spent their day on social media platforms.
Updated - Jul 8, 2020 9:18 pm
353 Views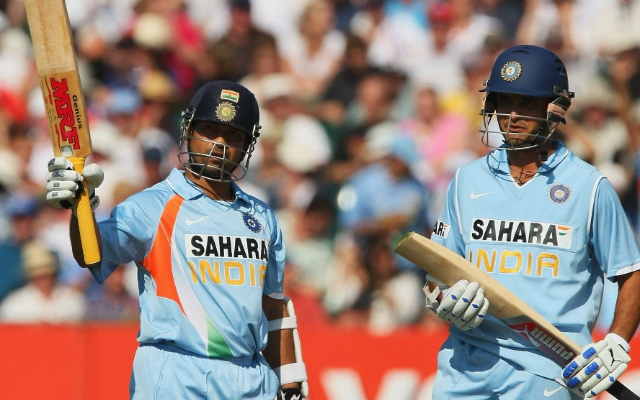 '#Cricketisback' was trending all over Twitter as England and West Indies braced the field to kick-off international cricket amid COVID-19 pandemic. The historic Test series marked the return of international cricket of 117 days.
Despite the delay in the toss and the play due to rain, the excitement of fans didn't diminish by a bit. All cricket fanatics including players were excited to set the ball rolling amid COVID-19 pandemic.
Many former and current players expressed their excitement towards the resumption of cricket. The England-West Indies Test series could emerge as a blueprint for future post-coronavirus world matches and tours. India internationals like RP Singh, Ravichandran Ashwin and Rohit Sharma expressed their excitement to witness the return of international cricket.
The world also witnessed significant changes to the sport as the Test was played according to interim ICC rules which also includes the much-debated saliva ban. Furthermore, players of England and West Indies maintained social distancing and also showed solidarity towards 'BlackLivesMatter' by kneeling before the day's play.
Meanwhile, wishes poured in for Sourav Ganguly, who celebrated his 48th birthday on July 8. A plethora of cricketers including Sachin Tendulkar and Virat Kohli extended birthday wishes to 'Dada'. Ganguly, known for his fearless captaincy, was regarded as a trendsetter in Indian cricket.
It was Ganguly who was credited for the evolution of a new-age Indian side, comprising players like Mohammad Kaif, Yuvraj Singh, Zaheer Khan, Ashish Nehra, and Harbhajan Singh. He was also the most successful Indian Test captain overseas with a total of 11 victories.
Ganguly even led India to the finals of 2000 Champions Trophy, won the 2002 Natwest Trophy, won the 2002 Champions trophy. Ganguly even led the side to 2003 World Cup final, only to suffer a defeat at the hands of Australia.
1. Irfan Pathan welcomes international cricket amid COVID-19 debacle
Cricket is on the mark… #ENGvWI #welldone #COVID19

— Irfan Pathan (@IrfanPathan) July 8, 2020
2. Siddharth Kaul extends birthday wishes to Sourav Ganguly
Happy 48th Birthday @SGanguly99 sir. Hoping that your birthday and the year ahead is as awesome as those towering sixes you've hit all through your career. #HappyBirthdayDada

— Siddharth Kaul (@Sidda79_KauL) July 8, 2020
3. Rohit Sharma can't wait to brace the field for playing international cricket
Cricket is back 😃Positive scenes coming out from UK. So good to finally see some cricket being played. Wishing both teams the best. Can't wait to be out there myself 🤞 #EngVsWI

— Rohit Sharma (@ImRo45) July 8, 2020
4. RP Singh expresses his excitement to witness international cricket
Finally, good to see Test cricket is back. Live and truly alive! Never watched ball by ball action of non-india matches but this is a historic match. Will be watching as much as I can 😁 #ENGvWI #EngvsWI pic.twitter.com/kyVnLkz8CY

— R P Singh रुद्र प्रताप सिंह (@rpsingh) July 8, 2020
5. Ravichandran Ashwin wishes luck to England and West Indies
"Whatever happens from here on in, cricket will be the winner"
The above statement has been used so many times in the past, today is one day where it will fit in perfectly. Good luck to both the teams. 👍🏻👍🏻 #cricketisback #ENGvsWI

— Ashwin (During Covid 19)🇮🇳 (@ashwinravi99) July 8, 2020
6. Royal Challengers Bangalore reminisce Yuzvendra Chahal's IPL debut
On #NostalgiaCam we look back at how Yuzvendra Chahal stunned the world on his debut for the Royal Challengers Bangalore! 🤩

RCB vs DD, IPL 2014 🌟 #PlayBold #BlastFromThePasthttps://t.co/5CEhqB3anh

— Royal Challengers Bangalore (@RCBTweets) July 8, 2020
7. Ricky Ponting excited to have Test cricket back
How good is it to have Test cricket back! #ENGvWI

— Ricky Ponting AO (@RickyPonting) July 8, 2020
8. Akshar Patel wishes birthday to Sourav Ganguly
Happy Birthday Dada @SGanguly99 #Legend pic.twitter.com/gTcwemrJHF

— Akshar Patel (@akshar2026) July 8, 2020
9. Michael Vaughan is delighted to see the game back
Great to see the game is back 👍👍 https://t.co/NtI0SVTJXP

— Michael Vaughan (@MichaelVaughan) July 8, 2020
10. Prithvi Shaw extends birthday wishes to 'mentor' Sourav Ganguly
Many Happy Returns of the Da(Y)Da! @SGanguly99 Thank you for being my mentor and encouraging me throughout pic.twitter.com/N7P8MQTR3Q

— Prithvi Shaw (@PrithviShaw) July 8, 2020
11. Russel Arnold reminisces on-field memory with Sourav Ganguly
A fiery character on the field, extremely passionate about his country, not giving an inch to the opposition. Looking back, I must say I loved this intense moment with the great man! I'm sure u guys remember this! 😃 Happy birthday Dada @SGanguly99 pic.twitter.com/9D0jiVElPM

— Russel Arnold (@RusselArnold69) July 8, 2020
12. Virender Sehwag shares a throwback picture with Ganguly on his birthday
Dada ko Janamdin ki bahut badhai.
The only time he blinked his eye was when dancing down the track while hitting spinners for a 6, varna never. Eternally grateful for his support in initial days. #HappyBirthdayDada pic.twitter.com/U7k0Q9paJI

— Virender Sehwag (@virendersehwag) July 8, 2020
13. Virat Kohli extends birthday wishes to Sourav Ganguly
Happy birthday dada. God bless you 😇 @SGanguly99 pic.twitter.com/Y5knMuTpci

— Virat Kohli (@imVkohli) July 8, 2020
14. Mithali Raj wishes Sourav Ganguly a very happy birthday
A very happy birthday to our Bcci president @SGanguly99. Wishing you good health, more success and a joyous year ahead !

— Mithali Raj (@M_Raj03) July 8, 2020
15. Sachin Tendulkar shares birthday wishes to 'Dadi' Sourav Ganguly
Happy birthday Dadi!
Hope our off-field partnership keeps going strong like our on-field ones. Wish you a blessed year ahead. pic.twitter.com/jOmq9XN07w

— Sachin Tendulkar (@sachin_rt) July 8, 2020