Cricketing Trends on Social Media today
Here is how cricketers spent their day on Twitter.
Updated - Mar 31, 2020 7:52 pm
222 Views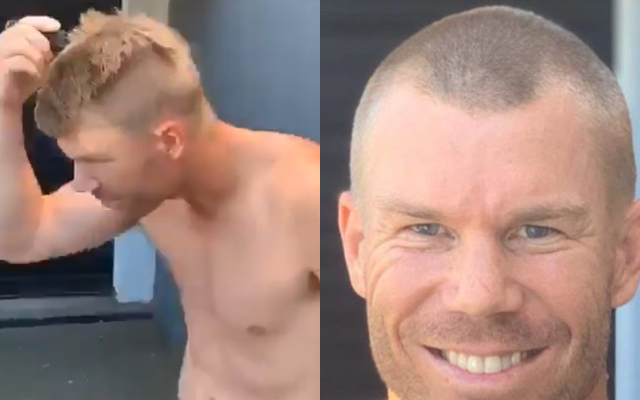 Follow us on Telegram
Due to the outbreak of coronavirus, the world has been compelled to come to a standstill. Majority of sporting events– from the Tokyo Olympics to the Indian Premier League have either been called off or postponed in the wake of the pandemic. More than 7 lakh confirmed cases have been reported in the world along with around 37000 deaths.
Amid such a stern situation due to the debacle, many cricketers have donated their bit to aid in the battle against the pandemic. Sam Billings shaved off his hair for a noble cause and urged people to donate too. David Warner also joined the bandwagon and shaved off his hair and further nominated many cricketers including Virat Kohli and Steve Smith to participate in the challenge.
At a time when the whole world is battling against Coronavirus, everyone is trying to help out. However, Yuvraj Singh's appeal to donate to Shahid Afridi's foundation didn't go down well with Indian fans, who blasted him for his tweet. Due to Afridi's past remarks on India, fans were furious with Yuvraj's tweet in which he urged everyone to donate their bit to Afridi's foundation.
Meanwhile, Hardik Pandya, who has been sidelined due to back injury from the Indian team, shared a video where he can be seen working out during his quarantine period. The all-rounder was set to make a comeback into the Indian team in the ODI series against South Africa. However, his comeback was halted as the series was called off in the wake of coronavirus outbreak.
Former India all-rounder Irfan Pathan also urged fans not spread hatred in the name of religion in these trying times. Few people are using this time as an opportunity to spread religious hatred and Pathan warned everyone on Twitter regarding the same.
1. Sreesanth tries his hand at the piano
— Sreesanth (@sreesanth36) March 31, 2020
2. Sam Billings shaves off his head
Please donate to show some support for our amazing NHS heroes across the country!https://t.co/h1ULM8CjrB pic.twitter.com/ElFzIWetzh

— Sam Billings (@sambillings) March 31, 2020
3. Anil Kumble suggest everyone to stay safe
To bowl out #Covid19India we all need to come together and fight this battle. I have made my humble contributions to #PMCaresFund #PMNRF and #CMReliefFund @PMOIndia @narendramodi @CMofKarnataka @BSYBJP Please do #StaySafeStayHome

— Anil Kumble (@anilkumble1074) March 31, 2020
4. Irfan Pathan spreads awareness amid these trying times
During the unfortunate times of the Coronavirus pandemic which we are seeing in the entire world. Few people are using this as an opportunity to spread religion hatred! Guys, please be aware of them. They are wrong numbers! #humanity #weareone

— Irfan Pathan (@IrfanPathan) March 31, 2020
5. Hardik Pandya sweats it out in the gym
Quaran-training 😉 Don't forget about your personal fitness during the quarantine. Stay fit, stay healthy ✌🏾😁#CrushQuarantine #Fitness #HomeWorkout #Training pic.twitter.com/j5ZdnuGtcd

— hardik pandya (@hardikpandya7) March 31, 2020
6. Sarfaraz Ahmed accepts Azhar Ali's challenge
Kia bat hey bhayya.. @SarfarazA_54 https://t.co/ZMsM1Q5P0X

— Azhar Ali (@AzharAli_) March 31, 2020
7. Shahid Afridi's foundation distributes rations
Day 10 @SAFoundationN ration drive supporting struggling minorities in this #Covid19 pandemic. Ration was distributed amongst the Hindu & Christian communities in Karachi. Truly ensuring #HopeNotOut for all!
Urging everyone #Stayhometosavelives & #DonateKaroNa to the cause! pic.twitter.com/ljjvSzfDX4

— Shahid Afridi (@SAfridiOfficial) March 31, 2020
8. Sikandar Raza hopeful of beating coronavirus together
In these tough times in #Zimbabwe it's nice to read some good news everyday.

Great to see so many organizations and people making donations towards #Covid19 to make sure we beat this together. #StaySafe #humanity #lockdown

— Sikandar Raza (@SRazaB24) March 31, 2020
9. Tino Best spends quarantine time in the gym
Morning ❤️ … It's All About "Survival of the Fittest 💪🏾"….. Stay Focused and Grind 🙏🏾 #JAHLIVES❤️💛💚…. pic.twitter.com/I4aDHCtwf7

— Tino95 (@tinobest) March 31, 2020
10. Gautam Gambhir shares a message amid 21-day lockdown
Today, INDIA needs just
one campaign – #GIVE

#PMCARES @narendramodi @BJP4Delhi @JPNadda pic.twitter.com/PhcicDgMGR

— Gautam Gambhir (@GautamGambhir) March 31, 2020
11. Jonty Rhodes shares benefits of a cold water shower
Benefits of a cold water shower are numerous; try it and let me know if it helps your 🧠and your ♥️#stayhealthyathome #coldwatershower 🎥by my 💍 pic.twitter.com/EgcjWYwpdb

— Jonty Rhodes (@JontyRhodes8) March 31, 2020
12. Brad Hogg names his top five batsmen
Lara, Sachin, Ponting, Dravid, Sanga. https://t.co/7VDLj0wVsI

— Brad Hogg (@Brad_Hogg) March 31, 2020
13. Brad Hogg lauds Virender Sehwag for his explosive batting
Verender Sehwag, every ball! https://t.co/JFFZIFRfQM

— Brad Hogg (@Brad_Hogg) March 31, 2020
14. David Warner shaves off his head
Been nominated to shave my head in support of those working on the frontline #Covid-19 here is a time lapse. I think my debut was the last time I recall I've done this. Like it or not?? https://t.co/YJYV0rR6yv

— David Warner (@davidwarner31) March 31, 2020
15. Yuvraj Singh extends his support to Shahid Afridi Foundation
These are testing times, it's time to lookout for each other specially the ones who are lesser fortunate. Lets do our bit, I am supporting @SAfridiOfficial & @SAFoundationN in this noble initiative of covid19. Pls donate on https://t.co/yHtpolQbMx #StayHome @harbhajan_singh pic.twitter.com/HfKPABZ6Wh

— yuvraj singh (@YUVSTRONG12) March 31, 2020
Follow us on Google News