DC vs RR: Wankhede Crowd chants 'Cheater Cheater' over the no-ball controversy
The Delhi Capitals dugout wasn't happy with the no-ball call from the umpires.
Updated - Apr 23, 2022 1:02 pm
741 Views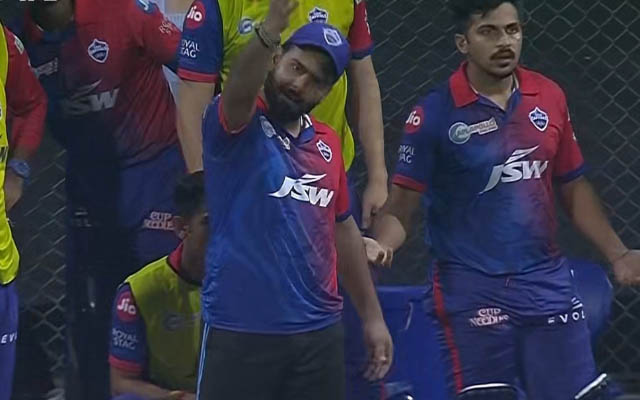 Follow us on Google News
The Wankhede Stadium in Mumbai over the years has seen a lot of notable moments and the crowd has been never shy to state their presence, whether it comes to glory or disappointment. Even the biggest cricketing names like Virat Kohli and Yuvraj Singh have been booed by the crowd at Wankhede and it can be cruel to the players at times.
One such incident happened in the game between the Rajasthan Royals and the Delhi Capitals when the Wankhede crowd went bizarre over a no-ball call from the umpire and chanted 'cheater cheater' due to the disappointment. The final over drama started with 36 needing off the last six deliveries and Rowman Powell cleared the boundaries in the first two deliveries to keep his side in the hunt.
Delhi Capitals go over the line in an argument over the no-ball call
In the third delivery, Obed McCoy had bowled a high full toss which was close to being called a no-ball, but the on-field umpires did not think so and adjudged the delivery legitimate. Although it went for yet another six, the Delhi Capitals dugout and was unhappy that it wasn't called a no-ball and they expressed their disappointment. In fact, DC skipper Rishabh Pant lost his cool to such an extent that he asked the batters to walk off which he did regret later in the press conference.
She we bow?Yeah Crowd is the king 👑#Cheater pic.twitter.com/aGlIVmboVG

— Rahulsarsar (@Rahulsarsar177) April 22, 2022
Shane Watson, the assistant head coach, was trying to cool down the situation while Pravin Amre stepped into the field to argue with the umpires over the call. The umpires requested him to go back to the dugout and play resumed after a while which had completely taken away the momentum from the Delhi Capitals side.
Powell wasn't able to find the boundaries after that and his side ended up short by 15 runs in the end. The crowd was clearly disappointed with the no-ball call and it was not the first time they had started chanting boldly.
Follow us on Telegram