Dissatisfied with his contributions, Twitterati wants Ravi Shastri to be removed as India's head coach
He has been a recipient of brickbats for quite some time now.
Updated - Sep 12, 2018 12:59 pm
6K Views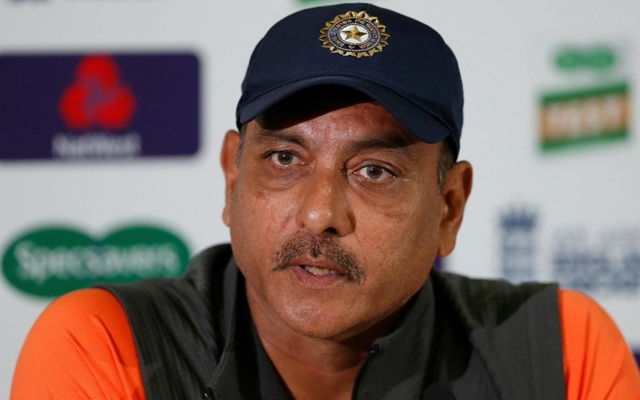 The curtains eventually came down yesterday on India's five-match Test series against England, which the home team won comprehensively by 4-1. The last match at Kennington Oval in London had no significance for the reason that Joe Root's Three Lions had already pocketed the series following their resounding 60-run victory at The Ageas Bowl in Southampton.
Both teams fought tooth and nail to overpower each other, but the Three Lions turned out to be a tad too powerful for Virat Kohli and Co. Apart from the second Test at the iconic Lord's Cricket Ground, every other match turned to be competitive as the teams had got equal opportunities to pounce on. The first match at Edgbaston in Birmingham turned out to be a cliffhanger.
Fans disappointed by Shastri
After India were pushed back, they stormed back to register their maiden victory in the series by 203 runs at Trent Bridge in Nottingham. The Indian captain accomplished his 23rd Test ton and coupled with Jasprit Bumrah and Hardik Pandya's five-wicket hauls, the visiting team brushed aside the Brits to keep their hopes alive in the five-match series on English soil.
The penultimate match turned out to be a roller coaster ride as the match was poised for a thrilling finish. However, India made a meal of their run-chase and fell way short of the target. In the meantime, Ravi Shastri, the Indian cricket team's head coach, has been a recipient of brickbats from the supporters, who have questioned his role in the Indian setup.
The former Indian cricketer has shown confidence on his team and vouched for his team to make comebacks, but unfortunately, that wasn't the case. India are next scheduled to play the Windies next month after which their tour of Australia starts in November. For the time being, Twitterati has called for Shastri's removal as the head coach.
Here is how Twitter reacted
*Shastri's reaction after series loss*

Wakes up- ha Boyz played well, it could have easily been 4-1 in favor of India.

*Goes back to sleep* pic.twitter.com/pUBitN9wMw

— Cricket Guru (@CricketGuru15) September 11, 2018
Indian cricket fans to Ravi Shastri: pic.twitter.com/jIQGoZnojT

— Taimur Ali Khan (@SaifkaBeta) September 11, 2018
Meanwhile Fans Waiting For Ravi Shastri #INDvENG #INDvsENG #ENGvIND pic.twitter.com/jAQnT1aSfe

— Sir Ravindra Jadeja (@SirJadeja) September 11, 2018
Dei @BCCI, sack Ravi Shastri ji now itself! Not seeing anything hopeful in Australia by this kind of performance! So it's ideal to sack the coach well in advance before #CWC19 nears! #ENGvIND #INDvENG

— Rakesh (@TheRakeshVC) September 12, 2018
@BCCI why bcci not removing Ravi shastri & cos back to back losing's matches the teams failure in all departments, the coach has responsible prepare player's, but the most Expensive coach 😴.in 2014 eng loss bcci removed coaching staff and Ravi shastri made Director team…..

— Kamran Mirza (@Kamranskf) September 12, 2018
I seriously beleif india needs specialist coaches for every department while touring overseas.
Ravi Shastri is a positive personality and he motivates team in good manner but motivation will not work without preparation and preparation can only be made with specialists.

— Pritam Das (@SppritamDas) September 12, 2018
I guess we lost because of two people. 1. Moeen Ali
2. Ravi Shastri

First one is over with the series. Worried about second.. https://t.co/sBRMVx0KWr

— Prashant (@prashantc841) September 12, 2018
India takeaways from this tour:
1. Kohli's a world class batsman
2. Dhawan should bid goodbye to his test career
3. Tactics/Selections – big ?
4. Ravi Shastri must learn to live on the ground
5. India's seam bowling oozing with confidence
6. Pant should be persisted #ENGvIND

— Aditya Karnik (@Adityaskarnik) September 12, 2018
True. It's time to sack ravi shastri and bring back kumble

— CS Jigar Shah (@FCSJigarShah) September 12, 2018
Chuck out Ravi Shastri from team bring in Dravid or Kumble

— Dr.Balaji.R (@BalajiR88359593) September 12, 2018
Why we need Ravi shastri? I never seen India won bcz of Ravi as coach… https://t.co/XPdUfbBg4R

— Gopisaravanan (@gopisarav) September 12, 2018
@imVkohli looool do you seriously think this is the best Indian test side??
Not even top 3 side in last 15 years…
Ravi Shastri is trying to manipulate you

— -CR7 PAAJI- (@Kakarla07) September 12, 2018
#IndVsEng @BCCI @RaviShastriOfc @Indiancrickteam Ravi Shastri should be questioned for all the away losses.We don't see any improvement in away performances.Let him keep his arrogance and straight forward attitude to himself,which cares?team India matters !

— GL Sham Prasad (@glshamprasad) September 12, 2018
Matches do not go down the wire, When I'm in the charge of head coach ~ Ravi Shastri 😂#ENGvIND #INDvENG

— Siju Moothedath (@SijuMoothedath) September 12, 2018
Ravi Shastri should be sacked coach of Indian cricket team

— Robo1235 (@venky29256560) September 12, 2018
Don't understand why Ravi Shastri is appointed as coach in the first place. He is good only in commentary. That's all.

— kush (@kushblr) September 12, 2018
#NimratKaur: Hey, Ravi I have played the entire series, without getting dropped or injured. #RaviShastri: which series? #NimratKaur: The Test Case. #ENGvIND #INDvsENG #IndVsEng pic.twitter.com/43sbE39Nys

— Vishamakaarikannan (@Vishamockery) September 12, 2018
High time you throw out Dhawan. Rahane is a class player but is now lacking form and confidence. Drop him for 2 series and make him play domestic cricket. For heaven sake get in youngsters. Gill should be in the team. Ravi Shastri is useless.

— Rayadurg Sriram (@rrsriram72) September 12, 2018
This is how Ravi Shastri sees the score line. #EngvsInd https://t.co/p3o2AB3VB7

— Mujtaba Ibrahim (@Mujtaba023) September 12, 2018
Many many congratulations to Mr Virat Kohli & Mr Ravi Shastri and Team INDIA for lossing test series 4_1. You all are deserving to defeat.we are proud of you.aap Ghar ma shar ha or Ghar ka Baher Dhar ha.

— Nitin Kumar (@ac2228d58a61498) September 12, 2018
Ravi shastri should resign from post of head coach as taking moral responsibility of such a defeat. What say Sir? https://t.co/0bTf7l5dQY

— Tarun Kumar (@ca_tarun04) September 12, 2018
Hell yeah @BCCI is just interested in filling their pockets. But then you have to blame the team as well as they showed no application especially in batting. Time for change in coach as this young team needs a coach more than just Ravi shastri.

— Siva Kumar (@nakshatrala) September 12, 2018
Believe in Ravi Shastri even if it means sacrificing Anil Kumble. Just Do It.

— Trendulkar (@Trendulkar) September 11, 2018
For more news and developments, stay tuned on CricTracker.com.