DNA India carries blank space on its front page to oppose cricket between India and Pakistan
The points table on Zee News media says no match was played between India and Pakistan on June 4.
Get every cricket updates! Follow us on :
While the fans on either side of the border may have enjoyed the India vs Pakistan game at the ICC Champions Trophy 2017, which the former won by 124 runs, a section of the Indian media seems disinterested in the result. A day after Dr Subhash Chadra owned Zee Media group made it very clear that they will not be covering the match, one of its English newspapers, DNA, published a blank page in the June 5 edition to depict the negligence of coverage of the game. This step was taken to support the Indian armed forces.
The right corner of the newspaper's front page was blank. But, there was a note which said, "This page is dedicated to the soldiers who are guarding our borders and our homeland. DNA stands with them—on the same page & belief that cricket and terror can't go hand-in-hand." Many are of the opinion that cross-border terrorism and cricketing ties between the two countries cannot go hand in hand.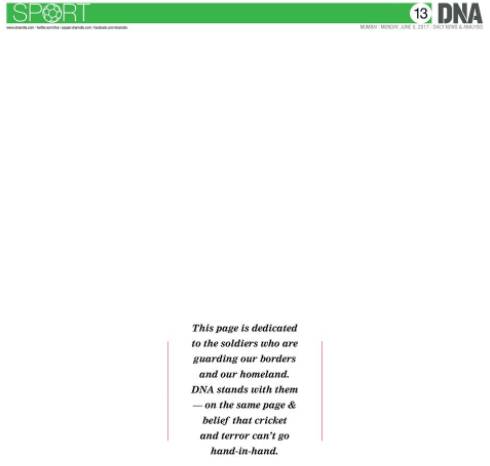 Also, the Champions Trophy 2017 section on the Zee media website showed the schedule of the India vs Pakistan game but nothing during or after the game was published.  In addition, the points table alongside says no match was played between India and Pakistan on June 4. They had made it clear before the match itself that the company's websites, channels and newspapers will not provide any coverage of the ICC Champions Trophy match between India and Pakistan.
India should follow Afghanistan's example 
"Government made it clear that terror and talks can't go together then how come terror and cricket can go together," Chandra, CEO of Essel group and a Rajya Sabha MP, took to Twitter and said in a series of tweets.
"Producers stopped casting Pakistan actors, similarly, Pakistan banned our TV programs," he said, adding that if Afghanistan can stop cricketing ties with Pakistan following the recent Kabul attack, why can India not do the same.