"Do I get affected by failures? Yes, I do"- Virat Kohli
Kohli also wants to leave a legacy behind for the young cricketers.
Updated - Nov 28, 2019 8:45 pm
2.2K Views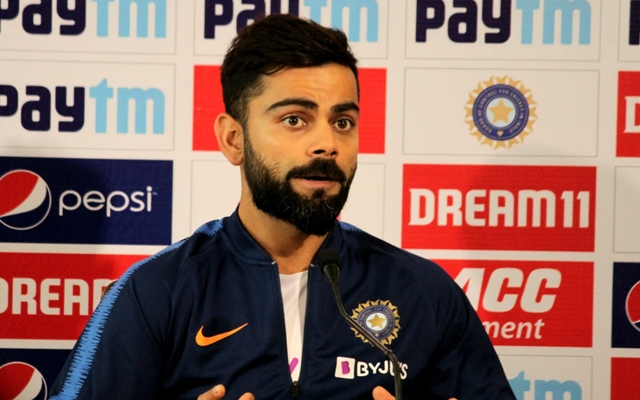 Follow us on Google News
Indian captain Virat Kohli has possibly achieved everything on the field of cricket. The guy boasts of 70 International tons at the age of mere 31. He averages in excess of fifty in each of the three formats of the game- the only cricketer to do so. He is the fastest to score 8,000, 9,000, 10,000 and 11,000 ODI runs, in a format where he averages 60 and boasts of the best conversion rate in Test series after Donald Bradman.
But, with excruciating highs also comes sole crushing lows! That's life. And, cricket boasts the closest possible reflection of life. It shows you unfathomable highs and unbearable lows in a matter of seconds. Kohli's success story, like other champions, is not about the number of runs he has scored or the number of centuries he has racked up, it is about how every time he gets up in the face of adversity and works his way to the top again.
Virat Kohli opens up on how he deals with failures
From the ill-fated 2014 Test tour of England to his recent failure in India's heartbreaking semi-final loss to New Zealand, the Indian captain has suffered many setbacks in his career. So, does failure affects Kohli? The Indian captain opened up on this facet in a chat with India Today where he said, "Do I get affected by failures? Yes, I do. Everyone does.
"At the end of the day, I know my team would need me. I had the feeling so strong in my heart that I am going to come not out and make India go through that tough phase (in the semi-final). But then again, maybe that was I my ego talking because how can you predict something like that? You can only have a strong feeling or maybe it was a strong desire to do something like that," he said.
Kohli has racked up 11,520 and 7,202 runs in ODIs and Test cricket and the Indian captain cleared that he wants to leave a legacy behind for the youngsters. "I hate losing. I don't want to walk out and say I could have done this. When I step out on the field, it's a privilege. When I walk out, I want to have zero energy. We want to leave behind a legacy that future cricketers will say we want to play like that." Kohli added.
[interaction id="5dd3d248d42ed323a03f9a9b"]
Follow us on Telegram