'Does Messi speak English?' – Fans bash Tanvir Ahmed after he suggests Babar Azam to improve his personality and English
Fans bashed Tanvir for his baseless suggestions and defended Babar by saying that he doesn't need to listen to such useless criticism
Updated - May 18, 2020 1:55 pm
1.3K Views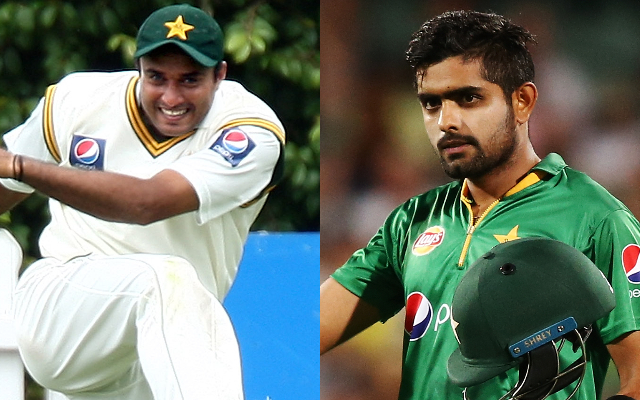 Follow us on Google News
Babar Azam's exemplary rise in international cricket was proved yet again after Pakistan Cricket Board (PCB) recently gave him the captaincy role in ODIs as well as T20Is. Since breaking into the national side, Babar, through his prolific batting, has emerged as the 'Poster Boy' of Pakistan cricket. Be it his technique or consistency across all formats, Babar has stated his authority in all formats by his performances.
The current ICC rankings reflect Babar's calibre as he is currently ranked No.1 in ICC T20I rankings, third in ODI rankings and fifth in Test rankings. Due to his run-scoring spree across all formats, Babar has been hailed as Pakistan's 'modern-day great' by many cricket experts.
In a career spanning over 74 ODIs and 38 T20Is, Babar has gathered 3359 and 1471 runs respectively. With the red ball, the Lahore-born batsman has amassed 1850 runs in 26 Tests and has 5 tons and 13 half-centuries to his name.
Fans lambaste Tanvir Ahmed for his 'baseless' criticism
Recently, former Pakistan pacer Tanvir Ahmed lauded Babar's skills but remarked that Babar needed to improve his English as well as his overall personality along with his batting skills. Fans, in no time, bashed Tanvir's bizarre advice and took him to the cleaners.
"Babar Azam also needs to improve his English, which is necessary. Whenever someone becomes a captain, he has to talk during the toss and post-match presentation. Plus, he will also give interviews on various channels when he tours different countries," Tanvir had said in the video.
Fans bashed Tanvir for his baseless suggestions and defended Babar by saying that he doesn't need to listen to such useless criticism. Babar's batting expertise speaks for his class and not his English or personality.
Babar, along with Virat Kohli, is one of the few batsmen who boast an average of above 50 among players that have played over 30 T20Is. The right-hander has excelled in the shortest format of the game and is anticipated to play a vital role in Pakistan's T20 World Cup 2020 campaign.
Here's how the fans reacted:
Tanvir Ahmed via Youtube: Babar Azam needs to improve his English, work on his personality and change his dress sense"

Tanvir Ahmed Stats:

Tests: 5 Mat/ 170Runs/ 34 Avrg
T20: Bhai ko Barri hi ni Mili😎🙏
ODI: 2 Mat/ 18 runs/18Avrg

"Ye Kon Baat kr raha ha Bhai ke Barre main? " pic.twitter.com/OVpOij05V9

— Babar Azam Lovers (@BabarAzam_Lover) May 17, 2020
What do you need to be the skipper of the team?

Cricketers: Leadership, Runs, class and form.

Tanvir Ahmed: Good English, dressing sense and personality.

— Pushpank Tripathi (@Pushpank07) May 17, 2020
Now people just want attention by taking babar azam name 😅

— mahnoor tariq (@mahnoor_1996) May 17, 2020
Really! disgusting

— Duaa Shaikh (@ThisisDS9876) May 18, 2020
Tanvir Ahmed – the most succesful captain in Pakistan history! Should be the next PM! 😂😂😂

— Mahmud – theTALENTspotter (@Mttspotter) May 17, 2020
Does Messi speaks English? Does people of Argentine asks him to improve his English?
Slave mentality bc

— H A R O O N (@haroonnazim_) May 17, 2020
Babar Azam is playing cricket not auditioning for Hollywood

— Raiyyan Abbas🃏 (@raiyyan_abbas) May 17, 2020
This really explains why Tanvir never made it as a cricketer… he spews cynicism. Meanwhile Babar Azam has made a global fanbase that transcends nationalities and languages. He doesnt need to listen to useless armchair criticism of a complexed person.

— SJ Ahmed (@SuhaibJAhmed) May 17, 2020
Kaha se latey ho🤣🤣🤣🤣🤣

— बीन kumar..🇮🇳 (@valorbharat) May 17, 2020
And this loser is an analyst on ARY. Yeh analysis bhee aisay hee kerta hae wahan. Bhai pehlay apni dressing sense to dekh lo 😀

— Saqib Shah (@Saqibca) May 18, 2020
That's the problem of these lots. Through out their career these type of players were below avg, rather than focusing on cricket they focused on styles, dresses and off the field activities.

— Sadiq Khursand (@aqua_ask) May 17, 2020
He was just an ordinary bowler to be honest, and highly egotistical

— Usman Mureed (@usman_mureed) May 18, 2020
We should just motivate him. Motivation and appreciation is important for everyone whatever you speak or wear.

— Hira Tahir (@hiratahir91) May 17, 2020
Follow us on Telegram