IPL Fantasy League 2021 – Match 1, MI vs RCB – Fantasy Tips
It is important to set up the team on Day 1 properly, so we can make fewer transfers for the upcoming matches.
Updated - Apr 30, 2021 4:06 pm
1K Views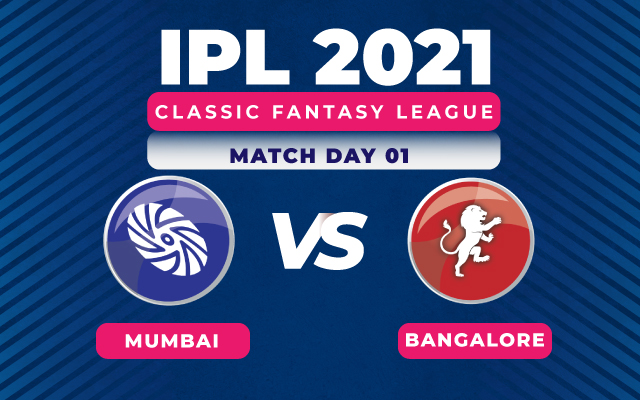 IPL is all set to start with the first match between Mumbai Indians(MI) vs Royal Challengers Bangalore(RCB) in Chennai. From Day 1 onwards, we will have 110 transfers till the qualifiers. It is important to set up the team on Day 1 properly, so we can make fewer transfers for the upcoming matches.
The duration between the consecutive matches for each team is going to vary in IPL. KKR, SRH, MI, DC, RCB, CSK are going to play their consecutive matches in three days, four days, five days, six days, six days, and seven days apart respectively. So it is good to construct the initial team with more players from KKR, SRH, and fewer players from CSK, DC, and RCB.
We did not pick up any RCB player due to multiple reasons. We cannot carry them for the next RCB match. There needs certain clarity on the batting order of the likes of ABD, Maxwell. Kohli is too expensive to fit into our team combination.
Here are our fantasy picks for MI vs RCB first match
Ishan Kishan(MI): Due to the absence of Quinton de Kock, Ishan Kishan is likely to take gloves and he might open the innings as well. He is one of the cheapest wicketkeepers available at 9 Credits, so we can carry him easily for the next Mumbai Indians match.
Krunal Pandya(MI): Due to the sluggish nature of the Chennai track, Krunal Pandya is likely to bowl his full quota. If there are no left-handed batsmen other than Ishan Kishan, he is likely to be promoted in the batting order as well to get the Left-hand, Right-hand combination. At 8.5 Credits, I can carry him easily to the next Mumbai Indians match.
Hardik Pandya(MI): Hardik Pandya is in great touch and is likely to bowl at least a few overs, if not a full quota. Mumbai may also not want Hardik to bowl in the early season and get injured. So, after the toss, if we see Mumbai taking an extra bowler, we can reconsider taking Hardik Pandya into the final team.
Also Read
Sam Curran(CSK): Sam Curran is most likely to play the finisher role. However, if Moeen Ali is not part of the final XI, Sam Curran might get a promotion in the batting order to maintain the Left-Right combination. Since the inclusion of Moeen Ali is uncertain, we are going with the safer option Sam Curran. We do not want to carry this player for the next CSK match.
Prithvi Shaw(DC): Rishabh Pant and Shikhar Dhawan are our first-choice players. However, due to schedule logistics, we cannot carry forward the DC player for the next match. So we settled with Prithvi Shaw, who is currently in form in the domestic season and fits in my combination easily at 8.5 Credits.
Andre Russel(KKR): KKR is going to play consecutive matches in three days span. We want to carry Andre Russell for both the matches. Another all-rounder option is Shakib Al Hasan/Sunil Narine. We will try to get one of these players on the matchday after confirming the final XI.
Shubman Gill(KKR): Shubman Gill will be opening the innings. We want to carry him for the next KKR match as well. Another alternative batsman is Nitish Rana. We will get him into the team using the free uncapped transfer option.
Manish Pandey(SRH): David Warner is our choice pick from SRH. However, David Warner is expensive at 12 Credits and we won't be able to carry him to the next match. Though Manish Pandey has been disappointing for quite some time, still we chose him as we can carry him easily for the next game. He bats at the number 3 position and is good at batting on turning tracks. So, not a bad option. If your team combination allows, pick David Warner ahead of Manish Pandey.
Bhuvaneshwar Kumar(SRH): After coming from injury, he did well in the England series. We might not be able to carry him for the next SRH match, still, we want to take him in the team for this match.
T. Natarajan(SRH): Natarajan has been excellent at death bowling and we want to carry either Bhuvneshwar Kumar/Natarajan for the next SRH game. So, we picked them both.
Varun Chakravarthy(KKR): The mystery spinner is likely to add good value on the tracks of Chennai. So, we chose him ahead of the other Indian bowlers in the KKR squad.
Here's our fantasy team:
Ishan Kishan (C), Manish Pandey, Shubman Gill, Prithvi Shaw, Andre Russell, Krunal Pandya (VC), Hardik Pandya, Sam Curran, Bhuvneshwar Kumar, T Natarajan, Varun Chakravarthy.
Captain: Ishan Kishan (If he opens batting)/Krunal Pandya
Vice Captain: Krunal Pandya/Ishan Kishan
Note: There could be slight changes in the team based on the teams announced after the toss and any other news.
Disclaimer: There is no single perfect template to play fantasy league. Understand that this is our way of playing the game. We provide the rationale behind our player selection, which you may or may not agree with it. Just understand the key insights from the article and play it in your style and have fun.
Follow us on Google News