Ellyse Perry couldn't stop laughing after catching one out of nowhere
"I think because it was just so embarrassing. I am just laughing instead," she quoted recalling the moment.
Updated - Nov 9, 2017 10:04 pm
2.2K Views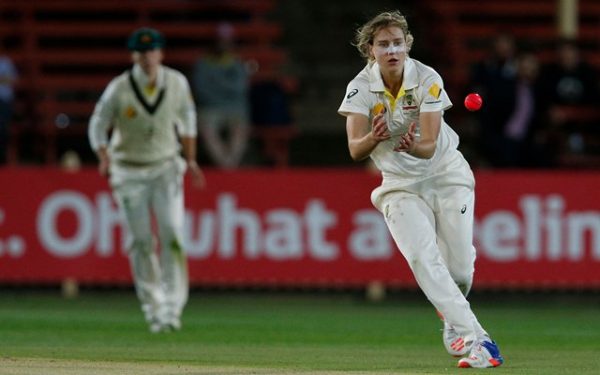 Follow us on Telegram
Australia Women's premier speedster Ellyse Perry could not stop laughing after dismissing English batter Sarah Taylor during the only Test fixture of the ongoing Women's Ashes. It is not an everyday sight to see the bowler end up bursting into laughter after taking a wicket. For Ellyse Perry, not only did she laugh on the ground, but also ended up laughing at the press conference while recalling the moment.
The action perspired in the 92nd over the day 1 play. Perry came in to bowl and ended up losing sight of the batter at the delivery stride. She somehow managed to bowl the delivery, and Taylor played it straight back. Perry, who still did not have any sight of it, felt the ball hitting her hands and she eventually ended up pocketing the catch. She recalled the moment and conceded that she certainly provided a lot of entertainment for the fans.
"Essentially I just slipped a little in some foot holes on that delivery and my head went down and I kind of lost all sight of it. I think it was a pretty hideous delivery, I didn't even see it. I kind of looked up and the lights were a little bit in my eyes," quoted Ellyse Perry.
"I think the first time I spotted the ball was pretty much just before it hit my arm. Rather embarrassingly I managed to catch it. I think I provided a lot of entertainment for everyone and I lost all composure and I am glad Rachael took me off after that. That's all I have got for you," she added further.
Why is it so funny?
A journalist was intrigued at the reactions of Ellyse Perry and ended up asking her why she found it so funny. In response to this, the Australian pacer conceded that it was purely embarrassing and hence she ended up laughing. She further added that it was a lucky wicket anyway. Getting Sarah Taylor is a big deal anyway and the Aussies loved to see her heading back to the dressing room.
"I don't know. I am not sure. I think because it was just so embarrassing. I am just laughing instead. Look I suppose in cricket everyone bowls some good balls and you don't get wickets; and every now and then you bowl some bad ones and you have a bit of luck and something obscure happens and that is whay makes the game so fun and entertaining," said Perry.
"And it was nice being Sarah Taylor as well, to dismiss her. I think you would be happily get her out any way possible. I don't think it had anything to do with my skill or ability that wicket. It was pure luck," she signed off.
Watch the video here:
Ellyse Perry just couldn't stop laughing! #WomensAshes pic.twitter.com/tcu2K19fYA

— Australia Women ? (@SouthernStars) November 9, 2017
Follow us on Google News