ENG vs IND: English team resorts to 'Merlyn' to figure out Kuldeep Yadav
The same was introduced back in 2005 to counter Shane Warne.
Updated - Jul 5, 2018 2:25 pm
5.6K Views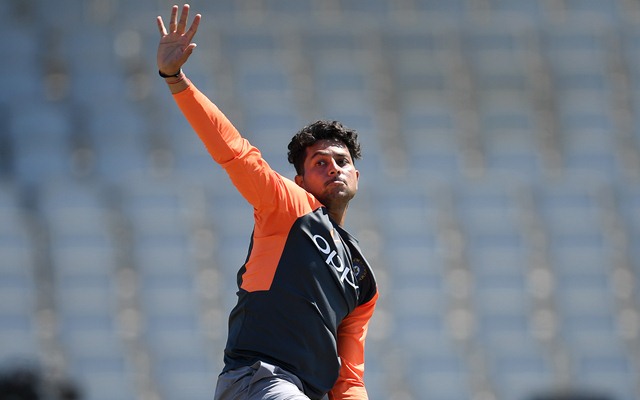 Kuldeep Yadav turned out to be a tough nut to crack for the English batsmen in Manchester. He became the first Chinaman to pick up a five-wicket haul in T20Is. The tweaker started the havoc with the wicket of Alex Hales in his second over. However, this third over turned out to be a nightmare for the hosts as three of their most reliable batsmen perished in the same over that left England in shambles.
Kuldeep also nipped out Jos Buttler's wicket to further dent their batting. His spell restricted the Brits to 159 after which KL Rahul racked up his second T20I ton in 53 balls to help India to victory with ten balls to spare. Meanwhile, Yadav's spell has got England pondering over their technique to play spin. In light of improving their skills to play spin, they have resorted to a bowling machine by the name of 'Merlyn'.
Buttler's words of praises for Merlyn
Its specialty lies in the fact that it can churn out any delivery and the same was introduced back in 2005 to counter Shane Warne. "One thing we can do is with Merlyn, to replicate the angle. It's a very good machine to get used to that. But it was the first time some guys have faced Kuldeep and it may take one or two games, plus video. It's about understanding that you shouldn't get too flustered.
With spin it can all happen quickly, suddenly you have faced a few balls and aren't off the mark, so it's not allowing that to affect you. You have to get used to the action and once you have faced them a bit more it gets easier. You have a bit more trust and might pick up a few cues," Buttler was quoted as saying by to cricket.com.au.
The hosts will play their next match tomorrow in Cardiff and would be keen to make a comeback following a rather disappointing start. Kuldeep will also be looking to replicate his performance in the next match at the Sophia Gardens.
[interaction id="5b3c9d8b25f6280318ba7857″]
For more news and developments, stay tuned on CricTracker.com.