England and Pakistan aim to move up in the ICC Women's Championship
Updated - Jun 17, 2016 11:16 am
16 Views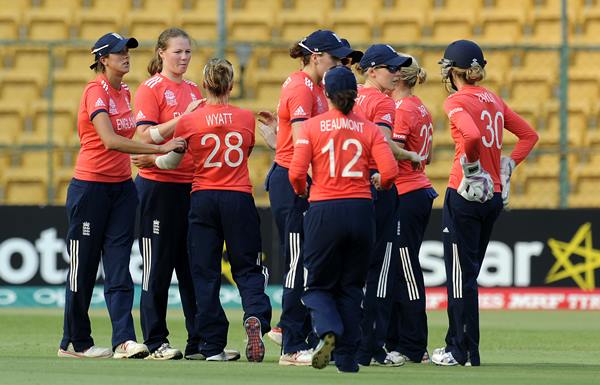 The ICC Women's Championship moves into top gear when England hosts Pakistan in a three-ODI series in Leicester from20 June. This will be the last series of round five of seven, while the final two rounds will commence in October before the event culminates in November.
The ICC Women's Championship is the pathway to qualification for the ICC Women's World Cup July 2017. The top four sides will automatically qualify for the event proper to be staged in England from 26 June to 23 July 2017, while the bottom four sides will get a final chance of qualification through the ICC Women's World Cup Qualifier in March/April 2017.
Plenty will be at stake for both England and Pakistan, which are currently sitting in sixth and seventh positions respectively. England stands to move up to third if it wins the series, Pakistan will jump to fifth if it wins all the three matches.
Australia leads the field with 24 points, but the recently crowned ICC Women's World Twenty20 champion the West Indies is just four points behind in second place. New Zealand is another four points behind at 16, while South Africa is on 15 points. Sri Lanka is in eighth position with just 5 points.
Recently appointed England captain Heather Knight with 20 wickets is England's top wicket-taker in the Championship and said he was all geared up for the new challenge.
"I'm hugely proud and honoured to be named England captain and cannot wait to lead the team out for the very first time against Pakistan this summer. It's a fresh, exciting time for the squad and I'm looking forward to seeing how we can develop together at the beginning of this new era for England women's cricket."
Pakistan's ODI captain Sana Mir, who has chosen to step down from Twenty20 duties to focus on the 50-over game, said she had a talented side to command with the likes of bowler Anam Amin, who is Pakistan's leading wicket-taker in the women's championship with 16 dismissals.
She believed Pakistan's improved performance at the ICC World Twenty20 in India, where it won two out of four matches compared with just one win in 2014, marked a move in the right direction.
"We were extremely close to making it three wins out of four in India.
"The Pakistan team now has a reputation of giving extra tough times to big teams and we are really enjoy living up to this reputation. Apart from the top two teams in the table, no team is in a position to definitely secure a place in top four. This is going to be an exciting series with a lot at stake for both teams."
But with just four wins in the championship, Sana realises Pakistan needs good results from here on if it wants to stand a chance at direct qualification.
"Pakistan has been able to show very consistent improvement in this championship. We have white-washed the Sri Lanka team and came very close to beating teams like Australia and West indies in their home conditions. Our own performances against such teams give us enough confidence for the coming series."
England's schedule for this year, includes the upcoming series against Pakistan, followed by series against West Indies and Sri Lanka.
England coach Mark Robinson said for now the focus was on Pakistan. "Historically, we have a strong record against Pakistan, but the quality of international women's cricket is rising all the time, so we are looking forward to the challenge of facing them on home soil over the next few weeks.
"We have a bit of catching up to do in the ICC Women's Championship, so we will need to play some strong, positive cricket to secure maximum points in the three ODIs in order to move into the top four of that table."
A busy time lies ahead for all eight sides with Australia scheduled to play South Africa and Sri Lanka, while the Caribbean side's remaining two series are against fifth-placed India and sixth-placed England.
India, meanwhile, will be under pressure to try and win both its final two rounds against the West Indies and Pakistan.
South Africa faces Australia and New Zealand in its two remaining series, while New Zealand have South Africa and Pakistan on the agenda. With the ever-improving standard of women's cricket, each of these series is expected to be hard-fought, with no winners guaranteed.
Squads-
England:
Heather Knight (captain), Anya Shrubsole (vice-captain), Tammy Beaumont, Katherine Brunt, Kate Cross, Georgia Elwiss, Jenny Gunn, Alexandra Hartley, Danielle Hazell, Amy Jones (Wicketkeeper), Laura Marsh, Natalie Sciver, Fran Wilson, Lauren Winfield, Danielle Wyatt
Pakistan:
Sana Mir (captain), Aiman Anwar, Anam Amin, Asmavia Iqbal Khokhar,  Bibi Nahida, Bismah Maroof, Iram Javed, Javeria Wadood, Muneeba Ali Siddiqui, Nida Rashid, Sania Iqbal, Sadia Yousaf, Sidra Amin, Sidra Nawaz, (Wicketkeeper), Syeda Nain Fatima Abidi
Following is the schedule of forthcoming matches in ICC Women's Championship:
England vs Pakistan
20 June – 1st ODI, Grace Road, Leicester
22 June – 2nd ODI, County Ground, Derby
27 June – 3rd ODI, County Ground, Derby
South Africa vs New Zealand
8 Oct – 1st ODI, De Beers Diamond Oval, Kimberley
11 Oct – 2nd ODI, De Beers Diamond Oval, Kimberley
13 Oct – 3rd ODI, De Beers Diamond Oval, Kimberley
ICC Women's Championship 2014 – 2016
Teams
P
W
L
Tie
N/R
Points
NRR
Australia
15
12
3
0
0
24
+0.745
West Indies
15
10
5
0
0
20
+0.497
New Zealand
15
8
7
0
0
16
+0.232
South Africa
15
7
7
0
1
15
-0.069
India
15
6
8
0
1
13
+0.008
England
12
6
5
0
1
13
-0.022
Pakistan
12
4
8
0
0
8
-0.386
Sri Lanka
15
2
12
0
1
5
-1.152
Note – two points for a win, no point for a loss and one point for a no-result