England vs India 4th Test, Day 1 Review: Indian pacers take the morning, Curran brews an English tea
England scored 246 after being six down for 86.
Updated - Aug 31, 2018 12:50 am
383 Views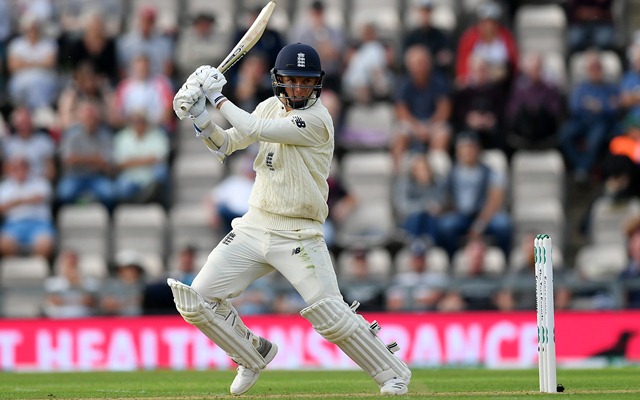 There is depth in the England batting. We've heard this very frequently on this India tour of England. In the fourth Test match, they strengthened it further. After the top six, there is Moeen Ali, Sam Curran, Adil Rashid and Stuart Broad, all of them can bat and aren't just ordinary. They've shown that earlier in the series and did just that today. England were hopelessly 6 down with just 86 runs on the board, they would've taken 150 at that stage. Sam Curran, the 20-year-old, with his guile and determination took them to 246 before being dismissed as the last man.
Joe Root didn't want to repeat his mistake from Trent Bridge and thus after winning the toss, he decided to bat first. Virat Kohli was a changed man today as he opted for an unchanged XI. He would've wanted to bat first as well but the way his bowlers turned up in the first hour of play, Kohli was the one who had a smile on his face.
Ishant Sharma and Jasprit Bumrah have this ability to take the ball away from the left-handers. Both English openers are lefties. They were dismissed with the one that went away and thus it wasn't difficult for Bumrah to set Keaton Jennings up with the ones that swung out and as he got one to shape back into the opener he was hit in front and he was not even offering a shot.
Root got a respite very early in his innings, Bumrah on the third ball of the fourth over hit him in line with the stumps, the umpire Bruce Oxenford minus his shield since this is Test cricket didn't think it was out. Bumrah nodded thrice assuring Kohli, it was plumb, got a referral but faltered in the first hurdle. Bumrah had overstepped and once lost a wicket.
The English skipper couldn't make the most of it as on the 14th ball of his innings, batting on just four runs, he once again missed an incoming delivery only to be hit straight on his pads. All that was different was the bowler and Ishant Sharma had his 250th success in Test cricket.
His gloves were taken away and handed over to Jos Buttler, Jonny Bairstow is playing this match as a specialist No.4 batsman. He didn't look like one, maybe it was the pressure of the expectations or the Indian bowlers were just too good. Kohli asked Bumrah if he would want an extended spell. Any bowler running in with that kind of rhythm would take it and he did. Bairstow edged the one that straightened after angling in and Rishabh Pant was in business.
Cook did all the hard work, saw through the Indian new-ball bowlers who had undone him so far in the series. He would've breathed a sigh of relief, and why not having batted 50 odd balls he was now facing Hardik Pandya. He isn't threatening and maybe just that one second of complacency made Cook play at a ball that was just too wide to even be in his range. He edged it and the Indian slip cordon don't drop any. Kohli was really late on the ball but he got his hands down in time to see his back.
Buttler was outsmarted by the Indian skipper and Mohammed Shami, they invited a drive, he got a boundary through the vacant gully region but the next time he edged it was straight to Kohli at third slip. Ben Stokes has troubles with his knee and he is a specialist batsman in this XI as well. He had shown what he is capable of in the fourth innings at Trent Bridge.
The Indian pacers didn't let him off the hook, he had to earn all the 23 runs he scored and a strike rate of under 30 for such an able stroke maker definitely defines that. It was Shami who swung one into him and the finger automatically went up. The score was 86 then, the ball was still doing a lot, the Indian pacers were on top.
Lower order to the rescue
That's when Moeen Ali decided to prove why he is such an important player for this team. He was coming into this game on the back of a hundred and a double he scored for his county in a T20 and a first-class game. Ali along with Sam Curran repaired their innings, they first stopped the bleeding and then ensured the initial haemorrhage didn't kill England.
Their partnership of 81 gave the total some definition. Ali had to depart as he attempted to slog sweep Ravichandran Ashwin for nothing as he found Bumrah at midwicket. Curran wasn't bothered, he played his shots once again showing utmost composure and confidence batting with the tail. He got Stuart Broad to partner him in another half century stand and England were way over the 200-run mark by then.
The left-hander got to his own half century in the process, his second in just the fourth Test, he has 12 of them at the first-class level and if it is any indication Curran will add a lot more of those at the highest level.
Ashwin finally wrapped the innings up as he hit the middle stump when Curran cleared his front leg to launch the ball into the stands, he had a couple of successes, so did Shami and Ishant, Bumrah was the pick with his three scalps while Pandya also had one to his name.
Shikhar Dhawan and KL Rahul walked out to face four overs in the fag end of the day. James Anderson and Broad made their life easy bowling too far outside the off-stump and 90% of the deliveries or even more didn't require them to play and it and neither did they.
India went into stumps on day 1 with 19 runs in their account and 227 runs behind the first innings score.
Brief Scores:
England: 246 all out (Sam Curran 78; Jasprit Bumrah 3/46)
India: 19/0 in 4 overs (KL Rauhl 11*)
India trail by 227 runs with 10 wickets in hand at stumps on day 1