Stats: Virat Kohli ends his streak by naming an unchanged playing XI in the 4th Test
Kohli finally fielded an unchanged XI in the Southampton Test against England.
Updated - Aug 30, 2018 4:35 pm
1.4K Views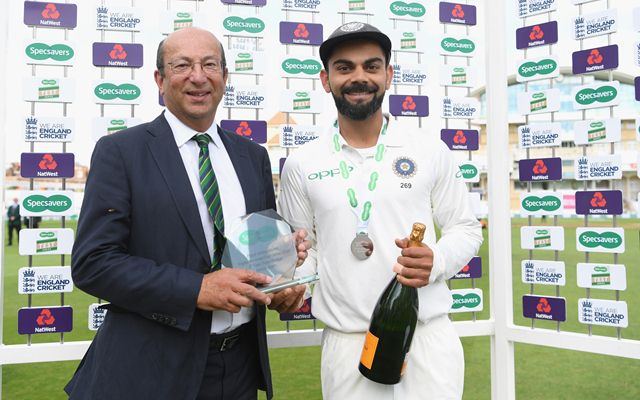 The unthinkable occurred right at the start of the Southampton Test match when the Indian skipper Virat Kohli stated that there were no changes to the playing XI. India decided to field the same XI that featured in the previous Test match at the Trent Bridge and registered a big win. India had no reason to tinker with the winning combination unless there were injury scares. Ravichandran Ashwin, who looked in discomfort in the previous game, was fit enough to continue and they went with him.
Thus, Virat Kohli fielded an unchanged XI for the first time in his Test captaincy career. In the 38 Test matches, Kohli led India before today, he made at least one change from the previous game. Thus, Kohli earned a reputation of making everyone wait until the toss of a Test match to know the playing XI. It was evident that Kohli is a captain who wouldn't settle when he dropped India's premier spinner Ravichandran Ashwin on his captaincy debut in 2014.
Most number of Test matches before fielding in an unchanged XI: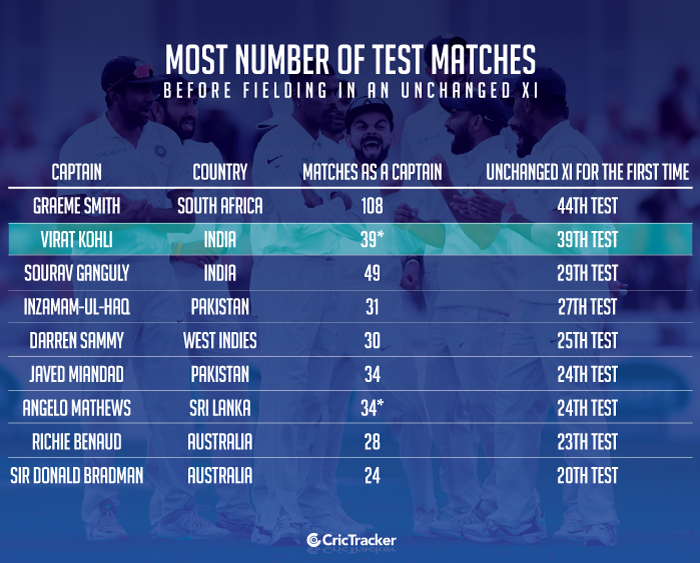 Kohli, who took 39 Test matches to field an unchanged XI, now stands at the 2nd spot in the list of captains who took longest to make no changes to their playing XI. Former South African captain Graeme Smith holds the record as he played as many as 44 Tests with a changed XI. Smith's record streak extends by one more game if we consider the one-off Test in which he led ICC World XI team. Former Indian skipper Sourav Ganguly field an unchanged XI for the first time in his 29th Test.
As many as five captains have never fielded same playing XI in two consecutive Test matches throughout their careers. Bangladesh's Mushfiqur Rahim heads the lists with 34 matches after Kohli decided to end his streak for once. However, Rahim's count might remain the same as he was recently removed as the captain. England's Ray Illingworth held the record till 2016 as he made at least one change in all the 31 Test matches as captain.
Captains who never fielded an unchanged XI in Test cricket: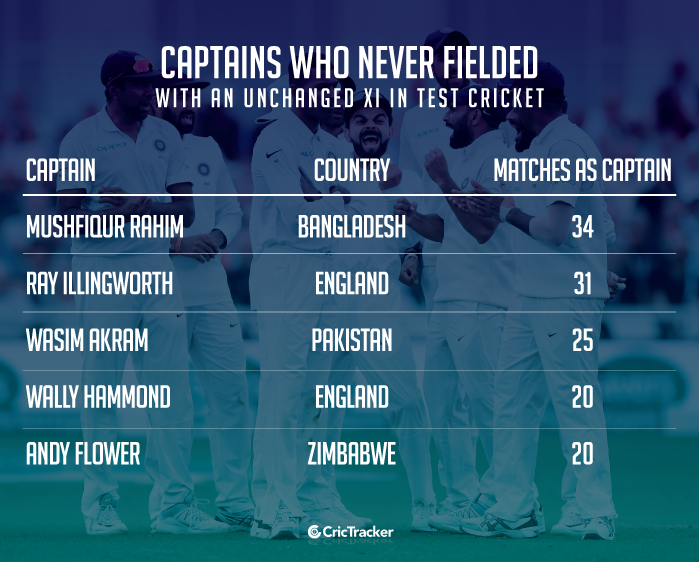 (Stats as on August 30, 2018)